Roland JUNO-DS 61-Key Lightweight Gig-Ready Battery-Powered Velocity Keyboard Synthesizer Action
Roland JUNO-DS 61-Key Lightweight Gig-Ready Battery-Powered Velocity Keyboard Synthesizer Action
Roland JUNO-DS 61-Key Lightweight Gig-Ready Battery-Powered Velocity Keyboard Synthesizer Action
Roland JUNO-DS 61-Key Lightweight Gig-Ready Battery-Powered Velocity Keyboard Synthesizer Action
Roland JUNO-DS 61-Key Lightweight Gig-Ready Battery-Powered Velocity Keyboard Synthesizer Action
Roland JUNO-DS 61-Key Lightweight Gig-Ready Battery-Powered Velocity Keyboard Synthesizer Action
Roland JUNO-DS 61-Key Lightweight Gig-Ready Battery-Powered Velocity Keyboard Synthesizer Action
Roland JUNO-DS 61-Key Lightweight Gig-Ready Battery-Powered Velocity Keyboard Synthesizer Action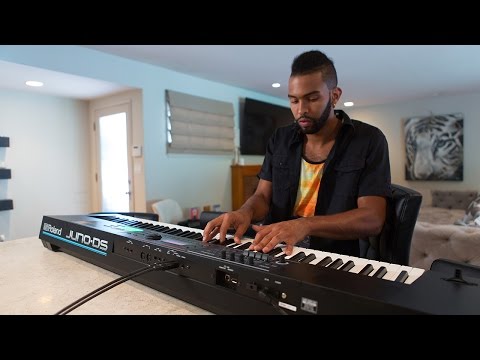 Roland JUNO-DS 61-Key Lightweight Gig-Ready Battery-Powered Velocity Keyboard Synthesizer Action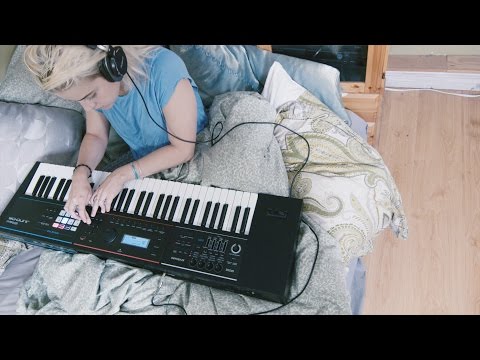 Product highlights:
61-note velocity-sensitive keyboard Synthesizer
Lightweight, gig-ready instrument with pro sounds
Features battery-powered and intuitive operation
Quick access to pro-quality sounds for band performance
Wave expansion slot allow to download new sound waveforms
Sample import function for playing user WAV files
Easy sound manipulation and editing with knobs and sliders
8 Phrase Pads for triggering samples and songs stored on USB
Mic input and dedicated Reverb, Vocoder, and Auto Pitch effect
USB audio/MIDI and DAW Control mode
---
Need help deciding?
Contact us right now!
Call or chat with one of our experts.
In the box
Roland JUNO-DS 61-Key Lightweight Gig-Ready Battery-Powered Velocity Keyboard Synthesizer Action
Roland JUNO-DS 61-Key Lightweight Gig-Ready Battery-Powered Velocity Keyboard Synthesizer Action
AC Adaptor
Power Cord
Leaflet Using the Unit Safely
Owner's Manual
Limited 2-Year Warranty
Roland JUNO-DS 61-Key Lightweight Gig-Ready Battery-Powered Velocity Keyboard Synthesizer Action
Life moves fast for an upcoming musician or ambitious new band. When you are racing between rehearsals, sessions, and shows, you do not have time to spend with a bulky, complex synth that is difficult to use. The Roland Juno-DS61 Synthesizer is an ultra-portable modern synth that can keep up with your band's life. Lightweight, compact, and powerful, this 61-note instrument is always ready to go, with easy operation and instant access to pro onboard sounds that let you create or perform music anywhere from the street to the studio. The Juno-DS61 is the easiest way to start playing a keyboard with the band, with the flexibility to continue supporting you as your music progresses.
Travel like A Guitarist
If you want your band to get noticed, you need to get out there. Whatever you have got in the diary, the JUNO-DS61's compact size and 11.6845lb weight mean it is easy to transport, load in and set up, so you will never have to turn down a career-making gig across town, miss a vital band rehearsal or arrive late to a recording session. With optional battery operation for street performance, and a mic input that lets you create pro vocals without external gear, the JUNO-DS61 is ready for every scenario the music industry can throw at you.
Find the Right Sound Instantly From a Choice of Pro Onboard Sounds
It is frustrating when the band adds a new song to the set and you cannot find the right sound in your synth. The JUNO-DS61 has the pro onboard sounds to keep you covered, whatever genre comes up next. Instantly choose your favorite pro-quality sounds from nine categories, and with over 1000 sounds including acoustic and electric pianos, organs, and synth, there is enough choice to cover any musical genre or performance style. And the patches from the previous-generation JUNO-Di synth are fully compatible too. Just think of a sound. And it is right there at your fingertips.
Create Your Signature Sound with Ease Instantly
Some synths make you stick with the factory settings, which can leave your music sounding a little generic. But the JUNO-DS61 is wide open. The instant-access design lets you call up pro sounds in seconds. But even if this is your first synth, it is simple to dig into an array of adjustable parameters and create your voice. Select the performance mode and you can set up advanced sounds like layering strings onto the acoustic piano, or assigning organ and bass to your right and left hands respectively. Create and tweak patches. Shape sounds during a song with hands-on controls. Connect expression pedals via the rear panel to take your performance to the next level.
Keep Your Music Up-To-Date With Free Downloadable Sounds
As your band gets adventurous and you are playing evolves, it is vital to play a synth that would not get left behind. The JUNO-DS61's onboard sounds and editing capabilities are just the beginning. This modern instrument also supports internal waveform expansion via USB, bringing the best synth sounds from the web into your performance. It is easy to get started, with the versatile EXP-06 Studio Collection preloaded in the wave expansion slot. Then choose your favorites from over 1000 EXP patches available for free download at Roland's Axial website. You will find top-quality acoustic piano collections, world instruments, go-to studio standards, percussion, and loops. And it is even possible to load WAV files from your sound library and play them from the keyboard. And the free JUNO-DS librarian software lets you manage all these sound patches using your computer.
Enjoy Solo Jam Sessions with Realistic-Sounding Drums, Guitar and Bass Backing
Just because your bandmates are not available to rehearse, that does not stop you from honing your skills with a jam session. Using the JUNO-DS61's eight Phrase Pads, you can add instant beats under your keyboard parts, or copy audio data (MP3/WAV) to the USB memory and play along with full-band backing. When your shows need more dynamics, the Phrase Pads also function as a live sampler: load them up with anything from sound effects to loops. Then trigger them with a quick touch during the gig.
Eight-Track Pattern Sequencer Takes You from Spark to Finished Song
When songwriting inspiration strikes, you need to catch it fast. And complicated gear can kill the moment. The JUNO-DS61 is the songwriter's best friend. When you have an idea for a song or beat, you can easily capture and develop it with the onboard pattern sequencer. The intuitive, non-stop operation would not interrupt your creative flow, letting you build up full arrangements with multiple sounds in a flash. It is a great tool for live work, too, letting you enhance performances with pre-made backing music and on-the-fly looping.
Stand Out From the Crowd with Unique Vocal Effects
If you are a solo performer or singer/songwriter, you will love the JUNO-DS61's mic input, which lets you get great vocal sounds without having to carry around extra gear. There is a dedicated vocal reverb, plus Auto Pitch for singing with the stepped electronic vocal effect popular in today's music. The built-in vocoder is inspirational too, allowing you to sing into a mic and control the tone and pitch via sounds played on the keyboard.
Everything You Need To Connect To Your DAW and Start Making Music
As a modern musician, you will do most of your recording on a home computer using a DAW. And the JUNO-DS61 has everything you need, no extra gear required. The integrated USB interface provides a solid front end for a mobile or studio recording setup, allowing you to record MIDI and audio data, including sounds from the mic input. There is even a dedicated DAW Control mode for controlling your music software from the JUNO-DS61's front panel. It is never been simpler to get your songs done and dusted.
Ratings and reviews
Roland JUNO-DS 61-Key Lightweight Gig-Ready Battery-Powered Velocity Keyboard Synthesizer Action
Roland JUNO-DS 61-Key Lightweight Gig-Ready Battery-Powered Velocity Keyboard Synthesizer Action
---