Roland JUNO-DS 88-Key Battery Powered Ivory Feel-G Weighted Action Mobile Synthesizer Keyboard
Roland JUNO-DS 88-Key Battery Powered Ivory Feel-G Weighted Action Mobile Synthesizer Keyboard
Roland JUNO-DS 88-Key Battery Powered Ivory Feel-G Weighted Action Mobile Synthesizer Keyboard
Roland JUNO-DS 88-Key Battery Powered Ivory Feel-G Weighted Action Mobile Synthesizer Keyboard
Roland JUNO-DS 88-Key Battery Powered Ivory Feel-G Weighted Action Mobile Synthesizer Keyboard
Roland JUNO-DS 88-Key Battery Powered Ivory Feel-G Weighted Action Mobile Synthesizer Keyboard
Roland JUNO-DS 88-Key Battery Powered Ivory Feel-G Weighted Action Mobile Synthesizer Keyboard
Roland JUNO-DS 88-Key Battery Powered Ivory Feel-G Weighted Action Mobile Synthesizer Keyboard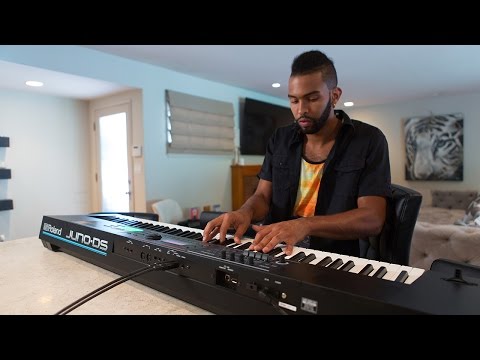 Product highlights:
Streamlined 88-note ivory feel-G keyboard synthesizer
Lightweight and easy to transport
Gig-ready instrument with pro sounds
Features battery-powered and intuitive operation
Instant access to essential sounds for band performance
Wave expansion slot allow to download new sound waveforms
Sample import function for playing user WAV files
Easy sound manipulation and editing with knobs and sliders
8 Phrase Pads for triggering samples and songs stored on USB
Mic input and dedicated Reverb, Vocoder, and Auto Pitch effect
USB audio/MIDI and DAW Control mode
---
Need help deciding?
Contact us right now!
Call or chat with one of our experts.
In the box
Roland JUNO-DS 88-Key Battery Powered Ivory Feel-G Weighted Action Mobile Synthesizer Keyboard
Roland JUNO-DS 88-Key Battery Powered Ivory Feel-G Weighted Action Mobile Synthesizer Keyboard
AC Adaptor
Power Cord
Leaflet Using the Unit Safely
Owner's Manual
Limited 2-Year Warranty
Roland JUNO-DS 88-Key Battery Powered Ivory Feel-G Weighted Action Mobile Synthesizer Keyboard
Life in a modern band does not run like clockwork. On the same day, you might be rehearsing, recording, and playing live, with each session demanding a whole new musical approach. Some synths will slow you down with their bulky size and uninspired sounds. The Roland JUNO-DS88 Synthesizer Action Keyboard sets you free. Wherever your music leads you, this streamlined weighted-action 88-note synth will follow, with compact dimensions, smart operation, and a choice of pro onboard sounds for anything from studio work to street performance. The JUNO-DS88 is the ideal instrument for piano-oriented keyboard players.
Plays like A Traditional Piano with 88 Weighted-Action Keys
When a keyboard feels good beneath your fingers, it inspires you to write better songs, play tighter shows and take your band to greater creative heights. The JUNO-DS88 might be light and portable, but there is a satisfying high-end touch to the Ivory Feel-G Keyboard, which is the first in the JUNO series to feature a full 88 weighted-action keys. Try the progressive hammer action alongside the expressive new piano sounds and you will know that the JUNO-DS88 is the instrument you want to load in at tonight's show.
On the Stage, Hit the Studio, Play In the Street
When your band is ready to take on the world, there is nothing worse than a cumbersome synth that ties you to the bedroom. From stage to studio and back, JUNO-DS88 is right alongside you. With its compact size, practical weight, and speedy setup, this synth takes hectic schedules in its stride, letting you dart from a last-minute band rehearsal to a make-or-break gig, then across town for a recording session. Clubs, pubs, and street gigs are all feasible thanks to optional battery power. In an industry that moves fast, the JUNO-DS88 is the only synth that keeps up.
Play In Any Band with a Choice of Pro Sounds Onboard
If you play with several bands in a range of styles, you will know how frustrating it is when your synth cannot quickly deliver the required sound. With the JUNO-DS88, you have got a library of sounds for every twist and turn of the setlist. Choose your favorite pro-quality sound from nine categories, with over 1000 sounds including acoustic and electric pianos, organs, and synths. Enough choice to cover any musical genre or performance style. And the patches from the previous-generation JUNO-Di synth are fully compatible too; your favorite new sound is just a button push away.
Get Creative with Intuitive Hands-On Editing
With so many bands out there competing for attention, a head-turning synth sound could help you stand out. Even for first-timers, it is simple to dig into the highly adjustable parameters and find your voice. Select the performance mode and you can set up advanced sounds like layering strings onto the acoustic piano, or assigning organ and bass to your right and left hands respectively. Create and edit patches. Respond to the crowd and shape your sound mid-song with hands-on controls. Hook up your favorite expression pedals and push the sonic envelope. It is impossible to be average when you play the JUNO-DS88.
Enjoy Instant Jam Sessions, No Bandmates Required
Even when your bandmates are out of town, there is nothing to stop you from nailing down the new material with a virtual jam session. Using the JUNO-DS88's eight Phrase Pads, you can add instant drums to your keyboard parts, or copy audio data (MP3/WAV) to the USB memory and play along with lifelike full-band backing. Plus, when your shows need an added punch, the Phrase Pads can be used as a live sampler: load them up with anything from vocals to sound effects. Then trigger them with one touch to make the gig go boom.
A Synth That Stays Fresh, With Free Downloadable Sounds
As an upcoming musician, your playing is bound to evolve, and your synth must do the same. You might start with the JUNO-DS88's onboard sounds, but you will soon go further, with this modern synth supporting internal waveform expansion via USB, and giving you access to the best sounds on the web. The versatile EXP-06 Studio Collection is preloaded in the wave expansion slot, but you will want to investigate Roland's Axial website, where over 1000 EXP patches are available for free download. Inspire your performance with top-quality acoustic piano collections, world instruments, go-to studio standards, percussion, and loops. Or load in WAV files from your sound library and play them from the keyboard. And the free JUNO-DS librarian software lets you manage all these sound patches using your computer.
The Smart Way to Get Your Band Playing Better
The best way for any ambitious band to improve is to listen back to the performance and assess its strengths and weaknesses. While expensive recording gear is beyond most budgets, choose the JUNO-DS88 and you have already got a smart solution, all onboard and at no extra cost. With the built-in audio interface function, it is easy to record your band via the mic input, and then store the music on your computer, share it with your bandmates, and chase down the sections that need work. The JUNO-DS88 is not just a synth but it is a mobile studio.
Stand Out From the Crowd with Unique Vocal Effects
If you are a solo performer or singer/songwriter, you will love the JUNO-DS61's mic input, which lets you get great vocal sounds without having to carry around extra gear. There is a dedicated vocal reverb, plus Auto Pitch for singing with the stepped electronic vocal effect popular in today's music. The built-in vocoder is inspirational too, allowing you to sing into a mic and control the tone and pitch via sounds played on the keyboard.
Ratings and reviews
Roland JUNO-DS 88-Key Battery Powered Ivory Feel-G Weighted Action Mobile Synthesizer Keyboard
Roland JUNO-DS 88-Key Battery Powered Ivory Feel-G Weighted Action Mobile Synthesizer Keyboard
---