Roland JX-08 Portable Tabletop Synthesizer with Onboard Arpeggiator and Built-In Mini Speaker
Roland JX-08 Portable Tabletop Synthesizer with Onboard Arpeggiator and Built-In Mini Speaker
Roland JX-08 Portable Tabletop Synthesizer with Onboard Arpeggiator and Built-In Mini Speaker
Roland JX-08 Portable Tabletop Synthesizer with Onboard Arpeggiator and Built-In Mini Speaker
Roland JX-08 Portable Tabletop Synthesizer with Onboard Arpeggiator and Built-In Mini Speaker
Roland JX-08 Portable Tabletop Synthesizer with Onboard Arpeggiator and Built-In Mini Speaker
Roland JX-08 Portable Tabletop Synthesizer with Onboard Arpeggiator and Built-In Mini Speaker
Roland JX-08 Portable Tabletop Synthesizer with Onboard Arpeggiator and Built-In Mini Speaker
Roland JX-08 Portable Tabletop Synthesizer with Onboard Arpeggiator and Built-In Mini Speaker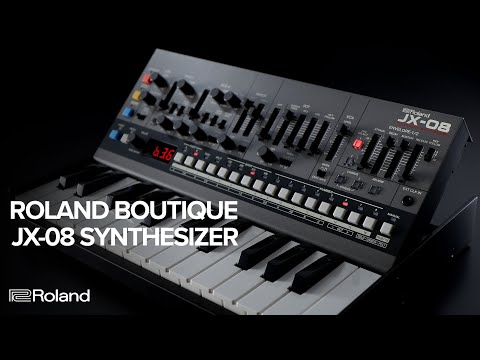 Product highlights:
Authentic JX-8P sound and behavior
PG-800 programmer functions included
32 presets from the original JX-8P plus 111 new presets
17 new effect types and onboard arpeggiator
Two-part, 64-step, eight-note (per part) polyphonic sequencer
Portable design for mobile music making
High-quality construction with metal front panel
Powered via 4 AA batteries or USB-C
Control information can be sent/received via MIDI and USB-C
Built-in powered mini speaker for instant enjoyment
---
Need help deciding?
Contact us right now!
Call or chat with one of our experts.
In the box
Roland JX-08 Portable Tabletop Synthesizer with Onboard Arpeggiator and Built-In Mini Speaker
Roland JX-08 Portable Tabletop Synthesizer with Onboard Arpeggiator and Built-In Mini Speaker
4 x Alkaline Battery (AA, LR6)
Quick Start
Safety Leaflet
Limited 1-Year Warranty
Roland JX-08 Portable Tabletop Synthesizer with Onboard Arpeggiator and Built-In Mini Speaker
In 1985, Roland's innovative JX-8P took hybrid synthesis a step further with a compelling new analog-digital voice. The instrument was instantly embraced by top session players, who forever embedded its warm pads, shimmery chorus, and crystalline textures into the era's most popular tracks. The Roland JX-08 reintroduces the unique sound of this sought-after classic in stunning detail, coupled with powerful new effects, a polyphonic sequencer, and more. And to enhance your creative flow, there's a full panel of hands-on controls derived from the companion PG-800 programmer unit for the original hardware.
Classic Sound, Modernized
While the original design of the JX-8P is retained in this modern version, Roland added a range of updates that take the experience to another level. Explore the 100-plus new patches tuned for contemporary styles, or use the onboard controls to design your own sounds. And with expanded polyphony, two-part multitimbral capability, and dual and split modes, there's even more room to stretch out your sonic ideas. Once you've found your zone, store your creations for easy recall using any of the 256 preset slots.
Even Deeper Effects
The JX-08 comes stocked with 17 powerful effects, many of which are new to the Roland Boutique range. Add some gloss to your JX patches with classic chorus, phaser, and delay options, or get gritty with overdrive, fuzz, bit crusher, and the new lo-fi compressor. Filters and pitch shifters are also available to bring additional dimension and character to your sounds.
Music that Moves
Once you've locked in your patches, fire up the two-part polyphonic sequencer and start programming leads, basslines, or basic chords to sync with other pieces in your electronic ensemble. And to bring some animated movement to your sounds, tap into motion recording and the onboard arpeggiator to make your musical lines dance.
MIDI, USB, and External Clock Input
The JX-08 features a built-in USB-C audio/MIDI interface, so you can play, record, and synchronize with all types of computer production software. Full-size MIDI I/O is also available for interfacing with other MIDI hardware. There's even an external clock input for driving the JX-08's onboard sequencer and arpeggiator from vintage analog instruments and modern Eurorack systems.
Grab Your Keys and Hit the Road
The compact JX-08 fits just about anywhere and is easily controlled by a master keyboard or computer DAW. It can run on standard AA batteries for hours of uninhibited jamming, and there's also a built-in speaker for on-the-go sound monitoring. Add a DK-01 Boutique Dock for a polished look and three convenient tilt positions, or grab a K-25m Keyboard Unit to create a fully self-contained, portable instrument.
Ratings and reviews
Roland JX-08 Portable Tabletop Synthesizer with Onboard Arpeggiator and Built-In Mini Speaker
Roland JX-08 Portable Tabletop Synthesizer with Onboard Arpeggiator and Built-In Mini Speaker
---