Korg ARP 2600 M Semi-Modular Synthesizer with Case
Korg ARP 2600 M Semi-Modular Synthesizer with Case
Korg ARP 2600 M Semi-Modular Synthesizer with Case
Korg ARP 2600 M Semi-Modular Synthesizer with Case
Korg ARP 2600 M Semi-Modular Synthesizer with Case
Korg ARP 2600 M Semi-Modular Synthesizer with Case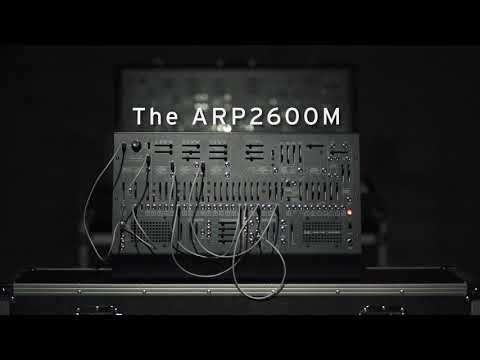 Product highlights:
Connects to any class-compliant MIDI controller
USB-A and USB-B ports
Compact size makes allows visualizing your patch
Also allows you to use shorter patch cables
Two types of filters from two versions of the original ARP 2600
Can be controlled through MIDI CC messages (USB/DIN MIDI)
Improved Attack and Release time ratios
L/R stereo output jack (instead of XLR)
Speakers turn automatically off when using headphones
Improved, smoother sliders
Starting at $181/mo or 0% APR.
---
---
---
Need help deciding?
Contact us right now!
Call or chat with one of our experts.
In the box
Korg ARP 2600 M Semi-Modular Synthesizer with Case
Korg ARP 2600 M Semi-Modular Synthesizer with Case (Standard Edition)
Road Case (Black)
AC Power Cord (KA320)
Patch Cables
Owner's Manual
ARP Stickers
Limited 1-Year Warranty
Korg ARP 2600 M Semi-Modular Synthesizer with Case
The Korg ARP 2600 M Semi-Modular Synthesizer with Case is arguably the most iconic and recognizable synthesizer of all time. Having been used in countless records, film scores, TV shows, and game soundtracks since its appearance from the 70s through to today, the ARP 2600's sound remains an essential part of the music world. The Korg ARP 2600 M delivers the sound admired around the world, in a more compact and portable format and includes added features that make it the ideal incarnation of this historic synth.
A Legend, Reborn
When the Korg ARP 2600 FS was announced in January 2020, it quickly became a phenomenal success with musicians all over the world recognizing the faithfulness to the original ARP 2600. The ARP 2600 M is around 60% of the original size, making it lighter, more portable, and easier to place and use in a studio. It integrates the same analog circuitry and components as the ARP 2600 FS, thus faithfully reproducing the characteristic ARP sound.
Proudly Designed and Made in Japan
The Korg ARP 2600 M is built in Japan with the same care and extraordinary quality standard as the ARP 2600 FS and uses the same analog components to accurately reproduce the sound and feel of the original. The Spring Reverb has been re-engineered and adapted to the new size body with the same lush effect. With the intense focus on quality and a large amount of hand assembly, the ARP 2600 M is not a typical mass-produced instrument. Due to this boutique nature, manufacturing quantities each month will be in line with our commitment to delivering a truly prized investment.
Included Carry Case
The Korg ARP 2600 M standard edition model comes with a dedicated carry case and a set of exclusive ARP stickers. The dedicated case not only protects your instrument but also makes it easier to transport, thanks to its custom casters with special anti-shock damping technology. There is also enough space to carry other gear together, like your favorite volca, SQ-64, or MIDI controller!
A Must-Have in The Studio
More than a synthesizer, the Korg ARP 2600 M Semi-Modular Synthesizer is a complete sound design studio. Even today, the original ARP 2600 stands as a bridge between the individual elements of modular synthesis and the immediacy of a production/performance instrument.
Free Bundle of Music Software
The ARP 2600 M comes with a diverse variety of music software from Izotope including Ozone Elements which lets you not only create songs but also master them using AI, Skoove which will help you improve your keyboard playing skills, Reason Lite DAW software, as well as software synths from Korg and other brands. In other words, the moment you get your hands on this synthesizer you'll have a variety of tools to help you take your music to the next level.
Ratings and reviews
Korg ARP 2600 M Semi-Modular Synthesizer with Case
Korg ARP 2600 M Semi-Modular Synthesizer with Case
---