KORG B2SP 88-Key Natural Weighted Hammer Action Digital Piano with Stand and Three-Pedal Unit
Korg B2SPBK 88-Key Digital Piano with Stand, Includes Audio/MIDI USB
Korg B2SPBK 88-Key Digital Piano with Stand, Includes Audio/MIDI USB
9cf14524497180368759fa885814554ff89c71d2012ee9b8b53a0514f9f9f610-d5e77687e7a3288f.jpg
c410a1f9ea4684d02eb35e1d43ac6ab8545bbd02ad1c51f740181f7071cd8787-c7f8145e9b149248.jpg
Korg B2SPBK 88-Key Digital Piano with Stand, Includes Audio/MIDI USB
KORG B2SP 88-Key Natural Weighted Hammer Action Digital Piano with Stand and Three-Pedal Unit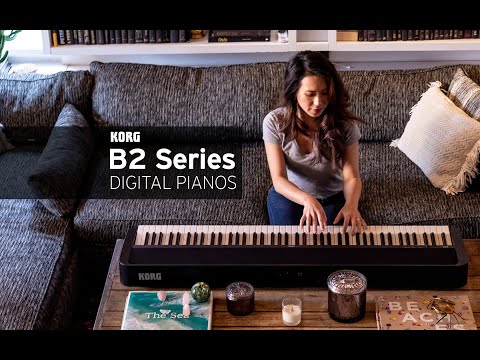 Product highlights:
88-Key (A0-C8) Natural Weighted Hammer Action Keyboard
Piano sound engine with 12 carefully selected sounds
Keyboard that reproduces the touch of an acoustic piano
Elegantly designed dedicated stand
Three-pedal unit attaches to the stand
Spacious music rest for sheet music and mobile devices
Equipped with versatile I/O for a range of connectivity
Generous bundle of software for practicing or creative work
Convenience and functionality with simplicity of a real piano
Listen to recorded performance via built-in speakers
---
Need help deciding?
Contact us right now!
Call or chat with one of our experts.
In the box
KORG B2SP 88-Key Natural Weighted Hammer Action Digital Piano with Stand and Three-Pedal Unit
KORG B2SP 88-Key Natural Weighted Hammer Action Digital Piano
AC Adapter
Music Stand
Damper Pedal
Owner's Manual
KORG B2SP 88-Key Natural Weighted Hammer Action Digital Piano with Stand and Three-Pedal Unit
Packed with everything a pianist needs, the KORG B2SP is a full piano setup for home or classroom. This set packages the B2 Digital Piano with an easily assembled stand and a three-pedal unit that gives you the experience of playing a real grand piano. It includes everything you need to enjoy playing the piano seriously.
Perfect for Beginners and Experts
The B2 Digital Piano focuses on accessibility and ease of use. Perfect as a first piano for a new player, special attention has been paid to give you an experience of playing a real piano. It comes packed with carefully selected sounds, starting with legendary grand pianos from around the world. Software and a variety of connectors come standard for a truly modern piano experience.
Elegantly Designed Dedicated Stand
A dedicated stand that matches the color of the B2 is included. Two horizontal boards act as beams to securely join both legs. The elegant design conceals the player's feet and has the look of a refined upright piano.
Three-Pedal Unit Attaches to the Stand
The B2SP comes with a three-pedal unit. This pedal unit attaches easily to the included stand, so that you can focus on playing in comfort.
Sound Engine with 12 Carefully Selected Sounds
The B2 provides a total of 12 sounds that cover a diverse range of genres, starting with five pristine piano sounds from its new piano engine, and also providing richly distinctive electric piano, organ, harpsichord, and strings. In addition to capturing the enormous tonal range of a grand piano, the meticulously-sampled sounds created for the B2 Digital Piano also reproduce the sympathetic string vibrations and damper resonances that give the piano its character.
German Piano Sounds
This world-famous German-made piano is beloved by countless pianists for its diverse range of expressive power. With stunning sonic dynamism and vibrance, its palette ranges from brilliant highs to chillingly detailed lows. The provided sounds include the majestic German concert piano and a Classic piano noted for its delicate and complex tone.
Italian Piano Sounds
An Italian-made piano with beautifully bright expression and satisfying sustain. Pianists around the world are enraptured by its rich resonance and sensitive responsiveness. The sounds provided are Italian concert piano, a bright-toned Jazz piano, and a beautifully resonant Ballad piano.
Electric Piano Sounds
An e-piano reproduces the differences in tone that arise from your playing dynamics and even simulates the sound of a key-off. Conjure electric piano sounds that are instantly recognizable from decades of great music.
Organ Sounds
Sounds appropriate for rock and jazz are provided, as well as the sublime sound of a real recorded pipe organ.
Reproduces the Touch of an Acoustic Piano
This instrument uses a Natural Weighted Hammer Action (NH) keyboard that reproduces the same feel that results from the hammers on a real acoustic piano, where the low register is heavier and the high register is lighter. The keybed is sensitive and responds to nuanced touch at the tip of your fingers.
Versatile I/O for a Range of Connectivity
The B2 provides connectors that allow using the instrument in conjunction with a variety of software and music hardware. This opens new possibilities for enjoying a digital piano that helps users create great music. You can use a USB cable (sold separately) to connect this instrument's USB port to your smartphone, tablet, or computer, and use the B2 Piano as a MIDI keyboard to play an external sound module.
Listen to Recorded Performance via Built-in Speakers
Your performance on the piano can be recorded as music data on your smartphone, and sound from your smartphone can be heard through built-in speakers. You can also output your favorite music smartphone through the piano speakers and enjoy playing along. Just connect it to the smartphone's headphone jack. Even when you're not playing the piano, you can use the B2 as a home speaker system for enjoying music.
Convenient Design with Easy Functions
The metronome can be turned on/off with one touch. There's a touch control function that gives you three levels of adjustment for how your playing dynamics affect the sound (light, normal, heavy), letting you perform with a response that suits your own style. It also gives you two effects setting: reverb and chorus.
Included Music Rest for Sheet Music and Mobile Devices
The removable music rest features a wide, spacious design. There's enough space to spread out several sheets of music, reducing your need to turn pages while performing. You can also place sheet music beside your iPad or other tablet.
Ratings and reviews
KORG B2SP 88-Key Natural Weighted Hammer Action Digital Piano with Stand and Three-Pedal Unit
KORG B2SP 88-Key Natural Weighted Hammer Action Digital Piano with Stand and Three-Pedal Unit
---