Sony ZV-1 Camera for Content Creators and Vloggers with Complete Sony Vlogging Accessory Bundle
Sony ZV-1 Camera for Content Creators and Vloggers with complete Sony Vlogging accessory bundle
Sony ZV-1 Camera for Content Creators and Vloggers
Sony Digital Bluetooth Wireless Microphone
Sony ACCVC1 Vlogger Accessory Kit
Koah Tillary Messenger Camera Bag with Accessory & Cleaning Kit
Koah Tillary Messenger Camera Bag with Accessory & Cleaning Kit
Sony Compact Stereo Lavalier Microphone - ECM-LV1
KO-USBAC1-RD.jpg
Sony ZV-1 Camera for Content Creators and Vloggers
Sony ZV-1 Camera for Content Creators and Vloggers
Sony ZV-1 Camera for Content Creators and Vloggers
Sony ZV-1 Camera for Content Creators and Vloggers
Sony ZV-1 Camera for Content Creators and Vloggers
Sony ZV-1 Camera for Content Creators and Vloggers
Sony ZV-1 Camera for Content Creators and Vloggers
Sony ZV-1 Camera for Content Creators and Vloggers
Sony ZV-1 Camera for Content Creators and Vloggers
Sony ZV-1 Camera for Content Creators and Vloggers
Sony ZV-1 Camera for Content Creators and Vloggers
Sony ZV-1 Camera for Content Creators and Vloggers
Sony ZV-1 Camera for Content Creators and Vloggers with Complete Sony Vlogging Accessory Bundle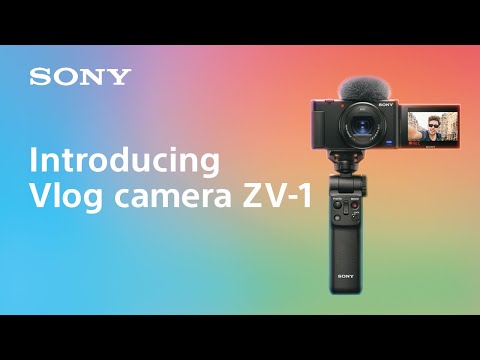 Product highlights:
20.1MP back-illuminated 1-inch Exmor RS CMOS sensor
BIONZ X processor with front-end LSI
4K movie recording (full pixel readout and no pixel binning)
Side-articulating LCD screen
HLG (Hybrid Log-Gamma) and S-Log3/2
3-capsule directional mic and wind screen
High bit rate XAVC S codec
Industry standard 3.5mm microphone input
Super Slow Motion recording
24-70mm1 f/1.8-2.8 Zeiss Vario-Sonnar T* lens
Starting at $95/mo or 0% APR.
---
---
---
Need help deciding?
Contact us right now!
Call or chat with one of our experts.
In the box
Sony ZV-1 Camera for Content Creators and Vloggers
Sony ZV-1 Camera for Content Creators and Vloggers
Battery (NP-BX1)
Microphone Wind Screen
Wind Screen Adapter
Limited 1-Year Warranty
Sony ECM-W2BT Digital Bluetooth Wireless Microphone
Sony ECM-W2BT Digital Bluetooth Wireless Microphone
ECM-W2BT(T) Wireless Transmitter Unit
ECM-W2BT(R) Wireless Receiver Unit
Windscreen
Carrying Pouch
3.5mm to 3.5mm Audio Cable
Micro USB Cable
Connector Protect Holder
Manual / Operating Instructions
Limited 1-Year Warranty
Sony ACCVC1 Vlogger Accessory Kit
Sony ACCVC1 Vlogger Accessory Kit
GP-VPT2BT Wireless Bluetooth Shooting Grip and Tripod
Carrying Pouch
Lithium Coin Cell Battery CR2032
64GB E-Series High-Speed SD Card
Limited 5-Year Warranty on the Card
Sony ECM-LV1 Compact Stereo Lavalier Microphone
Sony ECM-LV1 Compact Stereo Lavalier Microphone
Wind Screen
Limited 1-Year Warranty
Koah Nostrand Avenue Camera System Gadget Bag with Accessory and Cleaning Kit
Koah Nostrand Avenue Camera System Gadget Bag with Accessory and Cleaning Kit
Nostrand Avenue Gadget Bag with Shoulder Strap
Photography Cleaning Kit
Kingston Mobilelite Plus USB 3.2 SD Card Reader for UHS-II SD Cards
Kingston Mobilelite Plus USB 3.2 SD Card Reader
2 years warranty & support
Sony ZV-1 Camera for Content Creators and Vloggers with Complete Sony Vlogging Accessory Bundle
Experience the exceptional combination of imaging technology and high-quality audio options with the Sony ZV-1 Camera for Content Creators and Vloggers. This Focus Camera bundle includes a Sony ZV-1 Camera along with a wireless microphone, camera bag, vlogger accessory and cleaning kit, lavalier microphone, and a SD card reader.
Sony ZV-1 Camera for Content Creators and Vloggers
The ZV-1 features a 1.0-type stacked Exmor RS CMOS image sensor with DRAM chip and 24-70mm f/1.8-2.8 ZEISS Vario-Sonnar T* large-aperture lens creating beautiful background bokeh (background blur), allowing the subject to stand out from the background. The camera locks on to and tracks subjects with high accuracy and speed using Sony's leading-edge autofocus system. The ZV-1 also includes the latest-generation BIONZ X image processor with front-end LSI delivering high resolution as well as low noise for superior image quality. It also combines this exceptional imaging technology with high-quality and versatile audio options. The ZV-1 is Sony's first compact camera with a side-opening Vari-angle LCD screen, making it easier to compose your shots in selfie mode while connecting external audio accessories. To meet any video need, the ZV-1 contains advanced video features including 4K movie recording and in-body image stabilization.
Quickly Switch Between two Modes of Background Bokeh
The ZV-1 offers a simple solution to easily switch between two levels of background bokeh while recording. Using the new Background Defocus function, users can rapidly adjust the optical aperture between more and less background defocusing blur without losing focus on the subject. Located on top of the camera, this Bokeh button is easily accessible and makes selfie shooting operation a breeze.
Focus on the Subject You Want
The ZV-1 makes it easier than ever to shoot product reviews and similar video content. Gone are the days of placing a hand behind an object to prompt the camera to bring it into focus thanks to a new Product Showcase Setting, which allows for quick and smooth focus transitions between the subject's face and the object placed in front of the lens. Built on the leading-edge technology developed for Alpha and RX series cameras, this new compact camera includes advanced autofocus (AF) allowing it to lock on and track subjects with high accuracy and speed while recording. For maintaining focus on the intended subject or subjects in busy environments, Real-time Eye AF and Real-time Tracking AF for video allows the ZV-1 to seamlessly switch focus between multiple subjects while controlling the AF speed and tracking sensitivity.
Prioritize Your Face
Extreme changes in lighting, like walking outside on a sunny day and suddenly moving from a bright location into shade, are no problem for the ZV-1 thanks to the new Face Priority auto exposure (AE) function. It detects and prioritizes the subject's face and adjusts the exposure to ensure the face is depicted at an ideal brightness in any environment. This AE technology also suppresses an abrupt change in exposure if the subject quickly turns away from the frame to eliminate unexpected blown-out or extremely dark shots. In addition, the camera features a new advanced color science that has been re-engineered to optimize skin tones for any subject in both still and video modes.
Crystal Clear Audio
High quality content requires clear, excellent audio quality, and the ZV-1 is well-equipped to produce just that with reliable and versatile audio options. The ZV-1's onboard mic features Sony's latest Directional 3-capsule Mic which was designed for forward-directional audio capture, allowing for clear capture of the subject's voice while minimizing background noise, especially when operating in selfie mode. For added flexibility, the ZV-1 also features an industry standard mic jack (3.5mm) and Multi Interface Shoe (MI shoe) making it easy to connect a wide range of external microphones. The ZV-1 is also supplied with a wind screen accessory that fits on the MI shoe to minimize wind interference.
Sony ECM-W2BT Digital Bluetooth Wireless Microphone
With a stable Bluetooth wireless communication of up to 650 feet, the Sony ECM-W2BT Digital Microphone is an ideal for vloggers and content creators. It can be easily connected to Sony cameras that employ either a digital or analog MI (Multi Interface) shoe for cable-free connectivity. Once connected to the digital MI shoe camera, the microphone's receiver unit converts the analog audio to digital output and sends the digitalized audio to the camera for a low-noise high-quality recording. This wireless microphone not only captures audio on a camera or camcorder, but can also be used for external audio recorders, mobile phones and personal computers. Thanks to the supplied 3.5mm to 3.5mm audio cable that easily connects the receiver to cameras and other devices that have a 3.5mm microphone input jack.
Omni-Directional Mic Capsule
Sony ECM-W2BT's transmitter unit has an advanced omni-directional microphone capsule that captures clear sound recording from any direction. The included fuzzy windscreen can be attached to the microphone to reduce wind noise if required. An external 3.5mm output jack on the unit lets you attach other microphones like the ECM-LV1 Lavalier Stereo Mic. The transmitter also includes a convenient clip that can attach to clothing.
Three Sound Pick Up Pattern Options
The Sony ECM-W2BT Wireless Microphone offers ultimate creative freedom thanks to its sound acquisition functions. It provides three sound pickup modes - MIC, MIX, and RCVR modes that allow you to record sound and ambient sound based on a desired preference. In MIC mode, audio is captured from the microphone transmitter so that only the subject audio is captured. In RCVR mode, sound is recorded from the internal microphone at the receiver, to capture user's audio. Finally, in MIX mode, sound is recorded on both transmitter and receiver which is useful when audio from both the subject and the user is desired.
Transmitter Attenuator Switch
The transmitter comes with an attenuator switch that lets you adjust the audio level pickup, which is useful when sound is excessively loud or too low. The unit offers three attenuation levels; 20dB, 10dB, and 0dB that can be selected depending on the sound source volume. The 20dB setting allows the recording of loud sounds with reduced distortion, while quieter sounds can be amplified for recording at the 0dB setting. The attenuator function helps recording appropriate audio levels. The best way to set the audio level is while monitoring the audio level meter on the camera the volume on headphones connected to the camera.
Stable Communication Up To 650 Feet
The Sony ECM-W2BT Digital Microphone comes with an improved wireless connectivity, providing stable connection between the microphone and receiver, even in the presence of obstacles or in crowded environments with multiple wireless activities taking place. In locations with good visibility, communication is possible at up to 650 feet (200m), significantly increasing the flexibility of audio recording.
Qualcomm aptX Low Latency Bluetooth Codec
This wireless microphone uses Qualcomm aptX Low Latency Bluetooth codec that delivers both high-quality audio recording and low latency.
LINK and Power Lamps
For easy reference, the Sony ECM-W2BT includes a LINK lamp to notify the user of the status of the communication between the microphone and the receiver. A Power lamp shows the remaining battery charge.
Compact, Lightweight Body Design
The compact transmitter clips discreetly beneath clothing and is easy to hold, weighing only 0.95 oz and measuring 1.2 x 2.66 x 0.75 inch. The receiver has a low profile when mounted on top of a camera's MI or hot shoe weighing in at only 0.98 oz and measuring 1.34 x 1.13 x 2.09 inch. To match the rugged performance of Sony cameras, both the transmitter and receiver units come with a dust and moisture-resistant design.
Rechargeable Lithium-Ion Battery
Both the transmitter and receiver have a built-in rechargeable lithium-Ion battery that offers long recording times. When longer operation is needed, the battery assist function via the power supply from a compatible camera's Multi Interface shoe enables the user to operate the receiver for up to 18 hours.
Terminal Protection Holder
A supplied terminal protection holder keeps the transmitter and receiver together when not in use and protects the terminal from damage. The holder can also support the transmitter as a stand when placed on a flat surface like a table to capture sound from multiple directions. This could be useful when needed to record groups or meetings.
Wind Screen Included
The included windscreen reduces the wind noise that occurs when strong wind or breath impacts the microphone. As a result, the speaker's voice can be recorded clearly and stably, even when shooting outdoors.
Works with ECM-LV1 Stereo Lavalier Microphone
The microphone supports stereo audio output input and features an external 3.5mm stereo mini-jack to allow for stereo sound pickup. It can be used in combination with a stereo-capable lavalier microphone such as the ECM-LV1, as an unobtrusive microphone that can easily attach to the subject's clothing and record sound with increased realism.
Sony ACCVC1 Vlogger Accessory Kit
Perfectly suitable for Vloggers and travelers, this Accessory Kit from Sony gives you a versatile GP-VPT2BT Wireless Bluetooth Shooting Grip along with a 64GB SDXC memory card. The GP-VPT2BT Grip also duals as a mini tripod giving you limitless shooting options.
Sony GP-VPT2BT Wireless Bluetooth Shooting Grip and Tripod
Ideal for selfies, vlogging and everyday use, the Sony GP-VPT2BT Wireless Bluetooth Shooting Grip and Tripod is a reliable, cable free grip and tripod which will improve your content creation creativity and mobility. This Bluetooth Shooting Grip and Tripod is compatible with a variety of Sony's latest digital cameras.
Bluetooth Wireless Remote Commander
While holding the grip normally, remote controls for still and movie shooting can be operated With a compatible camera attached, without having to touch the camera. Any function assigned to the camera's C1 button can also be recalled via the remote grip C1 button.
No Cables Required
Bluetooth wireless communication means that no connecting cables are required to transmit control signals from the grip to the camera. Simply aim and shoot with no cables to get in the way.
Dust and Moisture Resistant
In addition to an overall grip design that keeps dust and moisture out, the absence of cables means that the camera's connector covers can stay closed, for maximum system dust and moisture resistance.
Quick, Easy Subject or Selfie
Quickly and easily position the camera direction for subject or selfie stills or movies. Improve your chances of getting the shot, even when shooting stills or movies without assistance. Combined with the grip's easy angle adjustment capability, 90 degree lock positions also make it possible to shoot in vertical orientation with optimum stability.
Contoured for Comfort
The grip has been carefully designed to provide optimum stability and comfort, whether attached to a compact or mirrorless interchangeable-lens camera. Remote control buttons are easily accessible while holding the grip, for smooth, intuitive operation.
Flexible Tilt Function
A quick tilt function makes it easy to set the ideal camera angle for a wide range of subjects and viewpoints. Whether shooting selfies or a subject, the tilt function lets you get the shot without having to assume uncomfortable postures.
It's a Tripod Too
Spread the grip's cleverly integrated legs and it becomes a handy, stable tripod, leaving both hands free for vlogging and other applications.
Sony 64GB E-Series High Speed SD Card
The SF-E Series UHS-II SD Card with fast write speeds of up to 70 MB/s and up to 270 MB/s read, File Rescue software, and protection from water, dust, drops, UV exposure, and X-rays. The SF-E series SD cards make UHS-II performance and legendary Sony reliability more accessible than ever. The SF-E Series also offers protection from water, dust, drops, UV exposure, and X-rays.
Faster Transfer to PC
With a faster read speed of up to 270 MB/s, you can transfer even large media files to your PC in seconds with a UHS-II SD card reader. Spend less time waiting and more time doing.
File Rescue
Never fear. Even when things go wrong, you can avoid disaster with downloadable rescue software that recovers photo and video files that have been accidentally deleted or that cannot be played back.
Built to Last
With an IP57 rating, this SD card is durable and resistant. Designed to survive drops of up to 4.92 feet, waterproof for 30 min at 3.28 feet depth, and able to operate in temperatures ranging from -13 to 185-degree-F, the SF-E Series UHS-II SD Card will last, whatever the weather.
Supporting Interface
This card supports UHS-II interface for maximum performance. It is also compatible with UHS-II devices.
Sony ECM-LV1 Compact Stereo Lavalier Microphone
The Sony ECM-LV1 is a versatile lavalier microphone suitable for a variety of situations and uses. The microphone is designed to be visually unobtrusive and can be positioned close to the speaker's mouth for optimal audio pickup. In addition to cameras and camcorders, the Sony ECM-LV1 Microphone works with a wide variety of electronic devices. It works with devices equipped with an external microphone input such as PCs and digital voice recorders.
Clear Stereo Sound
With the Sony ECM-LV1 Lavalier Microphone, you don't have to worry about directional microphone placement. It features omnidirectional capsules that provide clear, high-quality sound with pickup from all directions.
Battery-Free Recording
The microphone comes with a plug-in power system that runs on the power supplied by the microphone connector, enabling a battery-free operation.
Simple, Unobtrusive Design
The ECM-LV1 has a black finish and is simple in form as well as highly mobile. It measures just 1.26-inch in length and 0.43-inch in diameter. It's designed to be unnoticeable when attached to clothing, which is a useful feature for a variety of shooting situations.
360-Degree Rotating Clip
The flexible rotating clip lets you attach the microphone at any convenient angle. It allows any orientation from horizontal, for a necktie or lapel, to vertical for a pocket clip.
Included Windscreen
The included windscreen is designed to reduce the impact of both wind noise and the speaker's breath sounds, resulting in clear and stable sound recording even when shooting outdoors on a windy day.
Koah Nostrand Avenue Camera System Gadget Bag with Accessory and Cleaning Kit
The Nostrand Avenue Camera System Gadget Bag from Koah is a semi-soft carrying case that fits one DSLR camera and up to two lenses and accessories. Designed with keeping easy access in mind, it features a large top cover that protects your camera/camcorder and gear from rain and sand. It also allows for quick access to your camera and is secured with a snap coupler. An extended zipper pulls add to the bags convenient design.
Additional Storage
The Nostrand Avenue Bag comes with additional front and side zippered pockets for holding accessories like a spare battery, charger, HDMI cable, and memory card. With the included shoulder strap and sturdy design, you can take it with you virtually anywhere. Also included with this bag is an optics care and cleaning kit.
Koah Photography Cleaning Kit
This Photography Cleaning Kit by Koah comes complete with a compact mini tripod, a microfiber lens cloth, a fine bristle cleaning brush, lens cleaning wipes, a lens cleaning spray bottle, a rubber bulb air blower, loop straps, and finally a small carrying pouch to store these accessories. This kit was designed to meet the cleaning needs of various photography and video optics, binoculars and spotting scopes, filters and other glass elements.
Kingston Mobilelite Plus USB 3.2 SD Card Reader for UHS-II SD Cards
Kingston's MobileLite Plus SD Reader features USB 3.2 Gen 1 speeds along with maximum performance for UHS-II supported SD cards and is backward-compatible for UHS-I supported SD cards. Use with Kingston's UHS-II supported SD cards for optimal performance and reliability. Increase the efficiency of your workflow with incredible UHS-II speeds for faster file transfers and processing times. It comes in a minimal and compact design for portability making it the perfect travel companion to take your workflow on the road. The reader is best paired when used with Kingston Canvas Go! Plus or Canvas React Plus SD cards.
Ratings and reviews
Sony ZV-1 Camera for Content Creators and Vloggers with Complete Sony Vlogging Accessory Bundle
Sony ZV-1 Camera for Content Creators and Vloggers with Complete Sony Vlogging Accessory Bundle
---