Westcott Rapid Box Switch Softbox (Octa-M, 36 inches) front right angle diffusion
Westcott Rapid Box Switch Softbox (Octa-M, 36 inches) back angle
Westcott Rapid Box Switch Softbox (Octa-M, 36 inches) left angle diffusion
Westcott Rapid Box Switch Softbox (Octa-M, 36 inches) diffusion open
Westcott Rapid Box Switch Softbox (Octa-M, 36 inches) no diffusion
Westcott Rapid Box Switch Softbox (Octa-M, 36 inches) collapsed
Westcott Rapid Box Switch Softbox (Octa-M, 36 inches) back
Westcott Rapid Box Switch Softbox (Octa-M, 36 inches) rb switch m back with speedlite
Westcott Rapid Box Switch Softbox (Octa-M, 36 inches) RB switch medium back with profoto
Westcott Rapid Box Switch Softbox (Octa-M, 36 inches) attach insert heavy-duty thumb-lock mount
Westcott Rapid Box Switch Softbox (Octa-M, 36 inches) mount changing insert
Westcott Rapid Box Switch Softbox (Octa-M, 36 inches) mount diffusion
Westcott Rapid Box Switch Softbox (Octa-M, 36 inches) bleached nylon diffusion panel
Westcott Rapid Box Switch Softbox (Octa-M, 36 inches) m mount speedlite
Westcott Rapid Box Switch Softbox (Octa-M, 36 inches) speedlite mount
Westcott Rapid Box Switch Softbox (Octa-M, 36 inches) works with speedlite
Westcott Rapid Box Switch Softbox (Octa-M, 36 inches) speedlites
Westcott Rapid Box Switch Softbox (Octa-M, 36 inches) mount strobe
Westcott Rapid Box Switch Softbox (Octa-M, 36 inches) strobe mount
Westcott Rapid Box Switch Softbox (Octa-M, 36 inches) m open
Westcott Rapid Box Switch Softbox (Octa-M, 36 inches) open
Westcott Rapid Box Switch Softbox (Octa-M, 36 inches) opening
Westcott Rapid Box Switch Softbox (Octa-M, 36 inches) quick-collapse frame
Westcott Rapid Box Switch Softbox (Octa-M, 36 inches) optional deflector plate
Westcott Rapid Box Switch Softbox (Octa-M, 36 inches) rear external mount
Westcott Rapid Box Switch Softbox (Octa-M, 36 inches)
Westcott Rapid Box Switch Softbox (Octa-M, 36 inches)
Westcott Rapid Box Switch Softbox (Octa-M, 36 inches)
Westcott Rapid Box Switch Softbox (Octa-M, 36 inches)
Westcott Rapid Box Switch Softbox (Octa-M, 36 inches)
Westcott Rapid Box Switch Softbox (Octa-M, 36 inches) switch insert
Westcott 36-Inch Octa-M Rapid Box Switch Softbox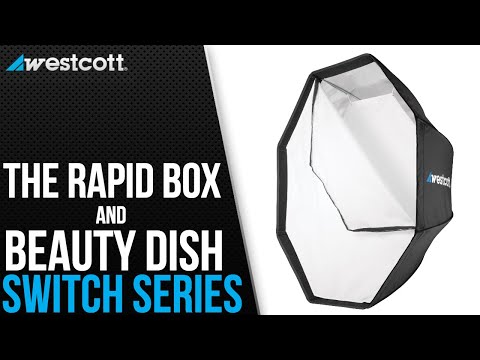 Product highlights:
36-inch nominal diameter
Convenient and collapsible octagonal light modifier
Fastest setup time
Easily switch different types of lights in seconds
Compatibility with most off-camera flashes
Quick-release thumb-lock ensures the security of your light
Durable metal framework and heat-resistant fabrics
Taut silver interior maximizes light output
Requires a Switch Insert to mount your light (sold separately)
Pay over time for orders over $300 with Affirm.
---
---
---
Need help deciding?
Contact us right now!
Call or chat with one of our experts.
In the box
Westcott 36-Inch Octa-M Rapid Box Switch Softbox
Westcott 36-Inch Octa-M Rapid Box Switch Softbox
Manufacturer's 1-Year Limited Warranty
Westcott 36-Inch Octa-M Rapid Box Switch Softbox
The Westcott Rapid Box Octa-M Switch Softboxes are large collapsible softboxes with reflective silver interiors and diffusion panels for modifying speedlites or strobes. Octagonal modifiers are ideal for photographing people. Due to their round shape, Rapid Box Octa softboxes leave a natural, more appealing catch light in your subject's eyes. These modifiers are a perfect key light for portraits.
The Softbox That Changes With You
With interchangeable light mount inserts, the Rapid Box Switch is designed for use with the most popular strobes, speedlites, and monolights. The 9 unique sizes and shapes with new 1x4, 2x3, and 3x4 options allows you to choose your Switch modifier while the 13 quick-release interchangeable light mount options allows you to choose your Switch Insert.
Designed for Portability
Constructed with solid aluminum umbrella-inspired framework, the design of the Rapid Box Switch maximizes durability, minimizes weight, eliminates the need for separate support rods, and makes setup a breeze. Everything is simple, quick, and compact. After your shoot, the Rapid Box Switch breaks down instantly into a sleek carry case for travel and storage.
An Ingenious Light Modifier
Pairing durable fabrics with a quick-collapse frame, Westcott's Rapid Box Switch softboxes offer the professional light modification that you're looking for without the tedious setup.
Premium Diffusion Fabric
Westcott's diffusion panels are constructed with an all-natural, unbleached nylon fabric. Unlike processed diffusion fabrics, these diffusers will soften your light source without altering its color temperature.
The Must-Have Accessory
The optional Deflector Plate minimizes hot spots and creates a stunning beauty-style light output. These plates are easy to use with all Rapid Box softboxes.
Rear-Mounted Lights
Westcott purposely designed the Rapid Box Switch with an external mount. By keeping your speedlight or strobe outside of the softbox, you can quickly access controls and utilize the line-of-sight (or optical wireless) functionality. Of course, radio triggers can be used as well.
Heavy-Duty Mounts for the Most Popular Lights
Switch Inserts attach your light source to any Rapid Box Switch light modifier in an instant. This durable all-metal adapter slides quickly into the rear tabs of your Rapid Box Switch and secures in place with the thumb-lock.
Ratings and reviews
Westcott 36-Inch Octa-M Rapid Box Switch Softbox
Westcott 36-Inch Octa-M Rapid Box Switch Softbox
---