Sony FE 16-35mm F2.8 GM II Full-frame Standard Zoom G Master Lens
Sony FE 16-35mm F2.8 GM II Full-frame Standard Zoom G Master Lens
Sony FE 16-35mm F2.8 GM II Full-frame Standard Zoom G Master Lens
Sony FE 16-35mm F2.8 GM II Full-frame Standard Zoom G Master Lens
Sony FE 16-35mm F2.8 GM II Full-frame Standard Zoom G Master Lens
Sony FE 16-35mm F2.8 GM II Full-frame Standard Zoom G Master Lens
Sony FE 16-35mm F2.8 GM II Full-frame Standard Zoom G Master Lens
712444951b59393c8075374efbc9b43dea3b18727641631c3f8d03c9a10d1a26-8a359bfc9f6980d3.jpg
f7958bdad7743e966fd551f18293d04b747eae4e59204a79b93c6ddfdeb602f9-a7a85cd21f08b4af.jpg
Sony FE 16-35mm F2.8 GM II Full-frame Standard Zoom G Master Lens
Sony FE 16-35mm F2.8 GM II Full-frame Standard Zoom G Master Lens
Sony FE 16-35mm F2.8 GM II Full-frame Standard Zoom G Master Lens
Sony FE 16-35mm F2.8 GM II Full-frame Standard Zoom G Master Lens
Sony FE 16-35mm F2.8 GM II Full-frame Standard Zoom G Master Lens
b86434854bcdfa15d36Sony FE 16-35mm F2.8 GM II Full-frame Standard Zoom G Master Lens74cf7739361d01a73e94da388a353368e1fdedcda24cd-93e0fdb734ae29d9.jpg
Sony FE 16-35mm F2.8 GM II Full-frame Standard Zoom G Master Lens
Sony FE 16-35mm F2.8 GM II Full-frame Standard Zoom G Master Lens
Sony FE 16-35mm F2.8 GM II Full-frame Standard Zoom G Master Lens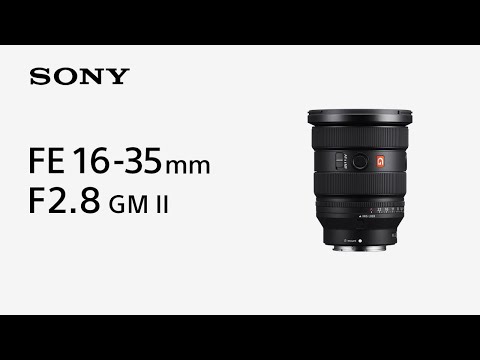 Product highlights:
Focal Length: 16-35mm
Aperture Range: f/2.8 to f/22
E-mount Lens
APS-C Format
Internal Focusing
Lens Construction: 15 elements in 12 groups
107°-63° Angle of View
XA Lens Elements
Super ED glass (extra-low dispersion)
Four XD Linear Motors
Eleven-Blade Circular Diaphragm
Nano Anti-Reflective coating II
Dust and moisture resistant
Petal shaped, ALC-SH177 lens hood
---
Need help deciding?
Contact us right now!
Call or chat with one of our experts.
In the box
Sony FE 16-35mm F2.8 GM II Full-frame Standard Zoom G Master Lens
Sony FE 16-35mm F2.8 GM II Full-frame Standard Zoom G Master Lens
Lens hood ( ALC-SH177)
Lens front cap (ALC-F82S)
Lens rear cap (ALC-R1EM)
Padded case w/strap
Sony FE 16-35mm F2.8 GM II Full-frame Standard Zoom G Master Lens
The world's smallest, lightest full-frame F2.8 wide-angle zoom
Even though it is the smallest and lightest full-frame F2.8 16-35 mm zoom in the world, the FE 16-35mm F2.8 GM II delivers extraordinary image quality thanks to XA elements and Super ED glass (extra-low dispersion) in an advanced optical design. Lightweight high-thrust XD Linear Motors further contribute to a low overall weight of just 19.3 oz. (547 g) – about 20% lighter than FE 16-35mm F2.8 GM. The overall length is just 4.5 in. (111.5 mm).
Breathtaking G Master image quality right out to the edges of the frame
High spatial resolution results in detailed rendering of dynamic wide-angle scenes right out to the image edges throughout the 16-35 mm zoom range, even with the aperture wide open. Five aspherical elements include three XA (extreme aspherical) elements, and aberration is controlled for a superb blend of high resolution and gorgeous bokeh.
Extraordinary resolution and bokeh throughout the zoom range
Smooth, beautiful bokeh that can add depth to this remarkable lens's outstanding resolution is made possible by a large F2.8 maximum aperture, innovative optical design, and an advanced 11-blade aperture unit. Gorgeous circular bokeh can add extra appeal and expressive impact to a wide range of images.
Autofocus that is smooth, precise, quiet, and lightning-fast
The FE 16-35mm F2.8 GM II uses a floating focus mechanism that includes four original XD Linear Motors and precise lens control for up to approx. 2x2 faster AF speed. Continuous shooting at up to 30 fps is possible with Sony's α1 camera. It reliably acquires focus and smoothly tracks subjects, easily achieving the critical focus required for slow-motion and 4K/8K movies.
Revealing close-up performance at all focal lengths
The FE 16-35mm F2.8 GM II offers outstanding close-up performance with a minimum focusing distance of just 8.7" (0.22 m) throughout the zoom range and a maximum magnification of 0.32x. This makes it possible to get close for dynamic perspectives while deep bokeh adds extra expressive capability.
Refined movie imagery with minimized focus breathing, focus and axial shift
The latest lens technology reduces focus breathing, focus shift, and axis shift when zooming. Image movement and angle of view variations are minimized for smooth movie imagery without distractions. XD (extreme dynamic) Linear Motors and an advanced aperture unit also reduce noise and vibration that can interfere with movie recording.
Optimally balanced for filmmaking on gimbals
In addition to being lightweight, the FE 16-35mm F2.8 GM II has been designed for ideal balance with minimal extension when zooming. A center of gravity that changes very little contributes to agile, stable maneuverability when shooting handheld, and eliminates the need for readjustment after changing the zoom setting when using a gimbal.
Nano Anti-Reflective coating II suppresses reflections, flare, and ghosting
Flare and ghosting can occur when the sun or other strong light source is in the frame. Sony's original Nano Anti-Reflective Coating II produces a uniform anti-reflection coating on lens surfaces, effectively subduing flare and ghosting in tricky lighting conditions. Internal reflections that can reduce clarity are also suppressed.
Aperture ring, click/de-click switch, and iris lock for flexible iris control
The FE 16-35mm F2.8 GM II features a dedicated aperture ring with both a click ON/OFF switch and an iris lock switch for quick, flexible aperture control. The aperture ring click stops can be turned ON to provide tactile feedback when shooting stills, or OFF for seamless, silent aperture control when shooting movies.
Natural, linear, and precise manual focus response
Linear Response MF ensures that the focus ring responds directly, repeatably, and linearly to subtle control when focusing manually. Focus ring rotation translates directly to a corresponding change in focus, so control feels immediate and precise when shooting stills or movies.
Two customizable focus hold buttons, AF/MF switch
Two customizable focus hold buttons are provided for easy access and convenient control when shooting in a horizontal or vertical orientation. One function can be assigned to the focus hold buttons from the camera's menus. AF/MF switch allows direct access to auto and manual focus modes.
Dust and moisture-resistant design
The FE 16-35mm F2.8 GM II offers improved dust and moisture resistance4. All seams feature structural sealing, buttons, and switches are fitted with silicone rubber gaskets, and a rubber ring seals the lens mount. These refinements work together to minimize the possibility of dust and moisture incursion in challenging outdoor environments.
Fluorine front element coating
The front lens element features a fluorine coating that repels water, oil, and other contaminants while making it easier to wipe off any contaminants or fingerprints that become attached to the lens surface.
Petal-shaped, ALC-SH177 lens hood with low profile design
While effectively blocking unwanted light, the new lens hood supplied with the FE 16-35mm F2.8 GM II is smaller than the lens hood supplied with the FE 16-35mm F2.8 GM, making it less obtrusive in use or when stored in a camera bag.
Ratings and reviews
Sony FE 16-35mm F2.8 GM II Full-frame Standard Zoom G Master Lens
Sony FE 16-35mm F2.8 GM II Full-frame Standard Zoom G Master Lens
---