Blue Microphones Yeti Microphone (Blackout) with Boom Arm Stand, Pop Filter and Shock Mount
Blue Microphones Yeti Microphone (Blackout) with Boom Arm Stand, Pop Filter and Shock Mount
lue Microphones Yeti Microphone (Blackout)
Blue Microphones Yeti Microphone (Blackout) with Boom Arm Stand, Pop Filter and Shock Mount
lue Microphones Yeti Microphone (Blackout)
Blue Microphones Yeti Microphone (Blackout) with Boom Arm Stand, Pop Filter and Shock Mount
lue Microphones Yeti Microphone (Blackout)
lue Microphones Yeti Microphone (Blackout)
lue Microphones Yeti Microphone (Blackout)
Yeti-Blackout_KN-MDBA02B_KN-BYSM01B_KN-PF1.jpg
Blue Microphones Yeti Microphone (Blackout) with Boom Arm Stand, Pop Filter and Shock Mount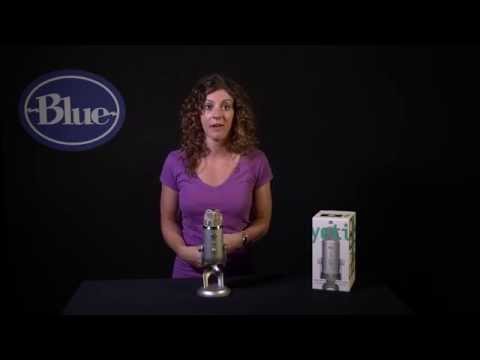 Product highlights:
Ultimate professional USB microphone
Three condenser capsule array
Cardioid, bidirectional, omnidirectional and stereo selection
Gain control, mute button, zero-latency headphone output
Unique position-able design
For vocals, instruments, podcasting, gaming, and more
Mac and PC compatible
Pay over time for orders over $300 with Affirm.
---
---
---
Need help deciding?
Contact us right now!
Call or chat with one of our experts.
In the box
Blue Microphones Yeti USB Microphone (Blackout)
Blue Microphones Yeti USB Microphone (Blackout)
Limited 2-Year Warranty
Knox Gear Shock Mount for Blue Yeti and Yeti Pro Microphones (Black)
Knox Gear Desktop Boom Arm Microphone Stand
Knox Gear Desktop Boom Arm Microphone Stand
Desk Mounting Clamp
5/8 in. to 3/8 in. Adapter
Knox Gear 1-Year Warranty
Knox Gear Pop Filter for Broadcasting and Recording Microphones
Blue Microphones Yeti Microphone (Blackout) with Boom Arm Stand, Pop Filter and Shock Mount
Blue Microphone's incredibly popular series of Yeti Microphones are the premier option to help you with broadcast-quality podcasting, YouTube productions, Skype/VoIP and voice-over work, and video game streaming. Focus Camera further combines this bundle with a microphone suspension boom scissor arm, shock mount, and pop filter for broadcasting and recording microphones.
Blue Microphones Yeti USB Microphone (Blackout)
The Blue Microphones Yeti USB Microphone creates unparalleled recordings with your computer using Blue's best-selling family of Yeti USB microphones. Now with Blue Voice software, you can craft the perfect broadcast vocal sound and entertain your stream audience with enhanced effects, advanced voice modulation, and HD audio samples. Four different pickup patterns offer incredible flexibility so you can record vocals for music, podcasts, twitch streaming, YouTube videos, or even cryptozoology lectures in ways that would normally require multiple microphones. Whether you're recording at home, on the road, or in the Himalayas, Yeti helps you produce studio-quality recordings every time.
Total Recording Control with Yeti
Yeti features studio controls for headphone volume, pattern selection, instant mute, and microphone gain putting you in charge of every level of the recording process. If you're experiencing distortion or feedback while recording an especially loud source like the deafening sound of an avalanche simply adjust the microphone's sensitivity with the gain control. Or if you want to take a break in the middle of a podcast, use the instant mute button. Yeti computer microphone comes equipped with a 3.5-millimeter headphone jack that allows you to listen to what you're recording in real-time, without latency delays which means no more hearing a note 3 seconds after you played it. You can adjust the volume of your headphones using the control on the front of the microphone.
Innovative Design Makes Recording Easy
Yeti doesn't mind getting pushed around, it lets you adjust and pivot the microphone to the sound source, which optimizes your sound quality. Once you've achieved the desired angle, simply hand-tighten the set knobs to secure it in place. Yeti is a side-address condenser microphone, so you can capture the best sound by going face-to-face with it. The microphone can also be folded down for easy portability, or removed completely from its base for mounting directly on a mic stand or Radius II shockmount.
Start Recording Quickly
Yeti was designed with a convenient, no-hassle workflow in mind. Set up in seconds with the included desktop microphone stand or connect directly to a mic stand. Adjust microphone gain, pick up pattern, headphone volume, or mute/unmute with easy-to-reach controls. And record in comfort with Yeti's side-address operation just speak, sing or play into the Yeti on the same side as the Blue logo to capture pro sound. The Yeti is a side-address microphone. A side-address microphone accepts sound from an angle perpendicular to the mic as opposed to a front-address mic, which accepts sound from the 'end' of the microphone
Accessorize Your Studio
Transform your desktop into a broadcast studio with Compass broadcast boom arm, Radius III shockmount and Yeti, the world's 1 USB microphone. With professional features, studio sound quality and sophisticated on-camera looks, you have everything you need for professional podcasting, game streaming and voice over work.
Knox Gear Shock Mount for Blue Yeti and Yeti Pro Microphones (Black)
Whether you're podcasting at home or working in a professional studio, the most important item involved in the recording process is a good microphone. But the audio produced by even the most expensive microphone can be rendered unusable if it's sitting on an unstable surface. Even slight vibrations can produce disruptive noises in your recordings, so it's important to use a shock mount to eliminate as much vibration and mechanical noise as possible
Compatibility
This Knox Gear Shock Mount is designed specifically for Blue Yeti and Yeti Pro microphones and is a great choice if you're looking for a versatile shock mount that can be easily attached to most boom arms. It's got an adjustable hinge and 3/8-inch-16 threading that will fit most boom arms on the market.
Heavy-Duty Construction
The Knox Gear Shock Mount is made of metal and features high-tension elastic cords that isolate the Yeti mic. This mount is designed to absorb and redirect vibrations away from the Yeti to reduce audio interference that can ruin recordings. There's also a padded rear stopper to hold the Yeti in the perfect position while it's in the mount.
Adjustable Hinge
This Yeti mount features a fully adjustable hinge so you can quickly and easily set the microphone's position to the angle that works best for you. The hinge is held in place by a thumb screw so you can set the tension as loose or as tight as you'd like, too!
Unleash the Content Creator Inside You
Construct your ultimate creative vision and share your voice with the world. Knox Gear shock mounts are found in the recording studios and professional setups of musicians & streamers from across the globe. Perfect for recording, podcasting, broadcasting, streaming, and live performances.
Knox Gear Desktop Boom Arm Microphone Stand
Getting into podcasting, broadcasting, music or voice acting can be intimidating. Equipment can be prohibitively expensive, yet you know that if anything goes wrong, it can lead to a host of audio issues. This is why it's crucially important to use gear you can trust.
The Knox Gear Desktop Boom Arm Microphone Stand provides a seamless experience from setup through recording. You'll love the durable quality, ease of installation, and complete control and adjustability.
Mounts to Desk or Full Stand
The Knox Gear Desktop Boom Arm Microphone Stand can be mounted to the included clamping base or to a floor stand. Easily remove the boom arm from the base and reinstall if you need to. Plus, there is a 3/8 in. adapter in the box just in case the 5/8 in. thread does not fit your equipment.
Easily Adjustable
The arm can be rotated 360 degrees to adjust the direction of the microphone. Thanks to a super-strong spring with an extra positioning screw, the Desktop Boom Arm Microphone Stand can also be adjusted to bear more weight if necessary. Locking knobs help adjust the tension to your needs.
Knox Gear Pop Filter for Broadcasting and Recording Microphones
The Knox Gear Pop Filter for Broadcasting and Recording Microphones is a guard used by amateurs and professionals to achieve clearer audio recordings by eliminating 'popping' sounds from P's and B's. It also keeps saliva from hitting the microphone. The included gooseneck clamp enables the filter to be placed in a variety of positions.
An Inexpensive Way to Improve Audio Quality
Whether you're a professional or amateur, adding a pop screen to your recording set up is a cheap and easy way to improve the audio quality of your recordings immediately. Pop screens diffuse wind and gusts of air expelled from your mouth when you speak to help eliminate the loud thuds that can occur when air hits the microphone. Eliminating these noises makes your recorded audio sound clearer and more professional to listeners!
Clamp Fits Most Microphone Stands
This pop screen's clamp is designed to fit most microphone stands and boom arms. The clamp's curved base wraps around mic stands to hold it in place and the rubber screw pad contours to the surface of what it's in contact with. Padding on both surfaces of the clamp protects your microphone from scratches and damage.
Fully Adjustable Gooseneck Arm
The pop screen is mounted on a flexible gooseneck arm that allows you to position it however you want. For extra support and stability during recording, the arm can be bent around the stand and mic. The arm is roughly 14 inches long so you can position the screen as close or as far away from the mic's surface as you'd like.
Large Surface Area
The screen is 6 inches in diameter and will diffuse bursts of air even if the source isn't directly in front of the microphone. This means you can conduct interviews with people who are sitting next to you without worrying about either of you causing pops or thuds. The large screen will also protect your microphone from saliva that might be expelled from your mouth as you talk.
Ratings and reviews
Blue Microphones Yeti Microphone (Blackout) with Boom Arm Stand, Pop Filter and Shock Mount
Blue Microphones Yeti Microphone (Blackout) with Boom Arm Stand, Pop Filter and Shock Mount
---