Sony SEL40F25G FE 40mm f/2.5 G Full-Frame Ultra-Compact G Lens
b972fa3d01e9b3784da204956ccb670720fb017072eac65befc784eda523d6aa-ede9106a2521a789.jpg
90e1c81a5f3e9ec8689947aa3b4d6cdd3588dc4bce9258a8b95fc025389f6dfe-a7cf7458f491488b.jpg
9040ebd0b8961a31a5669caac4b907b5f625f5689fb0e86ab2d6eb405fc569ed-92150eeb18ed928f.jpg
7b0bddb108a977210820f9ef3bfd6f640e73b919a418751b842d27b241968eaa-af9b446cf2b2104a.jpg
3eb13e1d9f1e514e3f724089b11e31453f5a632c336555f7d48228597f5c65a8-7693f5b87cc33748.jpg
95410d71bc3eaf735097b93d08d4a645ef904caba3e70ddce6a1a403542c3d24-db24a74b8acb59d3.jpg
baef54d013b5bfe1037e2c4d12eab44426db23073381f0466555b08b94342466-22f2c1361f4386bd.jpg
6bea5d78adddf053935e11b1761533a06a3e75f1df2fb11b2cf658481de73a48-857f04a58a22384c.jpg
ed6a0189368230cbf00c6c0149b23496c4d8235e5facca826071a80026ec5062-4f14a8109d076e99.jpg
20f04768e4417c07b63f3a2a0ccd03063063f9a0c1eba6ae4db4454bd51e904d-8ac1fa25240508f3.jpg
faee031235cf1126cb7ac3fd4a8204c549ceda8adec99e15811834f38dbb4bc4-31c7f3e583b1cd71.jpg
9213b625ccba845c14dbe46d3125392280d0a56fdbc21da676c419e5049022d6-1fab0e666b589343.jpg
aa3a5d523ff27b219c30508b114e13784e621f7fca6779c5bdde76f6d5383e91-26f236938887c8db.jpg
745365d45bee5bdb14ba76ad2468d82c4d45c22ffc4827592184732e19ecf0ad-5aec602a946a33fb.jpg
a87076e9031719d4e4f9b30c3496936d52d872b290954ce40a4441d7d82ae80f-d9958a1a92a2860d.jpg
Sony SEL40F25G FE 40mm f/2.5 G Full-Frame Ultra-Compact G Lens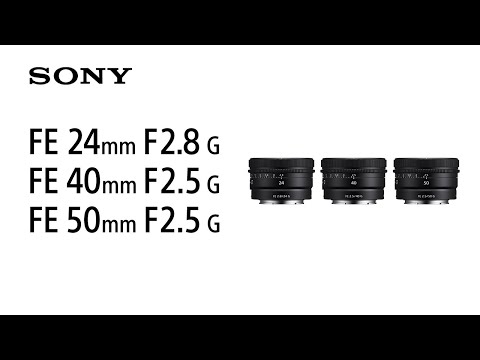 Sony SEL40F25G FE 40mm f/2.5 G Full-Frame Ultra-Compact G Lens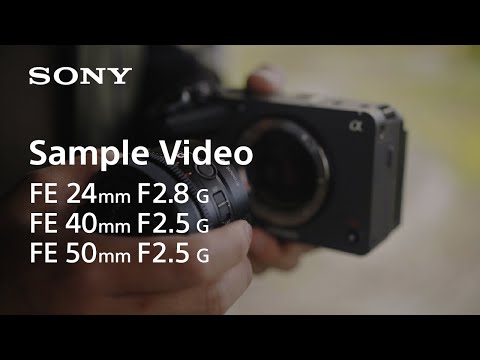 Product highlights:
Focal length: 40mm
Aperture range: f/2.5-22
Sony E-mount lens
Full-frame and APS-C format
Internal focusing
Aspherical lens elements for corner-to-corner sharpness
Dual linear focus motors for fast quiet AF tracking
Instant auto/manual focus selection
Seven-blade circular diaphragm
Programmable focus hold button
Starting at $54/mo or 0% APR.
---
---
---
Need help deciding?
Contact us right now!
Call or chat with one of our experts.
In the box
Sony SEL40F25G FE 40mm f/2.5 G Full-Frame Ultra-Compact G Lens
Sony SEL40F25G FE 40mm f/2.5 G Full-Frame Ultra-Compact G Lens
Lens Hood (ALC-SH166)
Lens Front Cap (ALC-F49S)
Lens Rear Cap (ALC-R1EM)
Sony SEL40F25G FE 40mm f/2.5 G Full-Frame Ultra-Compact G Lens
The Sony FE 40mm f/2.5 G lens has clear advantages for both photographers and moviemakers. With a wide 40mm angle of view on full-frame bodies and 60mm on APS-C bodies or super 35mm cameras. Packed with features like dual linear motors for fast, precise autofocus and tracking, a bright f/2.5 maximum aperture for beautifully defocused background bokeh, excellent close-up performance, this lens has an ultra-compact and lightweight design making t ideal for all types of content creators.
High-Resolution Performance
The inclusion of three aspherical lens elements compensates for various aberrations and result in high-resolution performance from corner to corner of the image, even from the widest aperture with shallow depth of field. Additionally, the f/2.5 aperture has the maximum light gathering capability during low-light situations and also provides a shallow depth of field. It also delivers beautiful natural bokeh effect with minimal spherical aberration.
Impressive Results
The incorporation of a 7-blade circular aperture allows for round defocused light sources. This mechanism maximizes the beauty of this large-aperture prime-lens while the wide f/2.5 aperture and circular aperture blades contribute to impressive images in which the subject stands out against a smoothly defocused foreground and background. Additionally, featuring a wide 40mm angle of view contributes in getting a unique perspective through close-up, wide angle shooting.
Dual Linear Motors and Linear Response MF
The Linear Response MF (manual focus) ensures that the focus ring responds directly and linearly to subtle control when focusing manually. The focus ring rotation translates directly to a corresponding change in focus, so control feels immediate and precise in both still and movie modes. The FE 40mm f/2.5 Lens is equipped with two linear motors for fast, precise autofocus tracking allowing you to take full advantage of the continuing rapid advances in the speed and performance of newer camera bodies. Despite instantaneous changes in subject motion, this lens delivers excellent tracking performance making it ideal for situations require tracking a moving subject.
Dust and Moisture Resistant
Designed with adventurers in mind, this ultra-compact FE 40mm f/2.5 G employs dust and moisture resistant design that makes it appropriate for outdoor use, especially when combined with a camera that employs weather-resistant measures.
Additional Features
The lens features a programmable focus-hold button for multiple custom functions. This button performs the traditional function to lock focus when recomposing and can also be customized to a number of other functions depending on your needs. You can also instantly and quickly switch between auto and manual focus, thanks to the AF/MF switch on the side of the lens. This makes operation faster and easier as you let the camera and lens focus for you or decide to take control and manually focus on the precise point you choose. Additionally, the responsive manual aperture ring offers positive action that will satisfy photographers and moviemakers alike.
Ratings and reviews
Sony SEL40F25G FE 40mm f/2.5 G Full-Frame Ultra-Compact G Lens
Sony SEL40F25G FE 40mm f/2.5 G Full-Frame Ultra-Compact G Lens
---