Sony FE 24mm F2.8 G Full-Frame Ultra-Compact G Series Lens
Sony FE 24mm F2.8 G Full-Frame Ultra-Compact G Series Lens
Sony FE 24mm F2.8 G Full-Frame Ultra-Compact G Series Lens
Sony FE 24mm F2.8 G Full-Frame Ultra-Compact G Series Lens
Sony FE 24mm F2.8 G Full-Frame Ultra-Compact G Series Lens
Sony FE 24mm F2.8 G Full-Frame Ultra-Compact G Series Lens
ALC-SH165 Lens hood
Sony FE 24mm F2.8 G Full-Frame Ultra-Compact G Series Lens
Sony FE 24mm F2.8 G Full-Frame Ultra-Compact G Series Lens Specs
b72531a2e5642288fef818f26cec8cac4b230c34cea4834a8d2d1b31ca934148-783d9d772a096a6c.jpg
f497201b4c63349342654f3b278ace674f4786063d455b1fdea3e0e11ff13000-44e41ec500dd41f7.jpg
4390aa82cee1284697ee08d4e29b83f658ed5c4dea19a2c456a34b853a1ca95d-33a310010e732843.jpg
Sony SEL24F28G FE 24mm f/2.8 G Full-Frame Ultra-Compact G Series Lens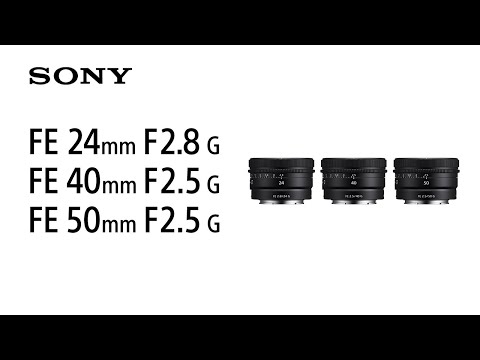 Sony SEL24F28G FE 24mm f/2.8 G Full-Frame Ultra-Compact G Series Lens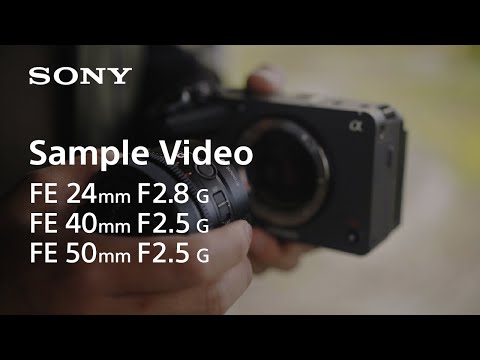 Product highlights:
Focal length: 24mm
Aperture range: f/2.8-22
Sony E-mount lens
Full-frame and APS-C format
Internal focusing
Aspherical lens elements for corner-to-corner sharpness
ED (Extra-low Dispersion) glass
Dual linear focus motors for fast quiet AF tracking
Instant auto/manual focus selection
Seven-blade circular diaphragm
---
Need help deciding?
Contact us right now!
Call or chat with one of our experts.
In the box
Sony SEL24F28G FE 24mm f/2.8 G Full-Frame Ultra-Compact G Series Lens
Sony SEL24F28G FE 24mm f/2.8 G Full-Frame Ultra-Compact G Series Lens
Lens Hood (ALC-SH165)
Lens Front Cap (ALC-F49S)
Lens Rear Cap (ALC-R1EM)
Sony SEL24F28G FE 24mm f/2.8 G Full-Frame Ultra-Compact G Series Lens
Get creative using the ultra-compact Sony FE 24mm f/2.8 G Full-Frame Lens with clear advantages for moviemaking. Featuring a high-quality optical design, this lens incorporates three aspherical lens elements and one ED (Extra-low Dispersion) glass element. The aspherical elements ensure sharp details while the ED glass element reduces chromatic aberration for outstanding corner-to-corner resolution. Weighing at only 162g, this lens can be easily mobilized preserving the compactness of the overall E-mount system whether shooting with a full-frame or APS-C body or shooting either still images or movie. Its ultra-compact size and lightweight balances well on smaller APS-C format bodies, providing a very useful wide-angle focal length of 36mm (full-frame format equivalent).
Beautiful Bokeh Effect
Thanks to the f/2.8 maximum aperture, this G Series Lens has the maximum light gathering capability during low-light situations and also provides a shallow depth of field. It also delivers beautiful natural bokeh effect with minimal spherical aberration.
High-Resolution Performance
The inclusion of three aspherical lens elements compensates for various aberrations and result in high-resolution performance from corner to corner of the image, even from the widest aperture with shallow depth of field. Additionally, the FE 24mm f/2.8 G incorporates an ED glass element that suppress chromatic aberration and effectively reduces color fringing leaving precisely rendered edges with no fringing or unnatural coloration, while significantly reducing flare and ghosting.
Impressive Results
The incorporation of a 7-blade circular aperture allows for round defocused light sources. This mechanism maximizes the beauty of this large-aperture prime-lens while the wide f/2.8 aperture and circular aperture blades contribute to impressive images in which the subject stands out against a smoothly defocused foreground and background. Additionally, featuring a wide 24mm angle of view contributes in getting a unique perspective through close-up, wide angle shooting.
Dual Linear Motors and Linear Response MF
The FE 24mm f/2.8 Lens is equipped with two linear motors for fast, precise autofocus tracking allowing you to take full advantage of the continuing rapid advances in the speed and performance of newer camera bodies. Despite instantaneous changes in subject motion, this lens delivers excellent tracking performance making it ideal for situations require tracking a moving subject. The Linear Response MF (manual focus) ensures that the focus ring responds directly and linearly to subtle control when focusing manually. The focus ring rotation translates directly to a corresponding change in focus, so control feels immediate and precise in both still and movie modes.
Additional Features
You can instantly and quickly switch between auto and manual focus, thanks to the AF/MF switch on the side of the lens. This makes operation faster and easier as you let the camera and lens focus for you or decide to take control and manually focus on the precise point you choose. The lens also features a programmable focus-hold button for multiple custom functions. This button performs the traditional function to lock focus when recomposing and can also be customized to a number of other functions depending on your needs. Additionally, the responsive manual aperture ring offers positive action that will satisfy photographers and moviemakers alike.
Ratings and reviews
Sony SEL24F28G FE 24mm f/2.8 G Full-Frame Ultra-Compact G Series Lens
Sony SEL24F28G FE 24mm f/2.8 G Full-Frame Ultra-Compact G Series Lens
---