Tamron 50-400mm f/4.5-6.3 Di III VC VXD Lens for Sony E-Mount
Tamron 50-400mm f/4.5-6.3 Di III VC VXD Lens for Sony E-Mount
Tamron 50-400mm f/4.5-6.3 Di III VC VXD Lens for Sony E-Mount
Tamron 50-400mm f/4.5-6.3 Di III VC VXD Lens for Sony E-Mount
Tamron 50-400mm f/4.5-6.3 Di III VC VXD Lens for Sony E-Mount
Tamron 50-400mm f/4.5-6.3 Di III VC VXD Lens for Sony E-Mount
Tamron 50-400mm f/4.5-6.3 Di III VC VXD Lens for Sony E-Mount
Tamron 50-400mm f/4.5-6.3 Di III VC VXD Lens for Sony E-Mount
Tamron 50-400mm f/4.5-6.3 Di III VC VXD Lens for Sony E-Mount
Tamron 50-400mm f/4.5-6.3 Di III VC VXD Lens for Sony E-Mount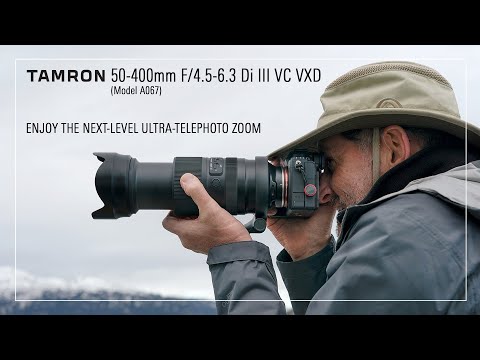 Product highlights:
Focal length: 50-400mm
Aperture range: F4.5-6.3
Sony E-mount
Ultra-telephoto zoom
Full-frame mirrorless format
Rounded 9-blade diaphragm
67mm filter size
Moisture-resistant construction
Fluorine coating
Tamron lens utility
FREE items included
Limited-time offer
Valued at:

$74.97
Free
Koah Holster Camera Case and Accessory Bundle for DSLR, Mirrorless, and Camcorders
Free
Koah Pro 2-in-1 Aluminum Shell OTG Dual Slot SD Card Reader and Rugged Memory Storage Carrying Case
Free
Koah Photography Backdrop Boards with Tote Bag (13 x 13-Inch Set with 7 Designs)
---
---
---
Need help deciding?
Contact us right now!
Call or chat with one of our experts.
In the box
Tamron 50-400mm f/4.5-6.3 Di III VC VXD Lens for Sony E-Mount
Tamron 50-400mm f/4.5-6.3 Di III VC VXD Lens for Sony E-Mount
Flower-Shaped Hood
Lens Caps
Limited 6-Year Warranty
Tamron 50-400mm f/4.5-6.3 Di III VC VXD Lens for Sony E-Mount
With the entry of Tamron 50-400mm f/4.5-6.3 Di III VC VXD Lens a new category of ultra-telephone mirrorless, zoom lenses have been created. It offers an 8x zoom ratio from 50mm and is ideal for Sony E-mount full-frame mirrorless cameras. It comes in the same size as conventional 100-400mm zoom lenses but still offers a wide-angle view. It weighs only 40.7 oz and has a length of 7.2 inches but offers good performance on all focal lengths.
Expansive 8x Zoom Ratio
This lens offers an 8x zoom ratio that covers focal lengths from 50mm to 400mm. The 50mm focal length is considered the standard focal length for the full-frame digital camera. This lens features a focal length of 50mm that allows you to not only capture a subject close-up but also utilize the background. The versatility of this lens is such that you can shoot a broad range of subjects from landscapes and wild birds and small group photos.
Unfaltering High Image Quality
It features 24 elements in 18 groups and effectively uses special lens elements including two XLD (eXtra Low Dispersion), three LD (Low Dispersion), one GM (Glass Molded Aspherical), and one Hybrid Aspherical lens element, which controls aberrations including axial chromatic aberrations. This lens also features Broad-Band Anti-Reflection Generation 2 coating that reduces ghosting and flares and showcases minute details even in backlit conditions. In short 50-400mm F4.5-6.3 delivers clear and crisp images shot after shot.
VXD Produces High-Speed and High-Precision AF
This lens uses VXD linear motor focus mechanism that combines high-level AF speed and precision that enables fast and accurate focusing from MOD to infinity. It can easily focus and capture sharp images of moving objects for example a flying bird. Plus it is extremely quiet making it ideal for projects that require a silent operation.
Equipped with Tamron's Proprietary VC Image Stabilization
It features Tamron's Proprietary VC Image Stabilization despite its compact size. It reduces image blurring that occurs due to camera shake.
Super-Compact
Despite covering a focal length of 50mm to 400mm it is lightweight and compact. It is of the same size as a conventional 100-400mm making it easy to carry, pack and shoot comfortably.
Half-Macro Photography With Magnification Ratio of 1:2
It achieves a high close-up shooting performance, especially from an ultra-telephoto zoom lens. You can enjoy half-macro shooting with a MOD of 0.25m and a magnification ratio of 1:2 at a 50mm zoom setting. At 400mm telephoto end the MOD is 1.5m (59.1 in), providing a maximum magnification ratio of 1:4 for dynamic shots. Focusing close without changing lenses adds versatility and enhances photographic creativity.
Ratings and reviews
Tamron 50-400mm f/4.5-6.3 Di III VC VXD Lens for Sony E-Mount
Tamron 50-400mm f/4.5-6.3 Di III VC VXD Lens for Sony E-Mount
---