Sony Digital Bluetooth Wireless Microphone
Sony Digital Bluetooth Wireless Microphone
Sony Digital Bluetooth Wireless Microphone
Sony Digital Bluetooth Wireless Microphone
Sony Digital Bluetooth Wireless Microphone
Sony Digital Bluetooth Wireless Microphone
Sony Digital Bluetooth Wireless Microphone
Sony Digital Bluetooth Wireless Microphone
Sony Digital Bluetooth Wireless Microphone
Sony Digital Bluetooth Wireless Microphone
Sony Digital Bluetooth Wireless Microphone
Sony Digital Bluetooth Wireless Microphone
Sony Digital Bluetooth Wireless Microphone
Sony Digital Bluetooth Wireless Microphone
Sony Digital Bluetooth Wireless Microphone
Sony Digital Bluetooth Wireless Microphone
Sony Digital Bluetooth Wireless Microphone
Sony Digital Bluetooth Wireless Microphone
Sony Digital Bluetooth Wireless Microphone
Sony Digital Bluetooth Wireless Microphone
Sony Digital Bluetooth Wireless Microphone
Sony Digital Bluetooth Wireless Microphone
Sony Digital Bluetooth Wireless Microphone
Sony ECM-W2BT Digital Bluetooth Wireless Microphone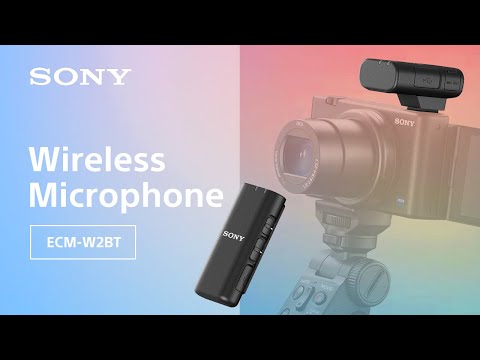 Product highlights:
Bluetooth audio wireless communication up to 650 feet
For digital or analog MI (Multi Interface) shoe Sony cameras
Omni-directional capsule on transmitter for clear pickup
Wide compatibility via 3.5mm stereo jack on receiver
Transmitter attenuator switch adjusts audio pickup level
Three sound pickup patten options (Mic/Mix/Receiver)
Qualcomm aptX Low Latency Bluetooth codec
Rechargeable Li-ion battery for long shooting duration
LINK lamp displays mic and receiver communication status
Dust- and moisture-resistant construction
Pay over time for orders over $300 with Affirm.
---
---
---
Need help deciding?
Contact us right now!
Call or chat with one of our experts.
In the box
Sony ECM-W2BT Digital Bluetooth Wireless Microphone
Sony ECM-W2BT Digital Bluetooth Wireless Microphone
ECM-W2BT(T) Wireless Transmitter Unit
ECM-W2BT(R) Wireless Receiver Unit
Windscreen
Carrying Pouch
3.5mm to 3.5mm Audio Cable
Micro USB Cable
Connector Protect Holder
Manual / Operating Instructions
Limited 1-Year Warranty
Sony ECM-W2BT Digital Bluetooth Wireless Microphone
With a stable Bluetooth wireless communication of up to 650 feet, the Sony ECM-W2BT Digital Microphone is an ideal for vloggers and content creators. It can be easily connected to Sony cameras that employ either a digital or analog MI (Multi Interface) shoe for cable-free connectivity. Once connected to the digital MI shoe camera, the microphone's receiver unit converts the analog audio to digital output and sends the digitalized audio to the camera for a low-noise high-quality recording. This wireless microphone not only captures audio on a camera or camcorder, but can also be used for external audio recorders, mobile phones and personal computers. Thanks to the supplied 3.5mm to 3.5mm audio cable that easily connects the receiver to cameras and other devices that have a 3.5mm microphone input jack.
Omni-Directional Mic Capsule
Sony ECM-W2BT's transmitter unit has an advanced omni-directional microphone capsule that captures clear sound recording from any direction. The included fuzzy windscreen can be attached to the microphone to reduce wind noise if required. An external 3.5mm output jack on the unit lets you attach other microphones like the ECM-LV1 Lavalier Stereo Mic. The transmitter also includes a convenient clip that can attach to clothing.
Three Sound Pick Up Pattern Options
The Sony ECM-W2BT Wireless Microphone offers ultimate creative freedom thanks to its sound acquisition functions. It provides three sound pickup modes - MIC, MIX, and RCVR modes that allow you to record sound and ambient sound based on a desired preference. In MIC mode, audio is captured from the microphone transmitter so that only the subject audio is captured. In RCVR mode, sound is recorded from the internal microphone at the receiver, to capture user's audio. Finally, in MIX mode, sound is recorded on both transmitter and receiver which is useful when audio from both the subject and the user is desired.
Transmitter Attenuator Switch
The transmitter comes with an attenuator switch that lets you adjust the audio level pickup, which is useful when sound is excessively loud or too low. The unit offers three attenuation levels; 20dB, 10dB, and 0dB that can be selected depending on the sound source volume. The 20dB setting allows the recording of loud sounds with reduced distortion, while quieter sounds can be amplified for recording at the 0dB setting. The attenuator function helps recording appropriate audio levels. The best way to set the audio level is while monitoring the audio level meter on the camera the volume on headphones connected to the camera.
Stable Communication Up To 650 Feet
The Sony ECM-W2BT Digital Microphone comes with an improved wireless connectivity, providing stable connection between the microphone and receiver, even in the presence of obstacles or in crowded environments with multiple wireless activities taking place. In locations with good visibility, communication is possible at up to 650 feet (200m), significantly increasing the flexibility of audio recording.
Qualcomm aptX Low Latency Bluetooth Codec
This wireless microphone uses Qualcomm aptX Low Latency Bluetooth codec that delivers both high-quality audio recording and low latency.
LINK and Power Lamps
For easy reference, the Sony ECM-W2BT includes a LINK lamp to notify the user of the status of the communication between the microphone and the receiver. A Power lamp shows the remaining battery charge.
Compact, Lightweight Body Design
The compact transmitter clips discreetly beneath clothing and is easy to hold, weighing only 0.95 oz and measuring 1.2 x 2.66 x 0.75 inch. The receiver has a low profile when mounted on top of a camera's MI or hot shoe weighing in at only 0.98 oz and measuring 1.34 x 1.13 x 2.09 inch. To match the rugged performance of Sony cameras, both the transmitter and receiver units come with a dust and moisture-resistant design.
Rechargeable Lithium-Ion Battery
Both the transmitter and receiver have a built-in rechargeable lithium-Ion battery that offers long recording times. When longer operation is needed, the battery assist function via the power supply from a compatible camera's Multi Interface shoe enables the user to operate the receiver for up to 18 hours.
Terminal Protection Holder
A supplied terminal protection holder keeps the transmitter and receiver together when not in use and protects the terminal from damage. The holder can also support the transmitter as a stand when placed on a flat surface like a table to capture sound from multiple directions. This could be useful when needed to record groups or meetings.
Wind Screen Included
The included windscreen reduces the wind noise that occurs when strong wind or breath impacts the microphone. As a result, the speaker's voice can be recorded clearly and stably, even when shooting outdoors.
Works with ECM-LV1 Stereo Lavalier Microphone
The microphone supports stereo audio output input and features an external 3.5mm stereo mini-jack to allow for stereo sound pickup. It can be used in combination with a stereo-capable lavalier microphone such as the ECM-LV1, as an unobtrusive microphone that can easily attach to the subject's clothing and record sound with increased realism.
Ratings and reviews
Sony ECM-W2BT Digital Bluetooth Wireless Microphone
Sony ECM-W2BT Digital Bluetooth Wireless Microphone
---