PTZOptics 12X-SDI Broadcast and Conference Video Camera (Gray)
PTZOptics 12X-SDI Broadcast and Conference Video Camera (Gray)
PTZOptics 12X-SDI Broadcast and Conference Video Camera (Gray)
PTZOptics 12X-SDI Broadcast and Conference Video Camera (Gray)
PTZOptics 12X-SDI Broadcast and Conference Video Camera (Gray)
PTZOptics 12X-SDI Broadcast and Conference Video Camera (Gray)
PTZOptics 12X-SDI Broadcast and Conference Video Camera (Gray)
PTZOptics 12X-SDI Broadcast and Conference Video Camera (Gray)
PTZOptics 12X-SDI Broadcast and Conference Video Camera (Gray)
PTZOptics 12X-SDI Broadcast and Conference Video Camera (Gray)
PTZOptics 12X-SDI Broadcast and Conference Video Camera (Gray)
PTZOptics 12X-SDI Broadcast and Conference Video Camera (Gray)
PTZOptics 12X-SDI Broadcast and Conference Video Camera (Gray)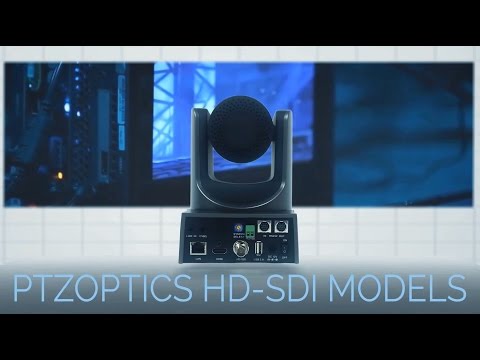 Product highlights:
72.5 degree wide-angle lens
High performance in low light scenarios with Wide Dynamic Range
Full 1920x1080p HD Resolutions up to 60 frames per second
2D and 3D noise reduction with our latest low noise CMOS sensor
RS232 & RS485 (Serial), and IP (LAN/WAN) control
H.264, H.265, & MJPEG Streaming over RJ-45 LAN port
HDMI, 3G-SDI, & IP streaming (all 3 simultaneously)
PoE (Power over Ethernet) or 12VDC
RTMP & RTSP IP streaming
Photobooth capable
Starting at $127/mo or 0% APR.
---
---
---
Need help deciding?
Contact us right now!
Call or chat with one of our experts.
In the box
PTZOptics 12X-SDI Broadcast and Conference Video Camera (Gray)
PTZOptics 12X-SDI Broadcast and Conference Video Camera (Gray)
Power Adapter and Cord
IR Remote Control
RS-232C Cable
User Manual
PTZOptics 12X-SDI Broadcast and Conference Video Camera (Gray)
The PTZ Optics 12X-SDI 1080p camera features 12x optical zoom, which is ideal for capturing HD video. The camera also supports HDMI, 3G-SDI, and IP Streaming (H.264 & H.265), which is perfect for broadcasting high-definition video signals for broadcast, recording, or video conferencing applications.
Full 1920x1080p HD Resolutions
Get up close and record stunning videos with the crystal clear high-definition 1080p video with lossless 12x optical zoom.
HD-SDI Video Connection
The camera supports 3G-SDI which is preferred cabling for 1080p video at up to 60 frames per second run over long distances.
Power Over Ethernet (PoE)
The PTZOptics HD-SDI camera also includes PoE (Power Over Ethernet). This Ethernet port can be used for power, control, and video/audio streaming.
Camera Control
The camera features RS-232 in/out ports and an RS-485 port. These ports use VISCA commands to integrate with larger control systems such as Crestron and Extron.
IP Video Streaming
The camera features h.265 High-Efficiency Codec IP Streaming along with h.264 and multicast streaming.
Broadcast Frame Rates
The PTZOptics offers a firmware upgrade to broadcast frame rates for modern G2 SDI-Out PTZ cameras.
Three Simultaneous Video Outputs
This camera can simultaneously broadcast 1080p60fps video from HDMI, 3G-SDI, and multiple H.264/H.265/MJPEG IP Streams for maximum versatility.
Wide Field of View
The camera offers a wide 72.5-degree FOV with a tight 3.36-degree FOV, and the ability to zoom into narrow a 6.9-degree.
HDMI Video Connection
The included HDMI video output is capable of producing video resolutions up to 1080p.
3.5mm Audio Input
The camera also features a 3.5mm audio input, which lets users add embedded audio to their streaming. This model supports embedding audio via a line-level input onto HDMI and Ethernet for IP Streaming.
Photobooth Capable
The PTZOptics camera can capture and store still and moving image recordings (as .jpg and .mp4 files, respectively) to the camera's internal memory for retrieval via the camera's network port.
Ratings and reviews
PTZOptics 12X-SDI Broadcast and Conference Video Camera (Gray)
PTZOptics 12X-SDI Broadcast and Conference Video Camera (Gray)
---