PTZOptics 20x-USB Gen2 Full HD Broadcast and Conference Indoor PTZ Camera (Gray)
PTZOptics 20X-USB Generation 2 Broadcast and Conference Camera (Gray, 20x Zoom) usb 3.0 connection.jpg
PTZOptics 20X-USB Generation 2 Broadcast and Conference Camera (Gray, 20x Zoom) usb 3.0 connection.jpg
PTZOptics 20X-USB Generation 2 Broadcast and Conference Camera (Gray, 20x Zoom).jpg
PTZOptics 20X-USB Generation 2 Broadcast and Conference Camera (Gray, 20x Zoom).jpg
PTZOptics 20X-USB Generation 2 Broadcast and Conference Camera (Gray, 20x Zoom).jpg
PTZOptics 20X-USB Generation 2 Broadcast and Conference Camera (Gray, 20x Zoom) remote control.jpg
PTZOptics 20X-USB Generation 2 Broadcast and Conference Camera (Gray, 20x Zoom) ceiling mountable.jpg
PTZOptics 20X-USB Generation 2 Broadcast and Conference Camera (Gray, 20x Zoom).jpg
PTZOptics 20x-USB Gen2 Full HD Broadcast and Conference Indoor PTZ Camera (Gray)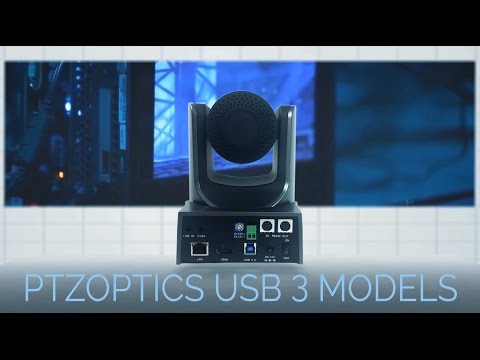 Product highlights:
60.7-Degree wide-angle lens
High-performance in low light scenarios with WDR
Full 1920 x 1080p HD resolutions up to 60 fps
2D and 3D noise reduction with low-noise CMOS sensor
H.264, H.265, and MJPEG streaming over RJ-45 LAN port
HDMI, USB 3.0, and IP streaming (all 3 simultaneously)
UVC 1.5 (USB), RS-232 and RS-485, and IP control
RTMP and RTSP IP streaming
Photobooth capable
Starting at $154/mo or 0% APR.
---
---
---
Need help deciding?
Contact us right now!
Call or chat with one of our experts.
In the box
PTZOptics 20x-USB Gen2 Full HD Broadcast and Conference Indoor PTZ Camera (Gray)
PTZOptics 20x-USB Gen2 Full HD Broadcast and Conference Indoor PTZ Camera (Gray)
Power Adapter with Cord
USB 3.0 Cable
IR Remote Control
RS-232C Cable
User Manual
PTZOptics 20x-USB Gen2 Full HD Broadcast and Conference Indoor PTZ Camera (Gray)
The PTZOptics 20x-USB is a 1080p camera with 20x optical zoom for capturing both wide angles and long shots. With support for USB 3.0, HDMI, and IP streaming (H.264, H.265, and MJPEG), this camera is ideal for broadcasting high-definition video signals for broadcast, recording, or video conferencing applications.
Full 1920x1080p HD Resolutions
Crystal clear high-definition 1080p video with lossless 20x optical zoom letting you get up close to see and interact with your team.
Three Simultaneous Video Outputs
This USB camera can simultaneously send out 1080p video from HDMI, USB 3.0 and H.264 or H.265 IP streaming for maximum flexibility.
Plug-and-Play USB Connectivity
Easily connect the camera to your PC to use with cloud based video conferencing services such as: Skype for Business, GoToMeeting and WebEX. This camera is backwards compatible with USB 2.0 (1920x1080p 30 fps).
Wide Field of View
The 20x zoom lens offers a wide 60.7-degree FOV with the ability to zoom into narrow a 6.9-degree.
Open Source Camera Control
The PTZOptics 20x-USB Camera includes open source control software which allows users to create a custom controller.
iOS Camera App
This camera is also compatible with the PTZOptics' updated iOS camera control app (available separately)
Use Your Favorite Software
The camera also works with virtually every online video conferencing software –no additional drivers or proprietary connections required.
HDMI Video Connection
The 20x-USB Camera comes with a HDMI video output capable of video resolutions up to 1080p.
UVC Camera Control
This USB PTZOptics Camera comes with absolute UVC camera control built in. This allows for video and control over a single USB cable and also makes the camera compatible with PresetVisualizer software.
RS-232/RS-485 Camera Control
The camera comes with RS-232 in/out ports and a RS-485 port. These ports use VISCA commands to integrate with larger control systems such as Crestron and Extron.
Live RTMP Streaming
The camera has the ability to live stream directly from the camera to your favorite CDN. Simply plug in your CDN's RTMP Streaming information into the IP interface of your camera and start streaming.
3.5mm Audio Input
A 3.5mm audio input lets you add embedded audio to your streaming. This model supports embedding audio via a line level input onto USB 3.0 and Ethernet for IP streaming.
Ratings and reviews
PTZOptics 20x-USB Gen2 Full HD Broadcast and Conference Indoor PTZ Camera (Gray)
PTZOptics 20x-USB Gen2 Full HD Broadcast and Conference Indoor PTZ Camera (Gray)
---