Rode USB Microphone with Detachable Magnetic Stand, Built-In Pop Filter and Headphone Amplifier
Rode NT-USB-MINI USB Microphone
Rode NT-USB-MINI USB Microphone - Left Side
Rode NT-USB-MINI USB Microphone - Right Side
Rode NT-USB-MINI USB Microphone - Above Left
Rode NT-USB-MINI USB Microphone - Angled on Base
USB C to A Cable
3/8 to 5/8 thread adapter
Detachable Magnetic Stand
Rode NT-USB-MINI USB Microphone - Attached to Studio Arm
Lifestyle 1
Lifestyle 2
Lifestyle 3
99cdc7dbd78134c2f21e121ebbaa503938054a44b7c746b9dc38723df7a1d34b-f9ac227c60e50bb6.jpg
Rode USB Microphone with Detachable Magnetic Stand, Built-In Pop Filter and Headphone Amplifier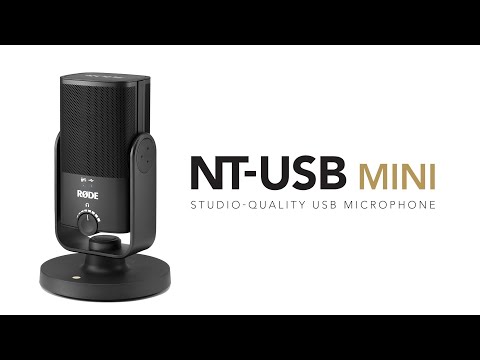 Rode USB Microphone with Detachable Magnetic Stand, Built-In Pop Filter and Headphone Amplifier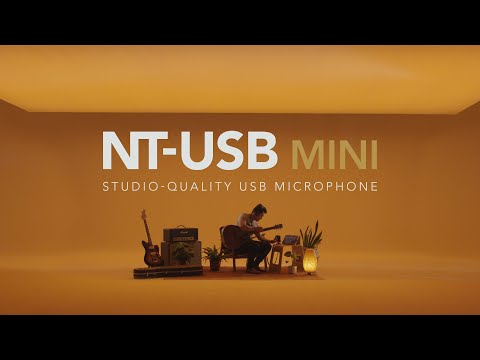 Product highlights:
High-quality condenser capsule delivers professional sound
Directional cardioid pickup pattern optimized to reduce noise
Smooth frequency response sounds incredible in a variety of applications
In-built pop filter for reducing plosives
Unique detachable magnetic desk stand
Integrated 360-degree swing mount for quick and easy positioning
Studio-quality microphone with USB-C connectivity
3.5mm headphone output with zero-latency monitoring
Pay over time for orders over $300 with Affirm.
---
---
---
Need help deciding?
Contact us right now!
Call or chat with one of our experts.
In the box
Rode USB Microphone with Detachable Magnetic Stand, Built-In Pop Filter and Headphone Amplifier
Rode NT-USB-MINI USB Microphone with Detachable Magnetic Stand, Built-In Pop Filter and Headphone Amplifier
USB C to A Cable
3/8 to 5/8 Thread Adapter
Limited 2-Year Warranty
Rode USB Microphone with Detachable Magnetic Stand, Built-In Pop Filter and Headphone Amplifier
The NT-USB Mini serves up the pristine sound quality of RODE's world-renowned studio mics in a compact, easy-to-use USB microphone. Featuring a high-quality condenser capsule with RF shielding and excellent capsule isolation, it delivers professional-sounding audio in any application, from recording vocals and instruments, to podcasting and voiceovers, to gaming and live streaming.
An in-built pop filter reduces plosives and its pickup pattern has been optimized to reduce extraneous noise like room reverberation, air conditioning, and traffic, and focus on what's in front of it. Studio-quality sound without the need for a studio.
Plug-in-Play
The NT-USB Mini is also incredibly simple to use. It features a class-compliant USB output for direct recording to a computer or tablet. No drivers or software are needed, and no external power required to operate, just plug in and hit record. It works seamlessly with any recording software or streaming app, and studio-quality 24-bit, 48KHz A/D conversion ensures extremely low distortion and very high dynamic range, delivering incredible audio every time.
Studio-Grade Headphone Amplifier
The NT-USB Mini features a studio-grade headphone amplifier and a high-quality 3.5mm headphone output, complete with precision volume control, allowing you to easily monitor your audio. There is also a switchable zero-latency monitoring mode for eliminating distracting echo when tracking vocals or recording instruments.
Sleek, Compact, Flexible
The NT-USB Mini has been designed to be as flexible as the modern content creator needs to be. Its unique magnetic desk stand provides a sturdy base for reducing noise from knocks and bumps and is easily removable, allowing the mic to be quickly detached and placed on a studio arm or mic stand. This and the integrated 360-degree swing mount means you can position the mic upright, on an angle, sideways or upside down – wherever it needs to be to get the best recording possible.
Compact
At just 89mm wide and 141mm tall, the NT-USB Mini is very compact, taking up only a fraction of precious desktop real estate. It also looks fantastic. Sleek and stylish, with clean lines and a modern aesthetic, it's the perfect addition to any setup.
Durable build
Hard-wearing steel and reinforced nylon resin construction ensure the NT-USB Mini is ready to take on the rigors of recording anywhere and everywhere. It is made from the highest quality components in RODE's precision manufacturing facilities in Sydney, Australia.
Whether you're singing in the studio, podcasting on the road, or streaming from your bedroom, the NT-USB Mini will make sure you are heard in full definition.
Ratings and reviews
Rode USB Microphone with Detachable Magnetic Stand, Built-In Pop Filter and Headphone Amplifier
Rode USB Microphone with Detachable Magnetic Stand, Built-In Pop Filter and Headphone Amplifier
---