Rode RODECaster Pro Podcast Production Studio
Rode RODECaster Pro Podcast Production Studio
Rode RODECaster Pro Podcast Production Studio
Rode RODECaster Pro Podcast Production Studio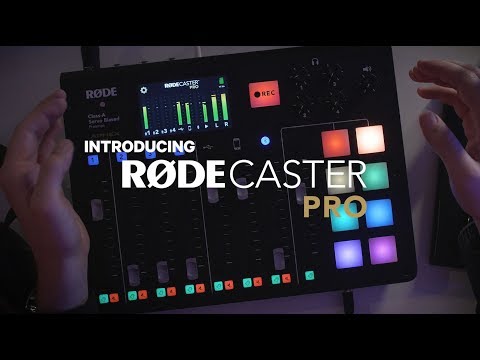 Product highlights:
Integrated podcast production studio
APHEX audio processors for rich, warm tone
Four high-quality microphone channels
Eight programmable sound effects pads
Bluetooth connectivity
Class A Servo-biased Preamps
Starting at $55/mo or 0% APR.
---
---
---
Need help deciding?
Contact us right now!
Call or chat with one of our experts.
In the box
Rode RODECaster Pro Podcast Production Studio
Rode RODECaster Pro Podcast Production Studio
Rode RODECaster Pro Podcast Production Studio
The RODECaster Pro is a fully integrated podcast production studio. Whether you are just starting out, or are a seasoned broadcast professional, the RODECaster Pro Podcast Production Studio is all you will ever need. The RODECaster Pro comes with eight programmable sound effects pads, for instant triggering of sound effects, music, jingles, applause and ads – perfect for giving your podcast that professional quality. You can record audio direct to the programmable pads from any input, or simply "drag and drop" files from your computer using the supplied software. You can even select your favourite colours for the pad illumination.
Connect and Record
The four high-quality microphone channels are able to power studio condenser microphones as well as conventional dynamic microphones. You can quickly connect microphones for you and your guests with automatic level setting and one-touch recording to a microSD card. You can literally be recording your first podcast within minutes of taking the RODECaster Pro out of the box.
Phone Calls
Have a remote guest you want to interview? Simply connect your phone to the RODECaster Pro via Bluetooth or with a TRRS cable. It automatically provides "mix-minus" audio to prevent echo being heard by the caller, without the need to purchase dedicated and costly hardware.
Class A Servo-Biased Preamps
The RODECaster Pro's pristine preamps and outputs feature Class A circuitry, as found in broadcast consoles that cost hundreds of thousands of dollars. These Class A preamps provide a much cleaner gain structure with lower levels of distortion. The result is an incredibly clean, low-noise signal. The Preamps are also servo-biased, keeping distortion levels low. Your signal is broadcast-pure.
APHEX On Board
Your pristine signal can also be enhanced with the legendary patented audio processors, APHEX Aural Exciter and APHEX Big Bottom. These have been incorporated in the audio processing section of the RODECaster Pro, and your sound will have that rich, warm tone only found in professional studios. The RODECaster Pro also features multistage dynamics, such as compression, limiting, de-essing and noise-gating.
Recording Options
The RODECaster Pro operates as a standalone unit straight out of the box, recording your finished podcast direct to a microSD card. It also connects to your computer as a USB audio interface, so you can record your podcast to your favorite recording software, or stream live. Multi-track recording is also available via USB to your computer's recording software (including Garage Band, Reaper, Logic, ProTools, Audition and more), allowing you to separately record each of the sources to its own track for editing in post-production. Naturally, a stereo mix of your finished podcast will also be captured in multi-channel mode.
Ratings and reviews
Rode RODECaster Pro Podcast Production Studio
Rode RODECaster Pro Podcast Production Studio
---