Roland AIRA Compact Portable Chord Synthesizer with 100 Chord sets, Chord Sequencer, and Effects
Roland AIRA Compact Portable Chord Synthesizer with 100 Chord sets, Chord Sequencer, and Effects
Roland AIRA Compact Portable Chord Synthesizer with 100 Chord sets, Chord Sequencer, and Effects
Roland AIRA Compact Portable Chord Synthesizer with 100 Chord sets, Chord Sequencer, and Effects
Roland AIRA Compact Portable Chord Synthesizer with 100 Chord sets, Chord Sequencer, and Effects
Roland AIRA Compact Portable Chord Synthesizer with 100 Chord sets, Chord Sequencer, and Effects
Roland AIRA Compact Portable Chord Synthesizer with 100 Chord sets, Chord Sequencer, and Effects
Roland AIRA Compact Portable Chord Synthesizer with 100 Chord sets, Chord Sequencer, and Effects
Roland AIRA Compact Portable Chord Synthesizer with 100 Chord sets, Chord Sequencer, and Effects
Roland AIRA Compact Portable Chord Synthesizer with 100 Chord sets, Chord Sequencer, and Effects
Roland AIRA Compact Portable Chord Synthesizer with 100 Chord sets, Chord Sequencer, and Effects
Roland AIRA Compact Portable Chord Synthesizer with 100 Chord sets, Chord Sequencer, and Effects
Roland AIRA Compact Portable Chord Synthesizer with 100 Chord sets, Chord Sequencer, and Effects
Roland AIRA Compact Portable Chord Synthesizer with 100 Chord sets, Chord Sequencer, and Effects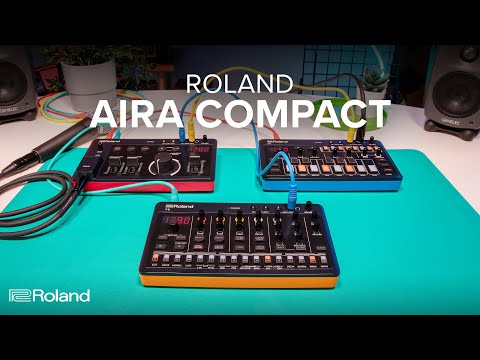 Product highlights:
Portable song creation machine with Roland sound and features
100 Chord sets spanning classic and contemporary music genres
Arpeggios and rhythmic phrases to chords via nine styles
Programmable chord sequencer with 64 user patterns
Features Analog Circuit Behavior technology
64 ready-to-play synth presets from the original JUNO-60
Filter and envelope controls for shaping synth sounds
Delay and reverb effects with customizable settings
Connectivity with audio, MIDI, and sync I/O plus AIRA Link
Class-compliant USB-C audio/MIDI interface-no drivers needed
Pay over time for orders over $300 with Affirm.
---
---
---
Need help deciding?
Contact us right now!
Call or chat with one of our experts.
In the box
Roland AIRA Compact Portable Chord Synthesizer with 100 Chord sets, Chord Sequencer, and Effects
Roland AIRA Compact Portable Chord Synthesizer with 100 Chord sets, Chord Sequencer, and Effects
Leaflet Read Me First
USB Type-C to USB Type-A cable
Limited 3-Year Warranty
Roland AIRA Compact Portable Chord Synthesizer with 100 Chord sets, Chord Sequencer, and Effects
The Roland J-6 Chord Synthesizer is an endless well of musical inspiration, pairing a powerful chord sequencer with the lavish tones of the renowned JUNO-60 synthesizer. Generate soul-stirring song ideas in seconds, and experiment with styles and variations to coax dancing lines and rhythmic patterns from your chords. Add lush effects to frost your sound, and expand your possibilities by interfacing with other AIRA Compacts, MIDI hardware, and music production software.
Chord Heaven
With 100 chord sets spanning a wide range of genres, you will always find fresh fuel for songs and jams with the Roland J-6. There is no need to know chords or theory to make cool music-simply call up a set and compose chord progressions on the fly with one-touch presses on the keyboard. Generate ideas for new tunes, create accompaniment for live performances, or send chord information to other MIDI gear.
Move and Groove
Using the Roland J-6's style banks and variations, it is easy to infuse static chords with dynamic energy and compelling movement. Transform an idea with sweeping arpeggios and rhythmic phrases, and keep the groove running non-stop with a press of the hold button.
Craft Your Next Hit
Once you have got a chord progression in mind, bring it together with the Roland J-6 chord sequencer. There are 64 patterns with up to 64 steps each, and you can quickly enter chords, style variations, single notes, and tempo changes in each step to mold your masterpieces.
Tweak and Tweeze
After you have captured a pattern on the Roland J-6, hit play and inject even more color with tactile controls. Select different synthesizer presets, tweak the filter and envelope in real-time, and complete the picture with customizable reverb and delay effects.
Historic Juno Sound
The Roland J-6 puts the influential synthesizer sound behind decades of hits in your pocket or backpack. Roland's acclaimed Analog Circuit Behavior (ACB) technology realizes the famous JUNO-60 voice in flawless detail, complete with 64 presets derived from the original. Use the Roland J-6 engine with the chord sequencer, play it from the onboard keyboard or an external MIDI controller, or use it as a sound module in an expanded setup.
Expand Your Vision
The Roland J-6 has the connectivity you need to integrate with other AIRA Compacts and larger music rigs. Back your chord creations with drums and bass from the T-8 Beat Machine, and add evocative vocal textures with the E-4 Voice Tweaker. Or interface with computer DAWS, mobile music apps, and hardware instruments via USB-C or MIDI.
At Once
Compact and convenient, the Roland J-6 is ready to deliver instant inspiration everywhere you go. The lithium-ion battery provides up to 4.5 hours of runtime per charge, while the rugged Roland build ensures years of musical pleasure.
Ratings and reviews
Roland AIRA Compact Portable Chord Synthesizer with 100 Chord sets, Chord Sequencer, and Effects
Roland AIRA Compact Portable Chord Synthesizer with 100 Chord sets, Chord Sequencer, and Effects
---