Roland AIRA Compact Ultra-Portable Bass Beat Machine with Six Rhythm Tracks and Built-in Effects
Roland AIRA Compact Ultra-Portable Bass Beat Machine with Six Rhythm Tracks and Built-in Effects
Roland AIRA Compact Ultra-Portable Bass Beat Machine with Six Rhythm Tracks and Built-in Effects
Roland AIRA Compact Ultra-Portable Bass Beat Machine with Six Rhythm Tracks and Built-in Effects
Roland AIRA Compact Ultra-Portable Bass Beat Machine with Six Rhythm Tracks and Built-in Effects
Roland AIRA Compact Ultra-Portable Bass Beat Machine with Six Rhythm Tracks and Built-in Effects
Roland AIRA Compact Ultra-Portable Bass Beat Machine with Six Rhythm Tracks and Built-in Effects
Roland AIRA Compact Ultra-Portable Bass Beat Machine with Six Rhythm Tracks and Built-in Effects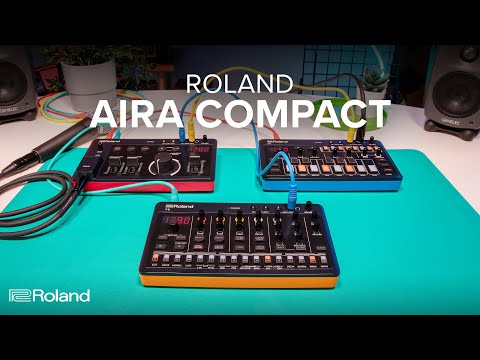 Product highlights:
Ultra-portable rhythm and bass machine with Roland sounds
6 Rhythm tracks with TR-808, TR-909, and TR-606 drums
Bass track with sawtooth/square waveform and hand-on controls
Analog Circuit Behavior technology recreates the tonality
Features 64 user patterns and up to 32 steps each
Real-time recording and powerful performance
Connectivity with audio, MIDI, and sync I/O plus AIRA Link
Class-compliant USB-C audio/MIDI interface-no drivers needed
Lithium-ion battery up to 4.5 hours of operation per charge
Sturdy construction and high-quality rubber pads
Pay over time for orders over $300 with Affirm.
---
---
---
Need help deciding?
Contact us right now!
Call or chat with one of our experts.
In the box
Roland AIRA Compact Ultra-Portable Bass Beat Machine with Six Rhythm Tracks and Built-in Effects
Roland AIRA Compact Ultra-Portable Bass Beat Machine with Six Rhythm Tracks and Built-in Effects
Leaflet Read Me First
USB Type-C to USB Type-A cable
Limited 3-Year Warranty
Roland AIRA Compact Ultra-Portable Bass Beat Machine with Six Rhythm Tracks and Built-in Effects
Create infectious tracks in seconds flat with the Roland T-8 Beat Machine, a miniature rhythm factory loaded with legendary Roland TR drums plus bass from the inimitable TB-303. Craft on-the-fly acid jams or trap bangers with the intuitive 16-step sequencer, shape sounds with onboard controls, and flip and dice beats with hands-on tools that stimulate ideas and put the fun back into your flow.
Genre-Defining Sounds
Build beats with the boom, pop, and sizzle of sounds from the TR-808, TR-909, and TR-606 drum machines, paired with the shapeshifting low end of the dynamic TB-303 Bass Line. The Roland T-8 exudes the classic Roland character, thanks to the same Analog Circuit Behavior (ACB) technology found in the TR-8S, TB-3, and other high-end AIRA gear.
Beat Central
Loaded with comprehensive I/O, the Roland T-8 is ready to be the rhythmic centerpiece of any electronic music setup. Connect and sync with other AIRA Compacts like the J-6 Chord Synthesizer and E-4 Voice Tweaker. Or interface with computer DAWS, mobile music apps, and hardware instruments via USB-C or MIDI.
Seven Tracks of Inspiration
The Roland T-8 features six drum tracks and one bass track brought together with a friendly interface for fast recording and hands-on tweaks. Capture and fire off 64 patterns with up to 32 steps each, and shape sounds and control parts as you go with an array of dedicated knobs and buttons.
Classic Workflow, Modernized
Backed by the TR-REC step sequencer loved by beatmakers since the 1980s, the Roland T-8 makes it simple to develop ideas without ever stopping the action. Real-time recording, sub-steps, and velocity further expand the programming power at your fingers. And with deep features like step loop, pattern shift, and probability, it is easy to deliver dynamic performances with constantly evolving grooves.
Genuine Lowdown
The Roland T-8 delivers an authentic TB-303 bass experience, including the tactile power to squeeze, squelch, and mangle sounds in the moment. Record notes, accents, and slides with traditional step-based input, or play in parts live with the bottom-row buttons or an external MIDI keyboard.
Spicy Effects
Create grit, space, and vibe with the T-8's high-quality effects. Dirty up rhythms and bass with some meaty overdrive, and keep the beats pumping with sidechain compression. And with dedicated delay and reverb knobs, you can add all sorts of spatial colors to grooves as you perform.
Everywhere At Once
Instilling big sound in an ultra-compact instrument, the Roland T-8 lets you play and perform wherever and whenever you please. The lithium-ion battery keeps you going for up to 4.5 hours per charge, and rugged Roland build quality will fuel beat-making adventures for years to come.
Ratings and reviews
Roland AIRA Compact Ultra-Portable Bass Beat Machine with Six Rhythm Tracks and Built-in Effects
Roland AIRA Compact Ultra-Portable Bass Beat Machine with Six Rhythm Tracks and Built-in Effects
---