Samson G-Track USB Condenser Microphone with Spider Shockmount, Desktop Boom Arm, and Pop Filter
Samson G-Track USB Condenser Microphone with Spider Shockmount, Desktop Boom Arm, and Pop Filter
Samson G-Track USB Microphone
Knox Gear 30" Microphone Desktop Boom Arm (Black)
Samson Spider Shock-mount for G-Track Pro Microphone Titanium Black
Knox Gear Pop Filter for Broadcasting & Recording Microphones
Samson G-Track USB Microphone
Samson G-Track USB Microphone
Samson G-Track USB Microphone
Samson G-Track USB Microphone
Samson G-Track USB Condenser Microphone with Spider Shockmount, Desktop Boom Arm, and Pop Filter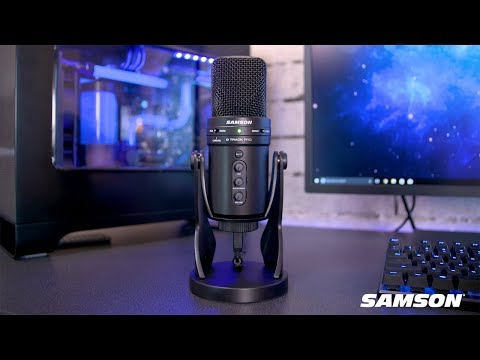 Product highlights:
Large, 19mm diaphragm studio condenser microphone
USB audio interface with 16-bit, 48kHz resolution
Plugs directly into any computer with a USB input
Compatible with digital audio workstation software
Supercardioid pickup pattern
Smooth, flat frequency response of 20Hz–16kHz
1/8-inch stereo input for mono and stereo line level devices
1/8-inch stereo headphone jack for no latency monitoring
Input and Direct Monitor selector switches
Volume, Instrument and Mic level controls
Pay over time for orders over $300 with Affirm.
---
---
---
Need help deciding?
Contact us right now!
Call or chat with one of our experts.
In the box
Samson G-Track USB Microphone
Samson G-Track USB Microphone
Integrated Desktop Base
Knox Gear 30-inch Microphone Desktop Boom Arm (Black)
Knox Gear 30-inch Microphone Desktop Boom Arm (Black)
Limited One Year Manufacturer's Warranty
Knox Gear Pop Filter for Broadcasting and Recording Microphones
Samson G-Track USB Condenser Microphone with Spider Shockmount, Desktop Boom Arm, and Pop Filter
Professional sounding recordings shouldn't require an advanced degree in engineering. In your home studio or recording on the road, G-Track Pro allows you to focus on your recording and less on the process. Focus Camera bundles this Samson G-Track USB Condenser Microphone with a shockmount, desktop boom arm, and a pop filter for broadcasting and recording microphones.
Samson G-Track USB Microphone
Professional sounding recordings shouldn't require an advanced degree in engineering. In your home studio or recording on the road, G-Track Pro allows you to focus on your recording and less on the process. G-Track Pro is a USB microphone with an instrument input and mixer for recording two independent audio channels at one time. With the ability to capture your audio at 24-bit/96kHz, your recordings will deliver extremely detailed, high-resolution results. With plug-and-play connectivity and a straightforward design, G-Track Pro is the right choice for musicians, podcasters, or streamers.
USB Microphone
Dual 1 inch (25mm) large-diaphragm condenser capsules capture the detail and nuance of your voice or instrument. Offering three selectable pickup patterns (cardioid, omnidirectional and bi-directional), G-Track Pro provides the flexibility for any project. The front panel Mic gain control, so you always get the best signal level no matter where the mic is placed.
Audio Interface
G-Track Pro includes a standard 1/4 inch instrument input for recording bass, guitar, keyboard and other line-level devices. Singer/songwriters can quickly capture vocal and instrument performances simultaneously or podcasters can add a sub-mixer to record additional hosts and guests. A Mono / 2-Track switch allows you to record the mic and instrument on the same tracks for streaming content or on separate tracks for post-production editing.
Full-featured Mixer
G-Track pro includes a full-featured mixer with independent controls for the Mic and Instrument volume controls to optimize your mix. The 1/8 inch stereo output and high-quality headphone amplifier provide zero-latency playback complete with direct monitoring mix controls. It also features a Mute button that silences the input signals when needed, which is ideal for podcasters and gamers.
Out-standing!
G-Track Pro's heavy-duty, die-cast desktop base features permanent-grip hinges that hold the mic securely in place once you've selected an optimal recording position.
Knox Gear 30-inch Microphone Desktop Boom Arm (Black)
The world of music, voice acting, and broadcasting is one that requires everything to be perfect. You know that if one thing goes wrong, it can lead to a host of audio issues leaving you to start all over from scratch. To achieve the ideal set up, you need the right equipment and Knox Gear is your go-to for the best studio gear. This desktop boom mic stand is the best option to create a perfectly smooth and comfortable setup for your broadcasting or music recording experience. You'll love the durable quality, ease of installation, and complete control and adjustability. Get your suspension mic stand today!
The Perfect Position for Your Mic
Achieving the perfect audio output and ideal positioning is easy with this suspension boom arm that is fully adjustable with 360-degree rotation and a two-axis swivel mount.
Universal Compatibility
This boom arm supports loads up to 5 pounds using a 5/8-inch copper thread making it compatible with just about every microphone, so you can use your favorite studio mic anytime.
Durable Construction
Use of high-grade steel tubing allows everlasting strength that will provide you with years of usage. Great durability ensures that your arm won't bend, break or crack easily.
Fully Adjustable and Extendable
The 30-inch scissor arms are vertically and horizontally extendable in all directions so you can place the boom arm near, far, or anywhere with supreme ease and comfort.
Money Back Guarantee
Purchase worry free with a one year manufacturer's warranty. This mic stand is a must-have for home and professional studios, no matter what you are recording or broadcasting.
Knox Gear Pop Filter for Broadcasting and Recording Microphones
The Knox Gear Pop Filter for Broadcasting and Recording Microphones is a guard used by amateurs and professionals to achieve clearer audio recordings by eliminating 'popping' sounds from P's and B's. It also keeps saliva from hitting the microphone. The included gooseneck clamp enables the filter to be placed in a variety of positions.
An Inexpensive Way to Improve Audio Quality
Whether you're a professional or amateur, adding a pop screen to your recording set up is a cheap and easy way to improve the audio quality of your recordings immediately. Pop screens diffuse wind and gusts of air expelled from your mouth when you speak to help eliminate the loud thuds that can occur when air hits the microphone. Eliminating these noises makes your recorded audio sound clearer and more professional to listeners!
Clamp Fits Most Microphone Stands
This pop screen's clamp is designed to fit most microphone stands and boom arms. The clamp's curved base wraps around mic stands to hold it in place and the rubber screw pad contours to the surface of what it's in contact with. Padding on both surfaces of the clamp protects your microphone from scratches and damage.
Fully Adjustable Gooseneck Arm
The pop screen is mounted on a flexible gooseneck arm that allows you to position it however you want. For extra support and stability during recording, the arm can be bent around the stand and mic. The arm is roughly 14 inches long so you can position the screen as close or as far away from the mic's surface as you'd like.
Large Surface Area
The screen is 6 inches in diameter and will diffuse bursts of air even if the source isn't directly in front of the microphone. This means you can conduct interviews with people who are sitting next to you without worrying about either of you causing pops or thuds. The large screen will also protect your microphone from saliva that might be expelled from your mouth as you talk.
Ratings and reviews
Samson G-Track USB Condenser Microphone with Spider Shockmount, Desktop Boom Arm, and Pop Filter
Samson G-Track USB Condenser Microphone with Spider Shockmount, Desktop Boom Arm, and Pop Filter
---