Celestron Advanced VX 6-Inch Newtonian GoTo Telescope
Celestron Advanced VX 6-Inch Newtonian GoTo Telescope
Celestron Advanced VX 6-Inch Newtonian GoTo Telescope
Celestron Advanced VX 6-Inch Newtonian GoTo Telescope
Celestron Advanced VX 6-Inch Newtonian GoTo Telescope
Celestron Advanced VX 6-Inch Newtonian GoTo Telescope
Celestron Advanced VX 6-Inch Newtonian GoTo Telescope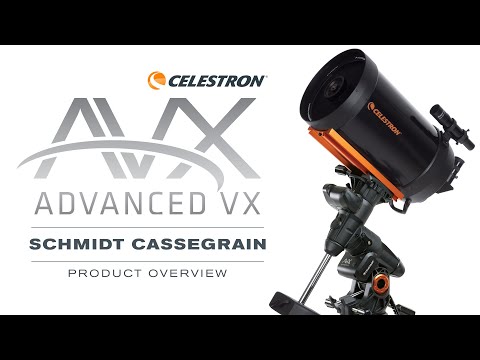 Product highlights:
6-Inch f/5 optical design with a focal length of 750mm
Minimizes chromatic and spherical aberration
Payload capacity is 30 lb
Improved stability under heavier loads
Delivers optimal imaging performance at a budget price
PEC eliminates recurring track errors from the worm gear
Features NexStar+ and All-Star Polar Alignment
Large base castings
Can be used between 7 – 77 degree latitude
---
Need help deciding?
Contact us right now!
Call or chat with one of our experts.
In the box
Celestron Advanced VX GoTo Mount
Celestron Advanced VX GoTo Mount

Advanced VX Computerized Mount
Adjustable Stainless Steel Tripod
1 x 12 lbs. Counterweight
NexStar+ Hand Control

Two Year Warranty
Celestron Advanced VX 6-Inch Newtonian GoTo Telescope
Beginner astronomers and astroimagers will appreciate the user-friendly and compact setup of the Celestron Advanced VX 6-Inch Newtonian Telescope. Suitable for observing the wonders of the Universe, this telescope offers all you need in a compact arrangement. Designed to grow with you as your interests and abilities evolve, this entry level optical instrument meets the functionality and affordability demands of budding stargazers on a budget.
Celestron Advanced VX GoTo Mount
Engineered from the ground up with astroimaging in mind, the new Advanced VX series from Celestron sets a new standard in mid-level telescopes. Advanced VX provides you with many of the features found on Celestron's most sophisticated German equatorial mounts, at an extremely affordable price. Experienced imagers will love taking this portable mount to a dark sky site, with all the performance of their larger observatory mount. Or, if you're new to imaging, this mount will help you get started with the hobby and keep up with your needs for years to come.
Design
Celestron's Advanced VX Mount is an integrated telescope support, alignment and guiding system and was specifically designed to provide optimum imaging performance for smaller telescopes. The mount holds a maximum instrument capacity of 30 lbs. This mount packs some of the features found on more sophisticated German Equatorial mounts, minus the added bulk or cost. Now your smaller telescope can take advantage of All-Star Polar Alignment and autoguider support. Advanced VX features significantly larger base castings than the previous design, improving stability under heavier loads.
Motors
To enhance tracking performance, the mount features permanently programmable Periodic Error Correction (PEC). PEC eliminates recurring track errors from the worm gear to prevent trailing and improve photographs. You'll also be able to track through long exposures using the PEC. The Advanced VX improved motors offer more torque and can handle slight load imbalances with ease.
Features
An updated industrial design offers more rigidity, less flexure and improved aesthetics. The new design allows viewing or imaging across the meridian without interference from the motors housings, so you can seamlessly image the best part of the night sky. With the enhanced latitude range, the telescope can be used between 7 – 77° latitude allowing for a larger range of view. The improved electronics contain increased memory for future expansion. The mount has an adjustable stainless steel tripod and a 12 lb. counterweight for extra stability.
Technologies
Start observing celestial objects with the push of a button on the NexStar+ Hand Control. It's pre-loaded with a huge database of over 40,000 celestial objects. Automatically slew to objects in a variety of catalogs, including the Messier, NGC, Caldwell, and SAO brightest stars. NexStar+ hand control offers multiple language programming (English, French, Italian, German, Spanish). For enhanced pointing and tracking accuracy, the mount features Celestron's All-Star Polar Alignment. This system uses multiple guide stars to assist tracking across the night sky while keeping the optical tube parallel to the Earth's axis of rotation.
Observers and astroimagers will be impressed by the seamless operation the Advanced VX SkyAlign function. It makes computerized aligning of the telescope fast, easy, and accurate--simply point at any three bright objects in the sky and the telescope aligns itself. Navigation and tracking of the night's sky is as easy as pushing a button once the telescope is precision aligned.
Ratings and reviews
Celestron Advanced VX 6-Inch Newtonian GoTo Telescope
Celestron Advanced VX 6-Inch Newtonian GoTo Telescope
---