Celestron CPC Deluxe 11" EdgeHD SCT GoTo Telescope
Celestron CPC Deluxe 11" EdgeHD SCT GoTo Telescope
Celestron CPC Deluxe 11" EdgeHD SCT GoTo Telescope
Celestron CPC Deluxe 11" EdgeHD SCT GoTo Telescope
Celestron CPC Deluxe 11" EdgeHD SCT GoTo Telescope
Celestron CPC Deluxe 11" EdgeHD SCT GoTo Telescope
Celestron CPC Deluxe 11" EdgeHD SCT GoTo Telescope
Celestron CPC Deluxe 11" EdgeHD SCT GoTo Telescope
Celestron CPC Deluxe 11" EdgeHD SCT GoTo Telescope
Celestron CPC Deluxe 11-Inch EdgeHD SCT GoTo Computerized Telescope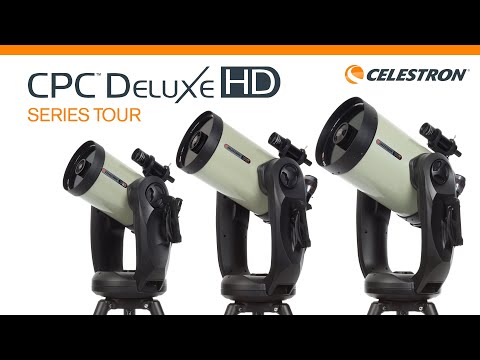 Product highlights:
OTA has StarBright XLT coatings
Produces aberration-free images with pinpoint stars
Dual fork arm mount anchors the telescope
Weighs 43 lb and includes rugged carrying handles
Help with centering objects in the eyepiece
Track more than 40,000 celestial objects
Stainless steel worm gear
Steel and nylon ball bearings
Tracks smoothly without doing a meridian flip
---
Need help deciding?
Contact us right now!
Call or chat with one of our experts.
In the box
Celestron Tripod Heavy Duty CPC 1100
Celestron Tripod Heavy Duty CPC 1100
Two Year Warranty
Celestron CPC Deluxe 11-Inch EdgeHD SCT GoTo Computerized Telescope
Ready to see the moon and more? Stargazing is enjoyable but why don't you take it up to the next level and become an expert in astronomy. Combine top-of-the-line performance with unlimited versatility and you have the Celestron CPC Deluxe 11 inch EdgeHD SCT GoTo Telescope. From a casual night of backyard observing to serious astroimaging at a dark sky location, the CPC Deluxe HD is a customer favorite for any application. The CPC Deluxe family is also the telescope of choice for NASA (a CPC 9.25 inch is currently deployed aboard the International Space Station) and astrophysicist Stephen Hawking, used a CPC Deluxe 11 inch EdgeHD at his home in Cambridge, UK.
Celestron Tripod Heavy Duty CPC 1100
In the 1960s, Celestron's founder, Tom Johnson, created groundbreaking new telescopes never before seen on the consumer market. Today, Celestron's world-class team of optical and electronic engineers continues to push the boundaries of technology. With new innovative products, Celestron has shown they are still going strong in the field of astroimaging and astronomy products.
Advanced
The Celestron heavy duty tripod is a state-of-the-art tripod; it has fully adjustable legs with metal clamps for solid height adjustment.
Adjustable
The tripod has an adjustable height of up to 55" with dual leg support and an upper leg brace and 2.75" stainless steel legs. The tripod's folding center brace stays attached to the captive leg strap which results in easier transportation.
Accessory Tray
The tripod's molded accessory tray fits around the legs with the central shaft for additional leg support; the captive leg strap keeps the tripod safely and conveniently intact,
Ratings and reviews
Celestron CPC Deluxe 11-Inch EdgeHD SCT GoTo Computerized Telescope
Celestron CPC Deluxe 11-Inch EdgeHD SCT GoTo Computerized Telescope
---