Celestron NexStar Evolution 9.25" SCT GoTo Telescope
Celestron NexStar Evolution 9.25" SCT GoTo Telescope
Celestron NexStar Evolution 9.25" SCT GoTo Telescope
Celestron NexStar Evolution 9.25" SCT GoTo Telescope
Celestron NexStar Evolution 9.25" SCT GoTo Telescope
Celestron NexStar Evolution 9.25" SCT GoTo Telescope
Celestron NexStar Evolution 9.25-inch Schmidt-Cassegrain Telescope
Celestron NexStar Evolution 9.25-inch Schmidt-Cassegrain Telescope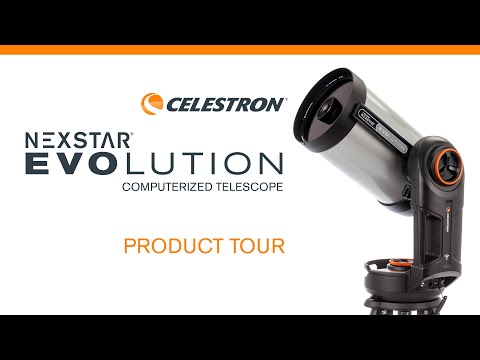 Product highlights:
Built-in wireless network
Includes its own built-in battery
Large, ergonomic handles
Accessory tray with indentations for storing and carrying
Manual clutches in both altitude and azimuth
Brass worm gears, along with improved motors
Captures images of deep-sky objects
Offers sharp views with StarBright XLT optical coatings
Equipped with 4 auxiliary ports
---
Need help deciding?
Contact us right now!
Call or chat with one of our experts.
In the box
Celestron Tripod Heavy Duty CPC 1100
Celestron Tripod Heavy Duty CPC 1100
Two Year Warranty
Celestron NexStar Evolution 9.25-inch Schmidt-Cassegrain Telescope
Celestron's signature telescopes reach a new level with NexStar Evolution 9.25, the first Schmidt-Cassegrain telescope with integrated Wi-Fi. Leave your hand control behind and slew to all the best celestial objects with a tap of your smartphone or tablet. Connect your device to NexStar Evolution's built-in wireless network, and explore the universe with the Celestron mobile app for iOS and Android. Use the planetarium interface to view the night sky in real time, or display a list of celestial objects currently visible based on your time and location.
Celestron Tripod Heavy Duty CPC 1100
In the 1960s, Celestron's founder, Tom Johnson, created groundbreaking new telescopes never before seen on the consumer market. Today, Celestron's world-class team of optical and electronic engineers continues to push the boundaries of technology. With new innovative products, Celestron has shown they are still going strong in the field of astroimaging and astronomy products.
Advanced
The Celestron heavy duty tripod is a state-of-the-art tripod; it has fully adjustable legs with metal clamps for solid height adjustment.
Adjustable
The tripod has an adjustable height of up to 55" with dual leg support and an upper leg brace and 2.75" stainless steel legs. The tripod's folding center brace stays attached to the captive leg strap which results in easier transportation.
Accessory Tray
The tripod's molded accessory tray fits around the legs with the central shaft for additional leg support; the captive leg strap keeps the tripod safely and conveniently intact,
Ratings and reviews
Celestron NexStar Evolution 9.25-inch Schmidt-Cassegrain Telescope
Celestron NexStar Evolution 9.25-inch Schmidt-Cassegrain Telescope
---