Unistellar eVscope 2 Digital Telescope
Unistellar eVscope 2 Digital Telescope
Unistellar eVscope 2 Digital Telescope
Unistellar eVscope 2 Digital Telescope
Unistellar eVscope 2 Digital Telescope
Unistellar eVscope 2 Digital Telescope
Unistellar eVscope 2 Digital Telescope
Unistellar eVscope 2 Digital Telescope
Unistellar eVscope 2 Digital Telescope
Unistellar eVscope 2 Digital Telescope
Unistellar eVscope 2 Digital Telescope
Unistellar eVscope 2 Digital Telescope
Unistellar eVscope 2 Digital Telescope
Unistellar eVscope 2 Digital Telescope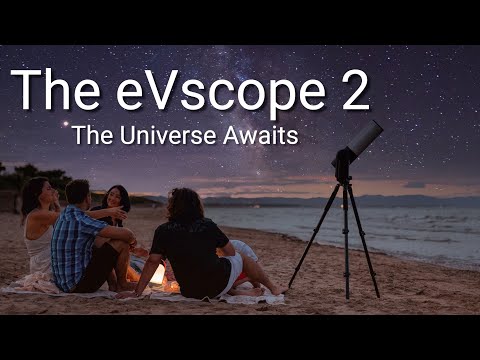 Product highlights:
Easy-to-use, user-friendly
Cutting-edge patented technologies
Pin-sharp image definition and wide field of view
Autonomous field detection
Smart light pollution reduction
Citizen Science
Dedicated app (iOS/Android)
Nikon Eyepiece technology
Built-in battery with up to 10 hours of battery life
---
Need help deciding?
Contact us right now!
Call or chat with one of our experts.
In the box
Unistellar eVscope 2 Digital Telescope
Unistellar eVscope 2 Digital Telescope
Unistellar eVscope 2 Digital Telescope
The Unistellar eVscope 2 Digital Telescope with Backpack combines power, speed, and optical expertise to provide the most immersive space exploration experience possible. The eVscope 2 delivers the most stunning visual experience ever seen in a consumer telescope, with state-of-the-art observing comfort and an incredible amount of details, definition, and zoom ability, thanks to Nikon's pioneering expertise in the electronic eyepiece and a 7,7Mpx enhanced image resolution. The eVscope 2 is a smart telescope with magnified vision, automatic field identification, and photography features, all controlled by an iOS/Android app: In less than a minute, you can see over 5,000 deep-sky objects in color and detail.
Unlocking Astronomy
Stargazers all over the world can now discover the marvels of the Universe from their backyards (even in light-polluted skies) thanks to the Unistellar's smart telescope design. The eVscope 2 is the most powerful consumer space instrument and delivers a new user-friendly experience of deep-sky exploration, thanks to Unistellar's proprietary technologies (Enhanced Vision, Automated Field Detection, Light Pollution Reduction).
Ergonomics
Advanced astronomers benefit from a portable device that can quickly hop from one object to the next while also collecting valuable scientific data that aids mankind's understanding of space. New hobbyists can discover astronomy and grow their skills with an outstanding yet user-friendly device, while advanced astronomers benefit from a portable device that can quickly hop from one object to the next while also collecting valuable scientific data that aids mankind's understanding of space. With rapid, crisp, and vivid views of the Universe, outreach workers and educators can enthrall audiences
Explore the Beauty and Secrets of the Universe
The low-light, high-resolution sensor collects light from objects millions of light-years away, resulting in pin-sharp image clarity and a broad field of vision. The eVscope 2 uses cutting-edge technology (Enhanced Vision and super-Resolution) to expose deep-sky objects in seconds, allowing viewers to appreciate massive space objects like the breathtaking Orion Nebula in fine detail
Partnership with Nikon
The electronic eyepiece, developed by Nikon, is a standout feature of the eVscope 2. It combines the best-in-class micro OLED screen with a sophisticated array of lenses sourced from Nikon's specialist optical labs to deliver a flawless black image. With improved observing comfort and eye relief, the redesigned eyepiece provides a compelling, immersive observation with rich contrast
High-Performance Scientific Device
Because the eVscope 2 may be used to conduct valuable space science, each new user unlocks a new Space Explorer, allowing Unistellar to expand its global network of connected telescopes capable of giving scientifically valuable observations. The Unistellar Explorers can protect Earth by identifying a dangerous asteroid, discovering and confirming the existence of a hot Jupiter circling a distant star, or even unraveling the mysteries of a comet or supernova with the help of scientists from the SETI Institute and other universities.
Improved Vision
The improved vision is a unique proprietary technology that allows us to see dim objects in real-time by accumulating the light we get from them in real-time. The comet, galaxies, and nebulae are finally visible, vivid, and detailed. It can take anywhere from a few seconds to several tens of seconds to see the beautiful colors and shapes of galaxies and nebulae that are normally invisible, even through the eyepiece of a large conventional telescope, depending on observing conditions (light pollution, moon phase, weather and the objects you are pointing to
Autonomous Field Detection
With the eVscope 2, you will spend less time setting up and calibrating and more time exploring space. The system instantly recognizes the objects in its field of view by comparing what it sees with a coordinates database of tens of millions of stars. As a result, the eVscope 2 automatic tracking and pointing technology is very accurate and simple to use, making it the most user-friendly telescope available. It can also educate you about what you're seeing thanks to Autonomous Field Detection (distance from the Earth, etc.)
Smart Light Pollution Reduction
The light pollution makes celestial objects undetectable to the naked eye and conventional 'direct-view' telescopes. It affects cameras and computers, causing 'noise' in photographs, blurring objects, and distorting shapes. When faced with light pollution, creating sharp, stunning photos can be difficult, if not impossible. Even in intense inner-city surroundings, the Unistellar's patented algorithms reduce the influence of light pollution and enable for crisp detail observation of distant objects.
Dedicated App
Your eVscope 2 recommends the most stunning targets and launches deep-space observations in minutes with the touch of a button and a tap of the app. Use the app to learn about and identify cosmic objects, including which ones are best for viewing from your location, from a library of over 5 000 items. With your linked tech, you can save and share your experience with others - in person or digitally.
Portable Backpack (Not Included)
The Unistellar backpack, which is designed to fit snugly around the eVscope 2 and is about the same size as a 50L hiking backpack, makes it exceedingly easy to travel both the eVscope 2 and its tripod, allowing astronomy to become nomadic. To protect the telescope from any impact, the backpack is composed of robust reinforced cloth and meticulously padded with high-density foam. It also comes with a rain shield that can be easily removed. This backpack is sold seperately.
Ratings and reviews
Unistellar eVscope 2 Digital Telescope
Unistellar eVscope 2 Digital Telescope
---