Sigma 60-600mm f/4.5-6.3 DG OS HSM Sports Lens for Sigma
Sigma 60-600mm f/4.5-6.3 DG OS HSM Sports Lens for Sigma
Sigma 60-600mm f/4.5-6.3 DG OS HSM Sports Lens for Sigma
Sigma 60-600mm f/4.5-6.3 DG OS HSM Sports Lens for Sigma
Sigma 60-600mm f/4.5-6.3 DG OS HSM Sports Lens for Sigma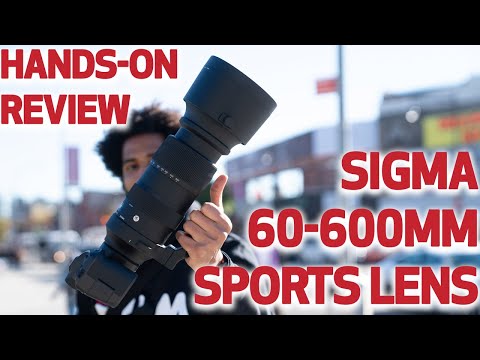 Product highlights:
Focal length: 60-600mm
Aperture range: f/4.5-6.3 to f/22-32
Sigma mount lens
Full frame format
10x Optical zoom
25 Lens elements in 19 groups
3 FLD lens elements and 1 SLD element
Hyper Sonic Motor AF system
1:3.3 Magnification ratio
Dustproof, splashproof, water and oil repellent
---
Need help deciding?
Contact us right now!
Call or chat with one of our experts.
In the box
Sigma 60-600mm f/4.5-6.3 DG OS HSM Sports Lens for Sigma
Sigma 60-600mm f/4.5-6.3 DG OS HSM Sports Lens
Case
LH1144-01 Hood
LC-740E Cover Lens Cap
Shoulder Strap
Built-in Tripod Socket (Non-detachable)
Sigma's 1-Year North and South America Limited Warranty (3-Year USA Extended Warranty for a Total of 4 Years from Date of Purchase)
Sigma 60-600mm f/4.5-6.3 DG OS HSM Sports Lens for Sigma
The Sigma 60-600mm f/4.5-6.3 DG OS HSM Sports Lens is one of the best 10x optical zoom telephoto lens that reaches 600mm. Covering a focal length from 60mm to 600mm, the hyper-telephoto zoom lens achieves an extremely high level of image resolution. With the lens construction of 25 elements in 19 groups, consistent image quality can be created throughout the entire zoom range. This lens also incorporates Intelligent OS adopting the latest algorithm to deliver an image stabilization effect of 4 stops. The high-speed AF, thanks to the HSM (Hyper Sonic Motor) with an updated algorithm, captures instantaneous photography movement. High ratio, high image quality, and high mobility, the Sigma 60-600mm f/4.5-6.3 DG OS HSM Sports marks the birth of a lens that is on another level from existing high ratio zoom lenses.
Superior Construction
This lens incorporates three FLD glass elements and one SLD glass element to provide excellent correction of magnification chromatic aberration encountered in hyper-telephoto shooting. This offers both high resolution and consistent edge to edge performance through the entire zoom range. In addition, when shooting at the focal length of 200mm, the Sigma 60-600mm f/4.5-6.3 DG OS HSM Sports can also be used for telephoto macro photography, with a maximum magnification ratio of 1:3.3, thanks to its high rendering performance.
Intuitive Design
The zooming mechanism has been engineered to make both smooth rotation and straight zoom possible. In addition, as a lens from the Sports line, the dust- and splash-proof structure ensures safe use even in the most challenging shooting conditions. Together with the water- and oil-repellent coating on the front lens, this lens surely meets the exact requirements of professional photographers.
Hyper Telephoto Zoom
The arrival of the 60-600mm f/4.5-6.3 DG OS HSM Lens expands the lineup of Sigma's 600mm zooms to three lenses. The Sigma 60-600mm f/4.5-6.3 DG OS HSM Sport is "versatile", focusing on high image resolution and mobility, demonstrating superior coverage from a standard focal length to a hyper-telephoto range without switching to another lens.
Fantastic Features
The Sigma lens is equipped with Intelligent Optical Stabilization. The Intelligent OS provides 4-stops of image stabilization to reduce camera shake and ensure your photos and videos are always blur-free. A high-speed Hyper Sonic Motor provides incredible autofocus so that your subject never leaves the frame. A dedicated focus ring allows for manual focusing, with a minimum focus distance of 60-260cm.
Ratings and reviews
Sigma 60-600mm f/4.5-6.3 DG OS HSM Sports Lens for Sigma
Sigma 60-600mm f/4.5-6.3 DG OS HSM Sports Lens for Sigma
---