Sony Alpha HVL-F28RM External Flash with Wireless Remote Control and GN28 Power for Mirrorless Cameras
Sony Alpha HVL-F28RM External Flash with Wireless Remote Control and GN28 Power for Mirrorless Cameras
Sony Alpha HVL-F28RM External Flash with Wireless Remote Control and GN28 Power for Mirrorless Cameras
Sony Alpha HVL-F28RM External Flash with Wireless Remote Control and GN28 Power for Mirrorless Cameras
Sony Alpha HVL-F28RM External Flash with Wireless Remote Control and GN28 Power for Mirrorless Cameras
Sony Alpha HVL-F28RM External Flash with Wireless Remote Control and GN28 Power for Mirrorless Cameras
Sony Alpha HVL-F28RM External Flash with Wireless Remote Control and GN28 Power for Mirrorless Cameras
Sony Alpha HVL-F28RM External Flash with Wireless Remote Control and GN28 Power for Mirrorless Cameras
Sony Alpha HVL-F28RM External Flash with Wireless Remote Control and GN28 Power for Mirrorless Cameras
Sony Alpha HVL-F28RM External Flash with Wireless Remote Control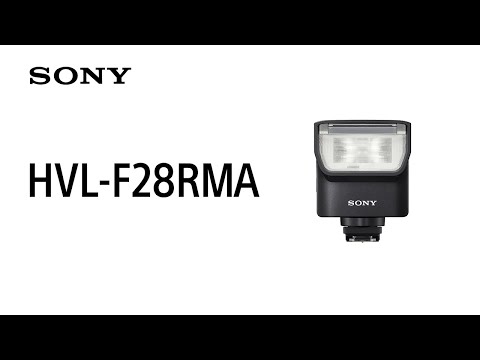 Product highlights:
GN28 power for compact mirrorless cameras
Rear, Slow, and High Speed Sync and Multi-flash settings
Flash recycle time of up to 6.4 seconds
Bounce lock release button prevents unwanted angle changes
Use as on-camera flash or radio wireless commander/receiver
Auto White Balance adjustment
Memory and MR settings to access frequently used settings
Stable ratio wireless communication up to 114 feet
Metal MI foot and side frame protects shoe connection
Multi/Micro USB ports for software update
Pay over time for orders over $300 with Affirm.
---
---
---
Need help deciding?
Contact us right now!
Call or chat with one of our experts.
In the box
Sony Alpha HVL-F28RM External Flash with Wireless Remote Control
Sony Alpha HVL-F28RM External Flash with Wireless Remote Control and GN28 Power for Mirrorless Cameras
Connector Protect Cap
Mini-Stand
Carrying Pouch
Dust and Moisture Resistant Cover
Sony Alpha HVL-F28RM External Flash with Wireless Remote Control
The compact and durable Sony Alpha HVL-F28RM External Flash offers consistent light output, optimized light distribution and continuous flash performance that won't interrupt your workflow. Designed to match Sony's mirrorless cameras for a compact, manageable system, it offers the type of reliable, stable performance you expect with your Sony Alpha cameras. This compact, easy-to-use flash unit delivers the capabilities and dependability that professional and advanced amateur users demand. Consistent light output at each flash is ensured thanks to precise communication between the flash unit and camera. Specified Guide Number (GN28) light output is consistently maintained in the widest possible range of conditions while light distribution has been carefully optimized for uniform coverage right out to the image corners without falloff.
Flash Control Linked to Camera's Face Recognition
When used with a compatible camera, the balance between the light falling on the subject's face and the ambient light is taken into account to automatically adjust accurate white balance so that the subject's face is rendered with natural, lifelike color. This is a new function introduced in the Alpha 7C. Some of existing flash units are also supported.
Continuous Flash Performance
A refined flash algorithm provides 50% higher resistance to overheating (compared to the HVL-F32M) for continuous flash performance that provides constant and stable flash output, during shooting sessions and won't interrupt your workflow. A flash recycle time of 4.1 sec. with Ni-MH batteries and 6.4 sec. alkaline batteries has been achieved.
Metal Foot and Side Frame Protects Shoe Connection
The Multi Interface foot is fabricated from metal for higher strength with reinforced side frame that also houses the unit's electrical contacts and offers improved resistance to physical shock and impact from all directions. Durability of the flash has been implemented to match the durability of your Sony Alpha camera.
Bounce Light for Natural Looking Results
Light most often falls on subjects from above, whether it's from the sun or overhead lighting resulting in more natural and pleasing portraits. The HVL-F28RM provides plenty of light for bounce applications and the flash angle can be set as required via 0, 20, 40, 60, 80, and 120 degree click stops for easy positioning in a variety of shooting situations. A lock is provided at the 0-degree position to prevent unwanted angle changes in hectic shooting situations. The bounce angle can easily be changed while the lock release button is pressed.
Intuitive Controllable from Compatible Camera Body Menu
Flash compensation, light ratio, and other detailed flash parameters can be controlled directly from a compatible camera. A camera custom key can be assigned to call up the flash parameter display so that adjustments can be made while looking through the viewfinder and gripping the camera. Flash parameters are shown in the selected camera display language.
Radio Wireless Communication
Wireless radio-controlled flash gives you the most consistent results without pairing errors. Control signals can reach receivers, up to 114 feet (30 meters) away, even in challenging conditions such as distant locations, strong sunlight, or when the flash is behind the subject, which can make optical flash sync difficult or even impossible. The compact clip-on HVL-F28RM flash can operates as an on-camera flash, radio wireless commander or receiver in multi-flash setups to meet your off camera creative lighting needs.
High-Speed Sync (HSS) with Wireless Flash Support
While conventional sync shooting requires the shutter speed to be the same or slower than synced flash speed, this narrows the aperture, making it difficult to capture background bokeh effects. However high-speed sync (HSS) flash can be used at any shutter speed — even up to the highest shutter speed provided by the camera. This allows aperture increases as needed to create a narrow depth of field, keeping the subject in perfect focus against a blurred background for beautiful portrait shots. Wireless high-speed sync is also possible with compatible cameras.
Through-the-Lens (TTL) Wireless Flash
Even when performing wireless flash shooting, flash output can be determined based on accurate measurement of the amount of light through the lens. Since the user can freely change position and direction of the flash unit exactly as desired, it's possible to soften intense shadows and suppress blown highlights when shooting a subject from right in front (of the subject), or add soft shadows that emphasize a sense of depth and presence. Wireless flash ratio control is available.
Auto White Balance Adjustment
Color temperature at time of flash shooting is affected by the guide number and flash type in use. With Auto White Balance Adjustment, color temperature information is automatically transferred from the flash unit to the camera for correct white balance setting, thereby enabling more natural color reproduction.
Simple Controls
The user interface has been designed for easy, intuitive operation with a minimum of controls that include +/- light level buttons, a pairing button, a power switch, a test button, a lock lever, and a Multi/Micro USB terminal for software updates. Please not that this unit does not have an LCD display panel.
Power Options
This flash unit is powered by two AA (LR6) alkaline or NiMH batteries. A fresh pair of alkaline batteries can provide power for up to 113 continuous flashes (1/1 manual flash with alkaline batteries).
Multi/Micro USB Ports
The HVL-F45RM features a Multi/Micro USB port for supporting firmware update to the latest version via connected PC.
Ratings and reviews
Sony Alpha HVL-F28RM External Flash with Wireless Remote Control
Sony Alpha HVL-F28RM External Flash with Wireless Remote Control
---