Sony Alpha ZV-E10 APS-C Interchangeable Lens Mirrorless Vlog Camera with 16-50mm Lens (Black)
Sony Alpha ZV-E10 APS-C Interchangeable Lens Mirrorless Vlog Camera with 16-50mm Lens (Black)
Sony Alpha ZV-E10 APS-C Interchangeable Lens Mirrorless Vlog Camera with 16-50mm Lens (Black)
Sony Alpha ZV-E10 APS-C Interchangeable Lens Mirrorless Vlog Camera with 16-50mm Lens (Black)
Sony Alpha ZV-E10 APS-C Interchangeable Lens Mirrorless Vlog Camera with 16-50mm Lens (Black)
Sony Alpha ZV-E10 APS-C Interchangeable Lens Mirrorless Vlog Camera with 16-50mm Lens (Black)
Sony Alpha ZV-E10 APS-C Interchangeable Lens Mirrorless Vlog Camera with 16-50mm Lens (Black)
Sony Alpha ZV-E10 APS-C Interchangeable Lens Mirrorless Vlog Camera with 16-50mm Lens (Black)
Sony Alpha ZV-E10 APS-C Interchangeable Lens Mirrorless Vlog Camera with 16-50mm Lens (Black)
Sony Alpha ZV-E10 APS-C Interchangeable Lens Mirrorless Vlog Camera with 16-50mm Lens (Black)
Sony Alpha ZV-E10 APS-C Interchangeable Lens Mirrorless Vlog Camera with 16-50mm Lens (Black)
Sony Alpha ZV-E10 APS-C Interchangeable Lens Mirrorless Vlog Camera with 16-50mm Lens (Black)
Sony Alpha ZV-E10 APS-C Interchangeable Lens Mirrorless Vlog Camera with 16-50mm Lens (Black)
Sony Alpha ZV-E10 APS-C Interchangeable Lens Mirrorless Vlog Camera with 16-50mm Lens (Black)
Sony Alpha ZV-E10 APS-C Interchangeable Lens Mirrorless Vlog Camera with 16-50mm Lens (Black)
Sony Alpha ZV-E10 APS-C Interchangeable Lens Mirrorless Vlog Camera with 16-50mm Lens (Black)
Sony Alpha ZV-E10 APS-C Interchangeable Lens Mirrorless Vlog Camera with 16-50mm Lens (Black)
Sony Alpha ZV-E10 APS-C Interchangeable Lens Mirrorless Vlog Camera with 16-50mm Lens (Black)
Sony Alpha ZV-E10 APS-C Interchangeable Lens Mirrorless Vlog Camera with 16-50mm Lens (Black)
Sony Alpha ZV-E10 APS-C Interchangeable Lens Mirrorless Vlog Camera with 16-50mm Lens (Black)
Sony Alpha ZV-E10 APS-C Interchangeable Lens Mirrorless Vlog Camera with 16-50mm Lens (Black)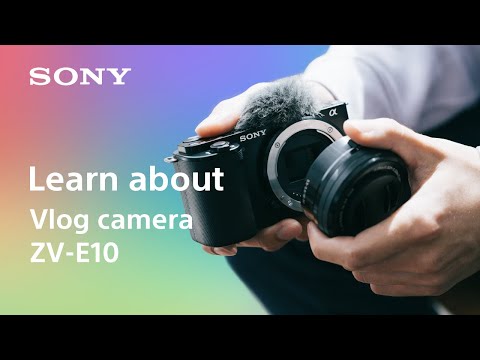 Sony Alpha ZV-E10 APS-C Interchangeable Lens Mirrorless Vlog Camera with 16-50mm Lens (Black)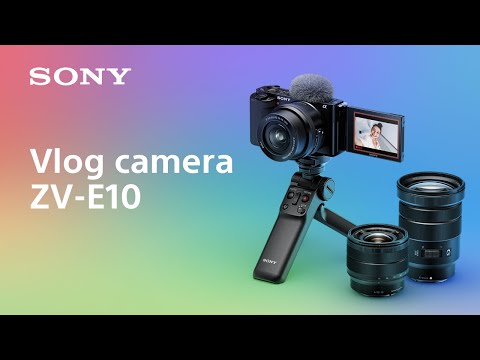 Product highlights:
24.2MP APS-C Exmor CMOS Sensor
BIONZ X image processing engine
4K Movie oversampled from 6K
Full pixel readout, no pixel binning
No 29m 50s continuous recording limit for movie shooting
3" flip-out,Vari-angle touch LCD
HLG (Hybrid Log-Gamma) and S-Log3/2
3-capsule directional mic with windscreen
Up to 11fps fast continuous shooting
Easy live streaming with single USB cable
Includes Sony 16-50mm f/3.5-5.6 E-Mount Zoom Lens
---
Need help deciding?
Contact us right now!
Call or chat with one of our experts.
In the box
Sony Alpha ZV-E10 APS-C Interchangeable Lens Mirrorless Vlog Camera with 16-50mm Lens (Black)
Sony Alpha ZV-E10 APS-C Interchangeable Lens Mirrorless Vlog Camera (Body Only, Black)
Includes Sony 16-50mm f/3.5-5.6 E-Mount Zoom Lens
Camera Body Cap (ALC-B1EM)
Rechargeable Battery (NP-FW50)
USB Charger (AC-UUD12)
USB-A to USB-C Cable (USB 3.2)
Microphone Windscreen
Shoulder Strap
Sony Alpha ZV-E10 APS-C Interchangeable Lens Mirrorless Vlog Camera with 16-50mm Lens (Black)
Featuring a 24.2-megapixel (approx. effective) APS-C Exmor CMOS sensor and BIONZ X image processing engine, this Sony Alpha ZV-E10 Mirrorless Camera produces high-quality images with high sensitivity, detailed texture depiction, and stunning natural bokeh. Take your vlogging to the next level with the ZV-E10 as it includes a variety of features such as Background Defocus, Product Showcase Setting, and Face Priority AE along with Sony's highly acclaimed autofocus.
Find a Lens to Match Your Style
Shoot stunning professional-looking vlogs with the interchangeable lens ZV-E10 camera. Users get to choose from a wide variety of lenses thanks to Sony's extensive range of E-mount lenses. Incorporate background scenery into your script with a wide-angle lens, or use a wide aperture lens with an artfully blurred background to make the subject grab the viewer's attention. See finer details and move in closer with the macro lens, or use the telephoto lens to capture distant scenes. Choose how you see the world and pick the lens that matches your preference.
Large-Format Image Sensor
Capture stunning images thanks to the large 24.2 MP APS-C Exmor image sensor. The image sensor of the ZV-E10 is more than ten times bigger than a smartphone sensor and three times bigger than a premium 1-inch sensor found in most compact cameras. With this large sensor, the ZV-E10 can produce stunning 4K movies with high-quality images and much less noise.
Instant Easy Access to Controls
Get easy assess to controls with this camera. The movie button is right on top for easy access and there is also a zoom lever close by. Access a variety of modes and easily switch between Still, Movie and S&Q with the dedicated mode button.
Ideal for Selfies and Vlogs
This compact camera weighs just 12.8 ounces and features a side-opening vari-angle LCD screen, which makes it perfect for framing selfies no matter your position. It also has an ergonomic grip that provides a secure and safe hold.
4K Video Recording with Oversampling
The ZV-E10 produces extremely detailed and crisp 4K from direct pixel readout and no pixel binning. Using the full width of the 24.2MP sensor means it oversamples roughly the equivalent of 6K, about 2.4 times the actual resolution needed to produce its highly detailed 4K video.
Real-Time AutoFocus and Eye Auto Focus
The ZV-E10 features a variety of modes to keep you or your subject in focus at all times. With the Real-time AutoFocus, the tracking is powered by AI and is intuitive to use. The Real-time AutoFocus allows users to use the monitor to focus in real-time. Capture fast-moving subjects with ease and no blur with Hybrid-Autofocus. It features a wide coverage from 425 phase-detection points covering around 84% of the sensor's image area. Detect, recognize and track a subject's eyes quickly and accurately with the camera's Eye AF feature.
Background Defocus
With the Background Defocus feature, users can easily switch between the attached lens's maximum aperture for a blurred, bokeh-rich background and either f/8 or f/11 (depending on the lens) for a clearly focused one. With the dedicated button, users can simply press a single button to turn background blurring (bokeh) on and off.
Protection from Recording Failures
The LCD monitor displays a bold red frame and a tally (recording) lamp on the front of the camera lights up in red, letting you and your subject know when recording is in progress. The ZV-E10 tells you at-a-glance if you're recording or not.
Sony 16-50mm f/3.5-5.6 OSS Alpha E-Mount Retractable Zoom Lens
The Sony 16-50mm Zoom Lens offers a 35mm equivalent focal range of 24-75mm. This compact lens is ideal for day-to-day use as it covers shooting lengths from true wide-angle to standard portrait length. This lens expands when powered on and will easily fit in your pocket as its actual size is just 1.2-inch (30mm). The lens has a surprisingly large zoom range and also features a dual-function control ring for manual focus and zooming.
Ratings and reviews
Sony Alpha ZV-E10 APS-C Interchangeable Lens Mirrorless Vlog Camera with 16-50mm Lens (Black)
Sony Alpha ZV-E10 APS-C Interchangeable Lens Mirrorless Vlog Camera with 16-50mm Lens (Black)
---