Sony FE 12-24mm F2.8 G MASTER Full-frame Ultra-wide Zoom Lens (Black)
Sony FE 12-24mm F2.8 G MASTER Full-frame Ultra-wide Zoom Lens (Black)
Sony FE 12-24mm F2.8 G MASTER Full-frame Ultra-wide Zoom Lens (Black)
Sony FE 12-24mm F2.8 G MASTER Full-frame Ultra-wide Zoom Lens (Black)
Sony FE 12-24mm F2.8 G MASTER Full-frame Ultra-wide Zoom Lens (Black)
Sony FE 12-24mm F2.8 G MASTER Full-frame Ultra-wide Zoom Lens (Black)
Sony FE 12-24mm F2.8 G MASTER Full-frame Ultra-wide Zoom Lens (Black)
Sony FE 12-24mm F2.8 G MASTER Full-frame Ultra-wide Zoom Lens (Black)
Sony FE 12-24mm F2.8 G MASTER Full-frame Ultra-wide Zoom Lens (Black)
26fbfe1df81c696ba83b4e2a060f80698f4adee1bb5d7d8e29796c3ee4b6abd4-91e8d845f1549f56.jpg
Sony FE 12-24mm F2.8 G MASTER Full-frame Ultra-wide Zoom Lens (Black)
Sony FE 12-24mm F2.8 G MASTER Full-frame Ultra-wide Zoom Lens (Black)
Sony FE 12-24mm F2.8 G MASTER Full-frame Ultra-wide Zoom Lens (Black)
Sony FE 12-24mm f/2.8 G Master Full-Frame Ultra-Wide Zoom Lens (Black)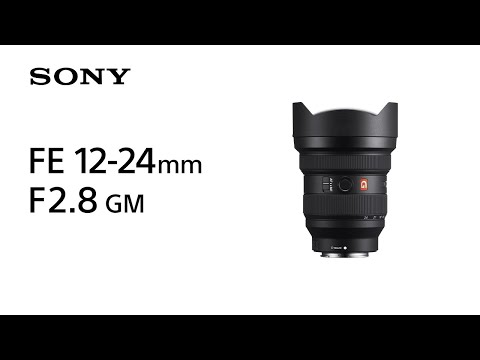 Product highlights:
Focal length: 12-24mm
Aperture range: f/2.8-22
Sony E-mount lens
Full-frame camera format
1 Aspherical and 3 Extreme Aspherical elements
Nano Anti-Reflective Coating II enhances clarity
4x XD (Extreme Dynamic) linear motors for precise AF
11-inch minimum focus distance / Up to 0.14x magnification
Linear response MF / 9-blade circular aperture
Fluorine front element coating / Dust and moisture resistant
---
Need help deciding?
Contact us right now!
Call or chat with one of our experts.
In the box
Sony FE 12-24mm f/2.8 G Master Full-Frame Ultra-Wide Zoom Lens (Black)
Sony FE 12-24mm f/2.8 G Master Full-Frame Ultra-Wide Zoom Lens (Black)
Integral Petal-Style (Non-Removable) Lens Hood
Lens Cap
ALC-R1EM Lens Rear Cap
Filter Template
Soft Carrying Case
Limited 1-Year Warranty
Sony FE 12-24mm f/2.8 G Master Full-Frame Ultra-Wide Zoom Lens (Black)
The Sony FE 12-24mm f/2.8 G Master Ultra-Wide Zoom Lens is designed for full-frame as well as APS-C and Super-35 cameras - perfectly suitable for both stills and movies! With a wide 12-24mm focal range (18-36mm at 35mm full-frame format equivalent), the lens can capture full scenes of Landscapes, architecture, street views and even sports. Plus, its fast f/2.8 aperture helps achieve detailed low-light images whether shooting indoors or outdoors without increasing ISO setting or slowing your shutter speed. It's perfect for capturing amazingly mesmerizing night scenes and starry skies. A mechanical design featuring high-performance XD Linear Motors contribute the lens' compact and portable design (weighs only 1.87 lb) making it a perfect choice for active photographers that need extra mobility during shoots.
Superior Optical Design
At the heart, the lens features high-quality glass elements that deliver spectacular resolutions throughout the focal range. The lens' optical design utilizes four aspherical elements, three extremely precise XA (extreme aspherical) and one aspherical, that help achieve stunning resolutions combined with a smooth, creamy bokeh effect in out-of-focus areas. These elements reduce chromatic aberration and effectively minimize astigmatism, coma, and field curvature resulting in incredibly sharp images with edge-to-edge clarity.
Nano Anti-Reflective Coating II Enhances Clarity
The lens elements comes with a Nano Anti-Reflective Coating II on their surface that helps suppress internal reflections and minimize flare and ghosting for clear, crisp imagery. This special coating helps maintains high clarity and contrast throughout the entire image, even when shooting in difficult light situations.
Floating Focus Mechanism
A floating focus mechanism that divides the lens's focus group into two independently controllable groups is extremely effective in minimizing aberration that varies with focusing distance. This mechanism delivers outstanding sharpness and resolution at any distance.
XD Linear Motors for Outstanding AF Performance
The Sony FE 12-24mm f/2.8 GM Lens employs four high-speed, high-thrust XD (Extreme Dynamic) Linear Motors for fast, precise continuous autofocus and tracking. Two of these motors are placed in each of the lens' focus groups. The XD linear motors are efficient than typical rotational actuators and use less power, contributing to longer battery life. Quick autofocus and tracking allows you to capture significant moments in the most dynamic sports or other types of action. Quiet focusing is achieved with minimal vibration that makes this lens ideal for movie shooting.
Natural, Linear Manual Focus Response
Linear Response MF (manual focus) ensures that the focus ring responds directly and linearly to subtle control when focusing manually. Focus ring rotation translates directly to a corresponding change in focus, so control feels immediate and precise.
Instant Auto/Manual Focus Selection
An AF/MF switch on the side of the lens lets you instantly and quickly switch between auto and manual focus. This feature allows for faster operation where you can let the camera and lens focus for you or manually control the focus.
Customizable Multi-Function Focus Hold Button
The Sony FE 12-24mm f/2.8 G Master Ultra-Wide Zoom Lens comes with a focus hold button that primarily functions as a focus lock when recomposing but can also be customized via the camera body menu settings to a number of other functions depending on your needs. The lens also features a focus mode switch, zoom ring, focus ring, and other controls that allow for easy operation and a smooth workflow.
Close-Up, Wide Angle Shooting
The Sony FE 12-24mm f/2.8 G Master Ultra-Wide Zoom Lens' floating focus mechanism provides significant aberration reduction. It offers a constant 11-inch minimum focusing distance throughout the zoom range along with a 0.14x magnification. This G Master lens is perfect for close-up, wide angle shooting.
Rear Filter Holder
This wide-angle lens' extended front element curvature and fixed lens hood make attaching a front filter difficult. To overcome this, this model comes with a different approach so standard sheet-type ND, color correction, and other filters can be inserted into the lens's rear filter holder for expanded expressive capability. A cutting template for sheet filters is supplied.
Dust- and Moisture Resistant
Thanks to the dust- and moisture-resistant design, this lens is suitable for heavy-duty outdoor use, especially when combined with a camera that employs weather-resistant design.
Fluorine Front Element Coating
The front lens element features a fluorine coating that repels water, oil, and other contaminants. This makes it easier to wipe off any contaminants or fingerprints allows for easy maintenance.
Integral Petal-Style Lens Hood
The lens comes with a permanently attached lens hood that effectively blocks off-axis light to reduce flare and ghosting. The supplied lens cap covers the hood, attaching easily and locking securely with the hood at any angle.
Ratings and reviews
Sony FE 12-24mm f/2.8 G Master Full-Frame Ultra-Wide Zoom Lens (Black)
Sony FE 12-24mm f/2.8 G Master Full-Frame Ultra-Wide Zoom Lens (Black)
---