Sony FE 20mm f/1.8 G Full-frame Large-aperture Ultra-wide Angle G Lens
Sony FE 20mm f/1.8 G Full-frame Large-aperture Ultra-wide Angle G Lens
Sony FE 20mm f/1.8 G Full-frame Large-aperture Ultra-wide Angle G Lens
Sony FE 20mm f/1.8 G Full-frame Large-aperture Ultra-wide Angle G Lens
Sony FE 20mm f/1.8 G Full-frame Large-aperture Ultra-wide Angle G Lens
Sony FE 20mm f/1.8 G Full-Frame Large-Aperture Ultra-Wide Angle G Lens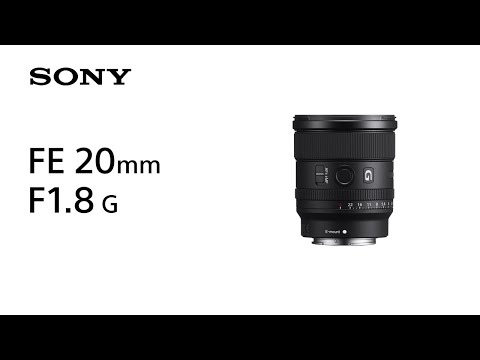 Product highlights:
Focal length: 20mm on full-frame (30mm on APS-C)
Aperture range: f/1.8-22
Sony E-mount lens
Full frame and APS-C format
Quiet internal focusing
Two advanced aspherical elements
Three ED (Extra-Low Dispersion) glass
Two XD extreme dynamic linear motors
9-blade circular aperture contributes to gorgeous bokeh
Ideal for still and video creators
---
Need help deciding?
Contact us right now!
Call or chat with one of our experts.
In the box
Sony FE 20mm f/1.8 G Full-Frame Large-Aperture Ultra-Wide Angle G Lens
Sony FE 20mm f/1.8 G Full-Frame Large-Aperture Ultra-Wide Angle G Lens
Carbon Fiber Lens Hood (ALC-SH162)
Lens Cap (ALC-F67S)
Lens Rear Cap (ALC-R1EM)
Soft Case
Sony FE 20mm f/1.8 G Full-Frame Large-Aperture Ultra-Wide Angle G Lens
This new addition to Sony's Prime G Lenses is an ultra-wide 20mm that gives to edge-to-edge sharpness with a fast f/1.8 maximum aperture. The XD (Extreme Dynamic) Linear focus motors allow for smooth and quick focusing. It optical design employs two AA (Advanced Aspherical) elements and three ED (Extra-low Dispersion) glass elements that combine to accurately reproduce point light sources with high contrast. As a result you get crisp, clear images with minimal sagittal flaring of challenging subjects such as night scenes and starry skies. The lens' lightweight design makes it ideal for videographers and vloggers, and perfectly suits a wide variety of scenarios like landscape, street, starry-nights, and environmental portraits. A special Nano Anti-reflective coating on lens elements suppresses reflections, flare and ghosting, while the fluorine coating on the front lens element repels water, oil, and other contaminants for sharp, clear images.
30mm Equivalent on APS-C Bodies
This lens weighs just 0.82 pounds and measures in at only 2.89 x 3.33 inches. It's small size and lightweight design enhance mobility when used with compact E-mount Full-frame or APS-C camera bodies and is ideal for use on gimbals or accessory grips.
Beautiful, Natural-Looking Bokeh
The lens' maximum f/1.8 aperture maintains exposure and depth of field, allowing you to isolate your subject from the foreground and background with amazing light gathering capabilities when shooting wide open. When changing your aperture to defocus the background, the areas out of the focal plane appear blurred. As expected from a G Lens, the Sony FE 20mm f/1.8 G lens delivers a smooth, natural-looking bokeh. A large f/1.8 aperture combined together with a 9-blade circular aperture mechanism and precise control over spherical aberration characteristics help achieve an amazing defocused background quality.
Advanced Optical Performance
At the heart, the Sony 20mm Prime G Lens uses two AA (Advanced Aspherical) elements and three ED (Extra-low Dispersion) glass elements. The Advanced Aspherical) elements help achieve high corner-to-corner resolution even with the narrow depth-of-field produced at the lens's maximum f/1.8 aperture. On the other hand, the three ED (Extra-low Dispersion) glass elements virtually remove axial chromatic aberration and chromatic aberration to achieve significantly reduced flare and ghosting. This gives you high resolution images with maximum bokeh featuring precisely rendered edges with no fringing or unnatural coloration.
XD Linear Motors for Fast, Precise, Quiet Focusing
The FE 20mm f/1.8 G lens incorporates a precision internal focus mechanism consisting of two XD (extreme dynamic) Linear Motors that help deliver high-speed, smooth autofocusing. With new control algorithms, it is possible to smoothly drive the lens's focus group achieving silent, low-vibration and continuous autofocus in both still and video modes.
Instant Auto/Manual Focus Selection
An AF/MF switch on the side of the lens lets you quickly switch between auto and manual focus modes for a faster and easier operation. Linear Response MF (manual focus) ensures that the focus ring responds directly and linearly to subtle control when focusing manually.
Aperture Ring with Switchable Click Stops
In addition to providing the fast, hands-on response required for still and videos, the Sony FE 20mm f/1.8 G lens's aperture ring includes an on/off switch for its click stops. You can switch it on for tactile feedback when shooting stills or switch it off for silent control when shooting movies. The combination of quiet XD Linear Motors and the quiet operation available when the click stops are switched off is great for smooth, seamless aperture control when shooting movies or capturing events where noise must be minimized.
Ratings and reviews
Sony FE 20mm f/1.8 G Full-Frame Large-Aperture Ultra-Wide Angle G Lens
Sony FE 20mm f/1.8 G Full-Frame Large-Aperture Ultra-Wide Angle G Lens
---