Sony FE 600mm F4.0 GM OSS Super Telephoto Prime G-master Lens
Sony FE 600mm F4.0 GM OSS Super Telephoto Prime G-master Lens
Sony FE 600mm F4.0 GM OSS Super Telephoto Prime G-master Lens
Sony FE 600mm F4.0 GM OSS Super Telephoto Prime G-master Lens
Sony FE 600mm F4.0 GM OSS Super Telephoto Prime G-master Lens
Sony FE 600mm F4.0 GM OSS Super Telephoto Prime G-master Lens
Sony FE 600mm F4.0 GM OSS Super Telephoto Prime G-master Lens
Sony FE 600mm F4.0 GM OSS Super Telephoto Prime G-master Lens
Sony FE 600mm F4.0 GM OSS Super Telephoto Prime G-master Lens
Sony FE 600mm F4.0 GM OSS Super Telephoto Prime G-master Lens
Sony FE 600mm F4.0 GM OSS Super Telephoto Prime G-master Lens
Sony FE 600mm F4.0 GM OSS Super Telephoto Prime G-master Lens
Sony FE 600mm F4.0 GM OSS Super Telephoto Prime G-master Lens
Sony FE 600mm F4.0 GM OSS Super Telephoto Prime G-master Lens
Sony FE 600mm F4.0 GM OSS Super Telephoto Prime G-master Lens
Sony FE 600mm F4.0 GM OSS Super Telephoto Prime G-master Lens
Sony FE 600mm F4.0 GM OSS Super Telephoto Prime G-master Lens
Sony FE 600mm F4.0 GM OSS Super Telephoto Prime G-master Lens
Sony FE 600mm f/4.0 GM OSS Super Telephoto Prime G-Master Lens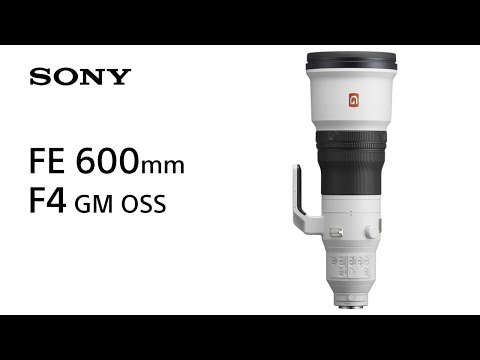 Product highlights:
Focal length: 600mm (35mm equivalent of 900mm)
Aperture range: f/4-22
Sony E-mount lens
35mm full-frame format
Optical SteadyShot image stabilization
2 XD (extreme dynamic) linear motors
Large XA element, 3 fluorite and 1 ED glass element
G Master quality with superior focusing speed up to 20fps
11-blade circular aperture contributes to gorgeous bokeh
Nano coating effectively suppresses ghosting and flare
Starting at $1174/mo or 0% APR.
---
---
---
Need help deciding?
Contact us right now!
Call or chat with one of our experts.
In the box
Sony FE 600mm f/4.0 GM OSS Super Telephoto Prime G-Master Lens
Sony FE 600mm F4.0 GM OSS Super Telephoto Prime G-Master Lens
Carbon Fiber Lens Hood ALC-SH158
Lens Cap
Lens Rear Cap ALC-R1EM
Lens Strap
Trunk Style Hard Lens Case
Includes Case, Strap and Key
Sony FE 600mm f/4.0 GM OSS Super Telephoto Prime G-Master Lens
Fast autofocus plus stunning G Master resolution and gorgeous bokeh in a lightweight, well-balanced, mobile lens. Sony's original XA lens and XD linear motor technologies contribute to peak optical and mechanical performance, making it possible to capture dynamic, eye-catching images from afar. Ideal for sports, news, and nature photography.
World's Lightest 600mm F4.0 Super-Telephoto Lens
The remarkable light weight and excellent balance of the FE 600mm F4.0 GM OSS lens—weighing it at only 6.71 lbs. —is achieved through an innovative optical design that includes a large XA (extreme aspherical) element, three fluorite elements and one ED glass element as well as the liberal usage of durable magnesium alloy components. The new design of this well-balanced lens, reduces the number of elements deployed at the front of the barrel, resulting in quicker, more precise panning, whether shooting handheld or on a monopod.
Fast, Precise Autofocus
To make full use of the rapidly evolving performance speed of modern and future camera bodies, the lens's focus group is driven by two XD (extreme dynamic) Linear Motors that achieve higher thrust and efficiency than conventional types of AF drive motors. The XD Linear Motors deliver new levels of fast, precise, quiet autofocus operation and contribute to reliable and tenacious AF tracking that sports and wildlife photographers will appreciate. Additionally, a new algorithm developed specifically for the XD motors, notably improves their response, minimizing lag and instability that can occur when driving a large aperture focus lens group, resulting in quiet, low-vibration operation.
Superlative G Master Quality
All lenses bearing the G Master brand are designed to extremely high standards, ensuring that outstanding contrast at high spatial frequencies is maintained right out to the image edges. The optical design includes a large aperture XA (extreme aspherical) element and three fluorite elements that help to minimize axial chromatic aberration that can be a problem in large-aperture lenses, as well as lateral chromatic aberration that can reduce resolution towards the image periphery. Color bleeding is effectively suppressed, allowing clear reproduction of the finest subject details, while Sony's original Nano antireflective coating suppresses any unwanted reflections, glare, or ghosting.
Reduced Flare and Ghosting
Based on a new optical design that conforms to stringent G Master standards, the FE 600mm F4.0 GM OSS includes three fluorite elements and one ED (Extra-low Dispersion) glass element that help to reduce chromatic aberration, a common problem in telephoto lenses. Extremely high resolution is maintained right out to the image edges. Spherical aberration is optimized to create a perfect balance between high resolution and soft, beautiful bokeh through careful control at both the design and manufacturing stages. Each lens is individually tested and adjusted to achieve ideal characteristics.
Wide f/4.0 Max Aperture
The wide F4.0 max aperture maintains exposure and depth of field while also allowing maximum light for shooting in almost any condition. When changing your aperture to defocus the background, the areas out of the focal plane appear blurred. This 'bokeh' effect of the blurred background can be enhanced with circular aperture blades used in this lens. Complementing the wide F4.0 aperture are 11 blades that result in soft-edged bokeh that is a hallmark of the Sony G Master series.
Ratings and reviews
Sony FE 600mm f/4.0 GM OSS Super Telephoto Prime G-Master Lens
Sony FE 600mm f/4.0 GM OSS Super Telephoto Prime G-Master Lens
---