Sony FE 70-200mm F2.8 GM OSS II Full-Frame Constant-Aperture Telephoto Zoom Lens (SEL70200GM2)
Sony FE 70-200mm F2.8 GM OSS II Full-Frame Constant-Aperture Telephoto Zoom G Master Lens (SEL70200GM2)
Sony FE 70-200mm F2.8 GM OSS II Full-Frame Constant-Aperture Telephoto Zoom G Master Lens (SEL70200GM2)
Sony FE 70-200mm F2.8 GM OSS II Full-Frame Constant-Aperture Telephoto Zoom G Master Lens (SEL70200GM2)
Sony FE 70-200mm F2.8 GM OSS II Full-Frame Constant-Aperture Telephoto Zoom G Master Lens (SEL70200GM2)
Sony FE 70-200mm F2.8 GM OSS II Full-Frame Constant-Aperture Telephoto Zoom G Master Lens (SEL70200GM2)
Sony FE 70-200mm F2.8 GM OSS II Full-Frame Constant-Aperture Telephoto Zoom G Master Lens (SEL70200GM2)
Sony FE 70-200mm F2.8 GM OSS II Full-Frame Constant-Aperture Telephoto Zoom G Master Lens (SEL70200GM2)
Sony FE 70-200mm F2.8 GM OSS II Full-Frame Constant-Aperture Telephoto Zoom G Master Lens (SEL70200GM2)
Sony FE 70-200mm F2.8 GM OSS II Full-Frame Constant-Aperture Telephoto Zoom G Master Lens (SEL70200GM2)
Sony FE 70-200mm F2.8 GM OSS II Full-Frame Constant-Aperture Telephoto Zoom G Master Lens (SEL70200GM2)
Sony FE 70-200mm F2.8 GM OSS II Full-Frame Constant-Aperture Telephoto Zoom Lens (SEL70200GM2)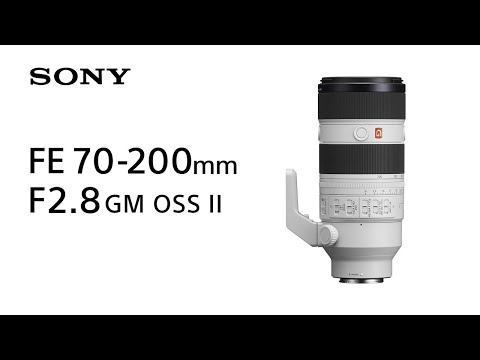 Sony FE 70-200mm F2.8 GM OSS II Full-Frame Constant-Aperture Telephoto Zoom Lens (SEL70200GM2)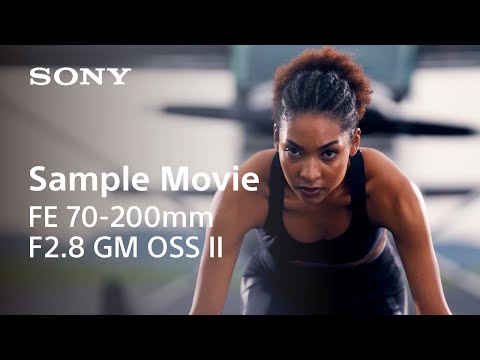 Product highlights:
Focal Length: 70mm - 200mm
Aperture Range: f/2.8 to f/22
E-mount Lens
35mm full-frame format
Internal Focusing
Lens construction: 14 groups / 17 elements
Nano Anti-Reflective Coating II
3 Aspherical Lens Elements
2 ED (Extra-Low Dispersion) Glass
2 Super ED (Extra-Low Dispersion) Glass
---
Need help deciding?
Contact us right now!
Call or chat with one of our experts.
In the box
Sony FE 70-200mm F2.8 GM OSS II Full-Frame Constant-Aperture Telephoto Zoom Lens (SEL70200GM2)
Sony FE 70-200mm F2.8 GM OSS II Full-Frame Constant-Aperture Telephoto Zoom G Master Lens
Tripod collar
Lens hood (ALC-SH167)
Lens front cap (ALC-F77S)
Lens rear cap (ALC-R1EM)
Lens case
Sony FE 70-200mm F2.8 GM OSS II Full-Frame Constant-Aperture Telephoto Zoom Lens (SEL70200GM2)
Superb image quality and gorgeous bokeh
The Sony FE 70-200MM F2.8 GM OSS II lens provides excellent image quality throughout its entire zoom range, thanks to the two aspherical elements and one extreme aspherical element. Chromatic aberration is minimized with the two extra-low dispersion (ED) glass elements, two Super ED glass elements, and one ED aspherical element. The G Master lens achieves lovely bokeh with its advanced optical design combined with the F2.8 aperture and the new 11-blade circular aperture unit. A XA element has 0.01-micron surface precision which suppresses onion bokeh.
Precise autofocus and movie capabilities
Four of the extreme dynamic (XD) linear motors deliver high-thrust efficiency and boost the autofocus speed. This way you will get fast and continuous autofocus and tracking for stills and movies. The FE 70-200mm F2.8 GM OSS II lens, is designed with movie capabilities in mind. The latest lens reduces focus breathing, focus shift, and axis shift when zooming. The lens operates quietly and you have independent control rings (for focus, zoom, and iris) with a click on/off switch at your disposal.
A lightweight lens with professional control
With just an overall weight of 2.3 lbs, it is 23 percent lighter than the previous model. The new design improves its balance while the constant barrel length gives you easy handling. This lens has flexible focus control provided by features such as full-time direct manual focus, linear response, and a focus range limiter. The aperture ring with switchable click and an iris lock gives you extra exposure controls.
Amazing close-up performance
This lens offers excellent close-up performance for a telephoto zoom. Minimum focus is 1.32 ft (0.4 meters) at 70mm and 2.69 ft (0.82 meters) at 200mm. Maximum magnification is 0.3x. Deep bokeh at F2.8 adds extra expressive close-up capability. Floating focus ensures pinpoint sharpness even at minimum focus distance, while inner focus makes it easy to get close.
Ratings and reviews
Sony FE 70-200mm F2.8 GM OSS II Full-Frame Constant-Aperture Telephoto Zoom Lens (SEL70200GM2)
Sony FE 70-200mm F2.8 GM OSS II Full-Frame Constant-Aperture Telephoto Zoom Lens (SEL70200GM2)
---