Sony Full-frame Cinema Lens FE C 16-35mm T3.1 G
Sony Full-frame Cinema Lens FE C 16-35mm T3.1 G
Sony Full-frame Cinema Lens FE C 16-35mm T3.1 G
Sony Full-frame Cinema Lens FE C 16-35mm T3.1 G
Sony Full-frame Cinema Lens FE C 16-35mm T3.1 G
Sony Full-frame Cinema Lens FE C 16-35mm T3.1 G
Sony Full-frame Cinema Lens FE C 16-35mm T3.1 G
Sony Full-frame Cinema Lens FE C 16-35mm T3.1 G
Sony Full-frame Cinema Lens FE C 16-35mm T3.1 G
Sony Full-frame Cinema Lens FE C 16-35mm T3.1 G
Sony Full-frame Cinema Lens FE C 16-35mm T3.1 G
Sony Full-frame Cinema Lens FE C 16-35mm T3.1 G
Sony Full-frame Cinema Lens FE C 16-35mm T3.1 G
Sony FE C 16-35mm T3.1 G Full-Frame Cinema Lens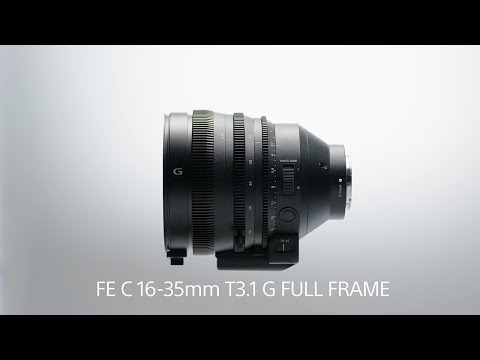 Product highlights:
Focal length: 16-35mm
Aperture range: f/3.5-5.6 to f/22-36
Sony E-mount Lens
APS-C camera format
Two XA (extreme aspherical) elements
ED glass with multi‐coating reduces chromatic aberration
Two Direct Drive SSM (DDSSM)
Internal focus and zoom maintains lens size
Instant auto/manual focus selection via an AF/MF switch
Dust and moisture resistant
Starting at $497/mo or 0% APR.
---
---
---
Need help deciding?
Contact us right now!
Call or chat with one of our experts.
In the box
Sony FE C 16-35mm T3.1 G Full-Frame Cinema Lens
Sony FE C 16-35mm T3.1 G Full-Frame Cinema Lens
Lens Front Cap (ALC-F82S)
Lens Rear Cap (ALC-R1EM)
Hood
Soft Case
Tripod Mount
Lens Support Adapter
Sony FE C 16-35mm T3.1 G Full-Frame Cinema Lens
The FE C 16-35mm T3.1 G Full-Frame Cinema Lens is perfectly suitable with Sony's full-frame sensor camera line-up, including FX9, VENICE and FX6. It offers an advanced E-mount performance and accuracy delivering amazing edge-to-edge sharpness. Its advanced optical design employs XA lens elements for superb image quality. A constant wide T3.1 (f/2.8) aperture and 11-blade circular aperture allow for outstanding defocused bokeh. Featuring traditional cinema lens operability, the lens offers a three-ring operation including a de-clickable IRIS for smooth exposure and depth of field control, a direct linear focus ring for precise manual focus and a zoom ring. In addition, the lens comes with an advanced auto-exposure and AI-based autofocus technology with additional benefits of servo zoom. Hybrid AF provides Real-time AF and Real-time Eye AF tracking expanding your creative expression and operability in almost any shooting environment.
Extreme Aspherical Optical Design
The lens' optical design utilizes two XA (extreme aspherical) elements with extremely high surface precision that work in combination with three aspherical elements to reduce aberrations, effectively controlling distortion. As a result, you get ultimate resolution throughout the entire zoom and aperture range.
ED Glass Minimizes Chromatic Aberration
In addition, two ED (Extra-low Dispersion) glass elements take care of the axial chromatic aberration and chromatic aberration, maximizing resolution and bokeh with minimal fringing or unnatural coloration.
Nano AntiReflective Coating
Sony's Nano AntiReflective Coating technology suppresses internal reflections minimizing flare and ghosting for clarity, even in difficult outdoor lighting conditions. This nano coating provides accurate light transmission, contributing to high-quality images with lifelike detailing and gradation.
Two Direct Drive Supersonic Wave Motor (DDSSM)
High-resolution cameras demand absolute focus precision. With a floating mechanism driven by two DDSSM (Direct Drive Super Sonic Wave Motor) actuators helps maintain outstanding resolution from infinity to close focus and especially effective when recording motion. This Wave Motor allows for pinpoint precision, offering accurate, fast and quiet autofocus.
Constant T3.1 (f/2.8) Max Aperture
Constant T3.1 (f/2.8) max aperture maintains exposure and depth of field regardless of the focal range to which you zoom. When changing your aperture to defocus the background, light sources appear blurred. This bokeh effect is enhanced with an 11-blade circular aperture design with flat sides creating unappealing, polygonal-shaped defocused points of light.
Instant Auto/Manual Focus Selection
You can instantly switch between auto and manual focus control. Just move the focus ring forward for autofocus or pull backward to engage manual focus. The focus hold button not only performs its primary function to lock focus when recomposing, but can be customized to a number of other functions depending on your needs. Apart from the Focus Hold, the lens offers custom functions like Super-35/full-frame select, Picture Profiles, and Peaking function.
Robust Reliability
Lens mount sealing maximizes resistance to dust and moisture for reliable operation in challenging environmental conditions. Furthermore for professional control and convenience, details like rubberized rings that are easy to operate in low temperatures, customizable focus hold button and a hood lock button have been added to the lens design.
Compatible with Cinema Lens Accessory
The Sony FE C 16-35mm T3.1 G Full-Frame Cinema Lens has an industry standard 0.8mm pitch gear and 114mm lens diameter, providing compatibility with a wide range of accessories include matte boxes and follow focus systems.
Ratings and reviews
Sony FE C 16-35mm T3.1 G Full-Frame Cinema Lens
Sony FE C 16-35mm T3.1 G Full-Frame Cinema Lens
---