1d48717f1f916e038cb120a3ad2cb3db7def734ba79e6a7cb0a7278d8919a689-a14fc91bbc83dcee.jpg
a814758e7ff68656ed38f45ed791fa910d4b808dc0386f05dfbcb52c7075fff1-b01a353ca70c2046.jpg
cf3ec6f5f23e10596bce1629d33534802deb47e710438ff35b3d9fe876f2a86c-cf78150107fd26a8.jpg
a0b38825bd4f09050c076fb295bddaa066918b4289fbb780398e7d345f825b1b-cb3859c2eb2b1c0e.jpg
cf4eb557c84d796aed94a540de84baa3192bb76c50a32fed047f899f3623ebf0-0ed0c3048d9ce419.jpg
8e9997cf96cb121cc17fbde00b4b066faff97277ba39483f2db06178e76f89aa-30c76c596e7de69a.jpg
f34d5700c19456cc4a37d3ab9d634d3e407a1edd75981a1fdeb5a3162c9696dd-0715d81cc418e094.jpg
04117fbdb87a6927f23071ea49e359b2f2287689cc9bb735db42592e03955f71-150ac98a9955ead1.jpg
1e5b28b0020722fd38af211ecaa4786bdca17bd8d3cf77ca0ed32b203890a0b7-f6ba7c2104b1e6a0.jpg
a9ac43a6a362d149c3fd125a6d15ff527fabb86087c22746b083690963c72c90-297f79a4b58e8a26.jpg
5c608056de7a61b9081de134ecd3a8c380d0e980f6b9c06e558c82c40c9aa79a-6f77f683313d1cea.jpg
7418f59e1fdb28a37f15ef3b41450a9975d29e150946f56da0e0f599ff1de219-1035c2cdc711f3ed.jpg
b99eab2f2d55f97af1f848d3b738edbfbcc6868eb550eb7602ddcd2a06baab52-e323b0a97226398a.jpg
c89a2544b9e35074a08a872d65198f65a4c4cc9aa1cd9fa81db1cf41678b721c-fb1045d98433bf2b.jpg
151126fcff731bdf46d036b39a3cbebabc8f8ea92431db59ca114125f3f94508-7e7892ae7758e97f.jpg
b1181676b26b389c448efbe2cd140e8eb9f39460a5898b232522762347a29ad9-228e4eede565053a.jpg
Sony GP-VPT2BT Wireless Bluetooth Shooting Grip and Tripod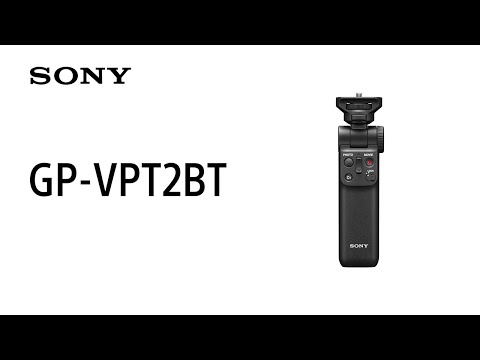 Product highlights:
Cable-free control with Wireless Bluetooth
Quickly convert handheld grip to stable tripod
Quick change from normal to selfie position
Tilt function for easy angle adjustment
Grip C1 button recalls the camera's C1 button function
Versatile mount allows fast aiming and quick direction change
Dust and moisture resistant design
LOCK switch so buttons can't be accidentally activated
Indicator shows camera status and low battery
Holds payload up to 53 oz (1.5 kg)
Pay over time for orders over $300 with Affirm.
---
---
---
Need help deciding?
Contact us right now!
Call or chat with one of our experts.
In the box
Sony GP-VPT2BT Wireless Bluetooth Shooting Grip and Tripod
Sony GP-VPT2BT Shooting Grip With Wireless Remote Commander
Carrying Pouch
Lithium Coin Cell Battery CR2032
Sony GP-VPT2BT Wireless Bluetooth Shooting Grip and Tripod
Ideal for selfies, vlogging and everyday use, the Sony GP-VPT2BT Wireless Bluetooth Shooting Grip and Tripod is a reliable, cable free free grip and tripod which will improve your content creation creativity and mobility. This Bluetooth Shooting Grip and Tripod is compatible with a variety of Sony's latest digital cameras.
Bluetooth wireless remote commander
While holding the grip normally, remote controls for still and movie shooting can be operated With a compatible camera attached, without having to touch the camera. Any function assigned to the camera's C1 button can also be recalled via the remote grip C1 button.
No cables required
Bluetooth wireless communication means that no connecting cables are required to transmit control signals from the grip to the camera. Simply aim and shoot with no cables to get in the way.
Dust and moisture resistant
In addition to an overall grip design that keeps dust and moisture out, the absence of cables means that the camera's connector covers can stay closed, for maximum system dust and moisture resistance.
Quick, easy subject or selfie
Quickly and easily position the camera direction for subject or selfie stills or movies. Improve your chances of getting the shot, even when shooting stills or movies without assistance. Combined with the grip's easy angle adjustment capability, 90 degree lock positions also make it possible to shoot in vertical orientation with optimum stability.
Contoured for comfort
The grip has been carefully designed to provide optimum stability and comfort, whether attached to a compact or mirrorless interchangeable-lens camera. Remote control buttons are easily accessible while holding the grip, for smooth, intuitive operation.
Flexible tilt function
A quick tilt function makes it easy to set the ideal camera angle for a wide range of subjects and viewpoints. Whether shooting selfies or a subject, the tilt function lets you get the shot without having to assume uncomfortable postures.
It's a tripod too
Spread the grip's cleverly integrated legs and it becomes a handy, stable tripod, leaving both hands free for vlogging and other applications.
Ratings and reviews
Sony GP-VPT2BT Wireless Bluetooth Shooting Grip and Tripod
Sony GP-VPT2BT Wireless Bluetooth Shooting Grip and Tripod
---