Sony NW-ZX300 Walkman Digital Audio Player (Silver) with WF1000X Wireless Noise Canceling Headphones
Sony NWZX300 Walkman with High-Resolution Audio (Silver) with Sony WF1000X Wireless Noise Canceling Headphones bundle
Sony NWZX300 Walkman with High-Resolution Audio (Silver)
Sony WF1000X Wireless Noise Canceling Headphones (Black)
Sony NWZX300 Walkman with High-Resolution Audio (Silver)
Sony NWZX300 Walkman with High-Resolution Audio (Silver)
Sony NWZX300 Walkman with High-Resolution Audio (Silver)
Sony NWZX300 Walkman with High-Resolution Audio (Silver)
Sony NWZX300 Walkman with High-Resolution Audio (Silver)
Sony NWZX300 Walkman with High-Resolution Audio (Silver)
Sony NW-ZX300 Walkman Digital Audio Player (Silver) with WF1000X Wireless Noise Canceling Headphones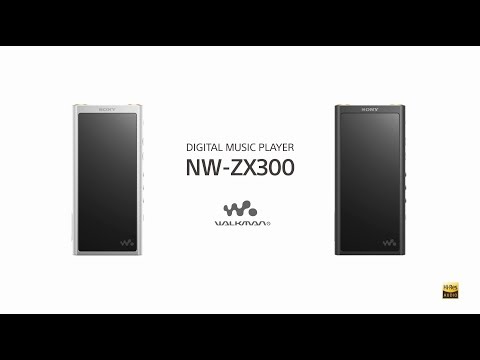 Product highlights:
High-resolution audio
S-Master HX digital amplifier
DSEE HX upscaling
LDAC audio transmission with Bluetooth connection
DSD and PCM file support
Balanced connection cable
USB DAC function and SD card slot
Touch-sensitive matte glass screen
Aluminum milled frame resists noise for clear, stable sound
Up to 30 hours battery life with one charge
Starting at $64/mo or 0% APR.
---
---
---
Need help deciding?
Contact us right now!
Call or chat with one of our experts.
In the box
Sony NWZX300 Walkman with High-Resolution Audio (Silver)
Sony NWZX300 Walkman with High-Resolution Audio
USB cable
Startup Guide
Instruction Manual
Sony WF1000X Wireless Noise Canceling Headphones (Black)
Sony WF1000X Wireless Noise Canceling Headphones (Black)
Charging Case
USB Cable
Earbuds (SS, S, M, L X2)
Fitting Supporters (M, L X2)
Triple-Comfort Earbuds (S, M, L X2))
Sony NW-ZX300 Walkman Digital Audio Player (Silver) with WF1000X Wireless Noise Canceling Headphones
Feel every note and nuance with High-Resolution Audio. Class-leading sound technologies take your listening experience into a whole new realm of realism and purity. Focus Camera bundles this MP3 player with a wireless noise cancelling headphones.
Sony NWZX300 Walkman with High-Resolution Audio (Silver)
Enjoy truly authentic High-Resolution Audio in a compact body. The NW-ZX300 has been engineered for master quality sound, exactly as the artist intended, in a palm-sized, go-anywhere design.
High-Resolution Audio
Experience digital music to the fullest with High-Resolution Audio. By capturing music at a higher rate than CD, increasing both audio samples per second and the bitrate accuracy of each sample, High-Resolution Audio offers an uncompromised rendition of an artist's music. Savor every breath and subtle movement for a truly emotional experience.
S-Master HX™
Using a simplified and fully digital signal path, S-Master HX™ reproduces the subtleties and wide frequency range of high resolution formats. Unlike conventional amplifiers, it maintains the digital signal until right before the speaker output, eliminating distortion.
DSEE HX™
Go beyond CD quality. DSEE HX™ builds on our proprietary DSEE™ technology, upscaling compressed audio files to a level that's closer to Hi-Res Audio. By restoring the subtleties of the original recording that are lost during the compression process, DSEE HX™ delivers a rich, studio-quality audio experience for all your music.
Direct Stream Digital (DSD)
Enjoy studio-quality sound thanks to the Direct Stream Digital (DSD) audio codec—designed specifically for Hi-Res Audio. This 1-bit format operates at a far higher frequency than conventional PCM digital audio, resulting in a more natural, and intensely detailed sound. The result is clearer, crisper, Hi-Res Audio quality.
Highest-quality BLUETOOTH® wireless streaming: LDAC
Enjoy your music in higher-than-CD quality with LDAC wireless audio transmission. LDAC uses a conventional Bluetooth®wireless connection1, but transfers at a maximum data transfer rate up to 990 kbps—approximately three times that of other audio profiles. It's the best way to experience wireless audio, with compatible Bluetooth® wireless speakers and headphones.
Balanced Connection
The NW-ZX300 Walkman® features a balanced standard plug, designed for the new Φ0.17" balanced connection cable. This supplies compatible headphones with fully discrete left and right channels, unlike conventional headphones that share a ground wire. The result is far better external noise suppression and improved stereo imaging, as well as more headroom for powerful sound delivery.
USB DAC Function
Experience the great sound quality of the NW-ZX300 as a USB Digital–Analog Converter (DAC) for your PC or Mac computer. When connected, activated, and using the supplied USB cable, the NW-ZX300 replaces your computer's regular sound processing with its own highly tuned processing hardware. Enjoy premium sound quality, whether you're at home or in the office, commuting, or in a coffee shop.
Aluminum Milled Frame
A rigid aluminum milled frame provides strong resistance to electrical noise for clear, stable sound.
Expandable storage for endless playlists
In addition to the integrated 64 GB memory, there's also room for a microSD card, so you can take even the biggest music collections on the go.
Listen longer
Never run out of power when you're on the move. The NW-ZX300 holds enough charge for up to 30 hours of 128 kbps MP3 playback, or up to 26 hours of 96 kHz/32 bit FLAC Hi-Res Audio playback, so you don't have to worry about finding a charger when you're out and about.
Sony WF1000X Wireless Noise Canceling Headphones (Black)
Smart noise canceling just got smaller. The WF-1000X sits securely and comfortably in your ears while keeping the noise out. Bluetooth and NFC wireless connectivity means that no wires will get in the way between you and your music.
Compact Design. Clear Sound. Comfortable Fit
The Sony WF1000X Wireless Noise Canceling Headphone boast a compact and minimalist design allows for discreet all day wear. Fine sound from a tiny 6mm driver inside compact headphones sits comfortably and securely in your ears.
Ergonomic Ear Hook
Designed for everyday use and long periods of wear, these headphones are built to stay put and keep playing. Each ear piece features an ergonomic ear hook that keeps it in place no matter how rigorous your activity gets. The internal antenna and fitting supporter keep the signal strong for constant streaming.
Adaptive Sound Control
Smart Listening by Adaptive Sound Control automatically detects your activity such as traveling, walking, and waiting, then adjusts ambient sound settings to you. You can customize them to your preferences with the Sony I Headphones Connect App.
Sense Engine
Sense Engine tailors sound to you. It gives you the power to tune in and out of your music at a touch.
Sony I Headphones Connect for Android and iOS
Download the Android or iOS app to use Smart Listening by Adaptive Sound Control. It control your ambient sound settings, and adjust the sound levels with the Equalizer right on your smartphone.
Ambient Sound
Switch on normal mode to hear all essential background sounds. Switch on voice mode to make sure you never miss announcements.
Equalizer
Find your perfect sound tone for every song from the presets, easily customizable to your preference with Sony | Headphones Connect app.
Easy Hands-Free Calling
Conversation flows freely with easy, hands-free calling. Leave your phone where it is: just speak with a tap.
Charge and Carrying Case
No need to worry about battery life, just place your headphones in the carrying case to charge on the go.
9-Hour Battery Life
Enjoy up to 9 hours of battery life with 3 hours of music playback and up to 9 hours play time with chargeable carrying case. The headphones automatically turns off when not in use for optimal battery performance.
Ratings and reviews
Sony NW-ZX300 Walkman Digital Audio Player (Silver) with WF1000X Wireless Noise Canceling Headphones
Sony NW-ZX300 Walkman Digital Audio Player (Silver) with WF1000X Wireless Noise Canceling Headphones
---