Sony RX100 VII Cyber-shot Digital Camera with Shooting Grip Kit
Sony RX100 VII Cyber-shot Digital Camera (Black)
Sony RX100 VII Cyber-shot Digital Camera
Sony RX100 VII Cyber-shot Digital Camera
Sony RX100 VII Cyber-shot Digital Camera
Sony RX100 VII Cyber-shot Digital Camera
Sony RX100 VII Cyber-shot Digital Camera
Sony RX100 VII Cyber-shot Digital Camera
Sony RX100 VII Cyber-shot Digital Camera
Sony Cyber-shot DSC-RX100 VII Digital Camera with Shooting Grip Kit
Sony Cyber-shot DSC-RX100 VII Digital Camera with Shooting Grip Kit
Sony RX100 VII Cyber-shot Digital Camera with Shooting Grip Kit
Sony RX100 VII Cyber-shot Digital Camera with Shooting Grip Kit
Sony RX100 VII Cyber-shot Digital Camera with Shooting Grip Kit
Sony RX100 VII Cyber-shot Digital Camera with Shooting Grip Kit
Sony DSC-RX100 VII Cyber-Shot Digital Camera with Shooting Grip Kit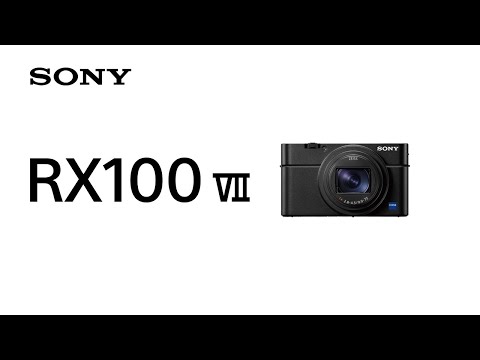 Product highlights:
20.1MP 1-inch Exmor RS stacked CMOS sensor
BIONZ X image processor
Single burst shooting
4K movie with direct pixel readout and HLG instant HDR
Selfie-ready multi-angle Xtra Fine LCD
Retractable XGA OLED Tru-Finder EVF
Wi-Fi/NFC/QR code
Optical SteadyShot image stabilization
Includes VCT-SGR1 shooting grip and tripod
---
Need help deciding?
Contact us right now!
Call or chat with one of our experts.
In the box
Sony DSC-RX100 VII Cyber-Shot Digital Camera with Shooting Grip Kit
Sony DSC-RX100 VII Cyber-Shot Digital Camera with Shooting Grip Kit
Sony VCT-SGR1 Shooting Grip and Tripod for Compact Cameras
2 x NP-BX1 Rechargeable Battery Packs
AC Adapter
Micro USB Cable
Wrist Strap
Strap Adapter
Hand Strap for Grip
Storage Pouch for Grip
Bracket
Instruction Manual
Sony DSC-RX100 VII Cyber-Shot Digital Camera with Shooting Grip Kit
This pocket-sized marvel includes a high-performance 24-200mm f/2.8-4.5 ZEISS Vario-Sonnar T* Lens and you can enjoy exploring new compositions and angles of your perspective with the LCD touch screen – tiltable 180 degrees and 90 degrees down. The RX100 VII also includes enhanced video features with 4K HDR movie recording, real-time tracking, and real-time Eye AF and in 4K Active SteadyShot to reduce camera shake up to 8 times more effectively than previously available. Vertical position data recording transfers the file metadata straight to your smartphone, allowing you to replay and edit your videos in the most popular social media format. This camera comes with a VCT-SGR1 Shooting Grip that is easily used as one-handed control for taking selfies or a convenient tripod for adjustable shooting angles.
Exmor RS Stacked CMOS Sensor
The newly developed 20.1MP, 1.0-type stacked CMOS image sensor uses back-illumination technology with high light-collection efficiency and realizes fast readout to support the camera's extraordinary responsiveness. The standard ISO range is 100-12800, expanded to ISO 64/80 for stills. The camera also takes advantage of improved filters to help achieve more realistic textures and color. Human skin tones and the vivid colors of flowers are more accurately reproduced.
4K Movie
RX100 VII records 4K movies with full pixel readout and no pixel binning, with oversampling for high image quality. Extended continuous video recording is available when setting Auto Power OFF Temp. function to High. HLG (Hybrid Log-Gamma) compatibility enables HDR capture and immediate playback without post-production, by connecting the camera to an HDR (HLG) compatible Sony TV via a USB cable. The wide color space and dynamic range available using S-Log profiles provide more freedom in post-production. Interval Shooting is available, with AE tracking to reduce exposure variations. The resulting still images can be edited into a time-lapse movie on a PC.
High Speed Anti-Distortion Shutter
The high speed – up to 1/32,000 sec. - Anti-Distortion Shutter, minimizes the rolling shutter effect commonly experienced with fast-moving subjects. This fast shutter speed also allows the camera to capture sharp, clear images with a wide-open aperture at all brightness levels. Shooting at a wide aperture with a fast shutter speed allows you to capture beautiful content with sharply focused subjects and defocused backgrounds under difficult, bright conditions.
Active Mode IS
RX100 VII supports Active mode image stabilization for 4K movies, combining optical and electronic stabilization methods for compensation up to 8x more effective than the standard mode. Intelligent Active mode with FHD recording provides smoother stabilization even for shooting while walking. The Movie Edit add-on mobile app helps achieve smoothness similar to using a gimbal.
Hybrid AF
The fast, highly accurate autofocus can achieve a remarkable 0.02-sec. acquisition speed, the world's fastest, to capture fleeting moments with precision. A total of 357 focal-plane phase-detection AF points covering approx. 68% of the image area – work in conjunction with 425 contrast-detection AF points and High-density AF Tracking Technology to follow even erratically moving subjects reliably.
24-200mm ZEISS Lens
The ZEISS Vario-Sonnar T* 24-200mm1 F2.8-4.5 zoom lens covers a broad zoom range equivalent to two standard zoom lenses (24-70mm and 70-200mm), all in a very compact size. It's configured with 8 aspherical lens elements to achieve maximum resolution, clarity, and contrast across the entire zoom range, and out to the edge of the image. Four of Sony's AA (advanced aspherical) elements help minimize spherical, coma, and chromatic aberrations.
Sony VCT-SGR1 Shooting Grip and Tripod for Compact Cameras
This compact, lightweight shooting grip for compact Cyber-shot cameras can instantly convert from a handy grip to a stable mini tripod and is ideal for everyday use from vlogging, and travel photography to video shooting.
Grip, Selfies, or Tripod
The VCT-SGR1 shooting Grip for RX0 and RX100 series cameras is easy to carry around for a wide range of scenes and daily use - from one-handed control to selfies or as a convenient tripod with adjustable shooting angles.
Camera Control from Grip
A multi-USB terminal allows you to control capture and zoom including a shutter button, rec start/stop for video, and zoom rocker switch with the grip. The comfortable design is suitable for both right- and left-handed users.
Ratings and reviews
Sony DSC-RX100 VII Cyber-Shot Digital Camera with Shooting Grip Kit
Sony DSC-RX100 VII Cyber-Shot Digital Camera with Shooting Grip Kit
---