Sony XR-55A90J 55-Inch BRAVIA XR MASTER Series OLED 4K UHD HDR Smart TV
Sony XR-55A90J 55-Inch BRAVIA XR MASTER Series OLED 4K UHD HDR Smart TV
Sony XR-55A90J 55-Inch BRAVIA XR MASTER Series OLED 4K UHD HDR Smart TV
Sony XR-55A90J 55-Inch BRAVIA XR MASTER Series OLED 4K UHD HDR Smart TV
Sony XR-55A90J 55-Inch BRAVIA XR MASTER Series OLED 4K UHD HDR Smart TV
Sony XR-55A90J 55-Inch BRAVIA XR MASTER Series OLED 4K UHD HDR Smart TV
Sony XR-55A90J 55-Inch BRAVIA XR MASTER Series OLED 4K UHD HDR Smart TV
Sony XR-55A90J 55-Inch BRAVIA XR MASTER Series OLED 4K UHD HDR Smart TV
Sony XR-55A90J 55-Inch BRAVIA XR MASTER Series OLED 4K UHD HDR Smart TV
Sony XR-55A90J 55-Inch BRAVIA XR MASTER Series OLED 4K UHD HDR Smart TV
Sony XR-55A90J 55-Inch BRAVIA XR MASTER Series OLED 4K UHD HDR Smart TV
Sony XR-55A90J 55-Inch BRAVIA XR MASTER Series OLED 4K UHD HDR Smart TV
Sony XR-55A90J 55-Inch BRAVIA XR MASTER Series OLED 4K UHD HDR Smart TV
Sony XR-55A90J 55-Inch BRAVIA XR MASTER Series OLED 4K UHD HDR Smart TV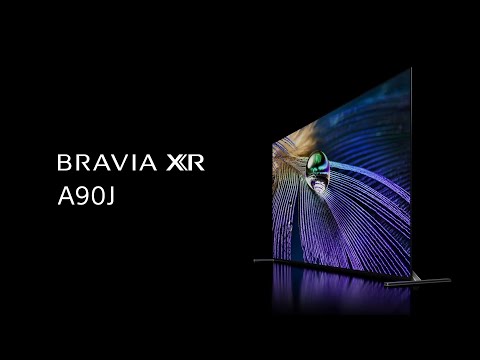 Sony XR-55A90J 55-Inch BRAVIA XR MASTER Series OLED 4K UHD HDR Smart TV
Product highlights:
Cognitive Processor XR technology
Delivers intense contrast with pure blacks and natural colors
XR TRILUMINOS Pro improves color saturation
XR OLED Contrast Pro enhances images for immersive realism
All your favorite streaming apps in one place
Bravia Core brings the cinematic experience home
Intelligent motion processing for fast-moving, blur-free scenes
XR 4K Upscaling allows you to enjoy HD content close to 4K
Works with AirPlay 2
2-Way Multi-Position Stand
---
Need help deciding?
Contact us right now!
Call or chat with one of our experts.
In the box
Sony XR-55A90J 55-Inch BRAVIA XR MASTER Series OLED 4K UHD HDR Smart TV
Sony XR-55A90J 55-Inch BRAVIA XR MASTER Series OLED 4K UHD HDR Smart TV
Table Top Stand
Voice Remote Control
Batteries
AC Power Cord
Operating Instructions
Quick Setup Guide
Limited 2-Year Warranty
Sony XR-55A90J 55-Inch BRAVIA XR MASTER Series OLED 4K UHD HDR Smart TV
The Sony BRAVIA XR A90J TV boosts incredible picture quality and ultimate brightness, it's powered with a new Cognitive Processor XR. Get intense contrast with pure blacks, high peak brightness, and natural colors with the Revolutionary TV processing technology. The Sony BRAVIA XR A90J offers accurate colors, contrast, and clarity, bringing astounding realism to your content.
Accurate Colors and Precise Textures
Get amazing picture quality that is beautiful to the human eye. The Cognitive Processor XR in the Sony BRAVIA XR TV provides natural colors. The XR TRILUMINOS Pro improves the saturation and overall clarity, making the skin tones look completely natural as seen with the same accuracy as the human eye.
Feel Immersive Realism
Watch your favorite content with the brightest-ever OLED picture. The XR OLED Contrast Pro technology transforms your home into a cinematic experience giving you immersive picture clarity and detail.
Voice Assistance
View your favorite TV shows and movies all in one place with Google TV. Google TV allows you to browse your favorite content across your apps and subscriptions and organizes them just for you. The interface is simple and easy to use, just say Hey Google, show me sci-fi adventure TV shows, or Hey Google, find action movies.
Cinematic Experience at Home
Enjoy the latest Sony Picture Entertainment (SPE) titles and the largest IMAX Enhanced collection with BRAVIA CORE. You can use the included BRAVIA CORE credits to choose from hundreds of latest release movies to redeem. The BRAVIA CORE features Pure Stream technology that lets you stream your content in 4K UHD Blu-ray, which delivers stunning visuals and powerful sound quality.
Intelligent Motion Processing
Get smooth and blur-free picture quality while watching your favorite sports or action movies with the help of Cognitive Processor XR with XR Motion Clarity. This feature controls the action in every scene and provides a smooth and blur-free experience.
Bring Back Lost Texture and Detail
See the life-like features in people's faces, identify every blade of grass, and marvel at the precise texture of houses and scenery. With XR 4K Upscaling you'll enjoy entertainment close to 4K resolution. The XR 4K Upscaling is powered by the Cognitive Processor XR, and it accesses a vast amount of data, effectively recreating lost textures and detail for a real-world picture.
Truly Immersive Sound Experience
This screen-speaker technology vibrates the TV panel to produce sound from the entire screen. With Acoustic Surface Audio+, the screen is the speaker, and it produces a wider soundstage giving you a more realistic and immersive experience. The built-in subwoofers also produce a powerful and punchy bass. With sound and picture in perfect harmony, you'll hear a more true-to-life sound and exceptionally clear dialog.
Ratings and reviews
Sony XR-55A90J 55-Inch BRAVIA XR MASTER Series OLED 4K UHD HDR Smart TV
Sony XR-55A90J 55-Inch BRAVIA XR MASTER Series OLED 4K UHD HDR Smart TV
---