Sony XR50X90J BRAVIA XR 50-Inch 4K Ultra HD HDR Full Array LED Smart TV (2021 Model Year)
041ff3cb099946cd24b90c606fcdf09d1721c0f2f474bcd1d76f23740bd2afd7-dfe97af8867d82ba.jpg
ed26cfd1a327d138d48660ebbc4d1e3f486062d8cd25e44d5b13bef1d01bf4db-68aeb38b298e8bd6.jpg
b5231bfe7485ff2272cd80e761a3989c62ccad3194b00cd5dc98fcaf3a09fa18-041ce5e8879cf0fc.jpg
e13b1704287665e58a02f8c7266506e82266b54e801a596a21fcf12f5d0acd89-9d9c808baa961302.jpg
83229e0c1ea9032e23299a0150e13fbd297c317f8b260ec2bdc60fbdab4e31a4-69434d4e08541ef6.jpg
388c5822ee9485c8cf87d0425301e1e132b984e820d52b6c84f66f54f1823f67-3cdf0e65ee961413.jpg
d650254d4cf87a1f930c1e26757021d9958a6ceb202b40f8dcc2ae6bcfc7491a-3459f509529e1131.jpg
bc1ee90792de2f8b3f977a93838633bce2f461c0870e259c39c34db4b048d716-dcc9c5a41b4c7288.jpg
Sony XR50X90J BRAVIA XR 50-Inch 4K Ultra HD HDR Full Array LED Smart TV (2021 Model Year)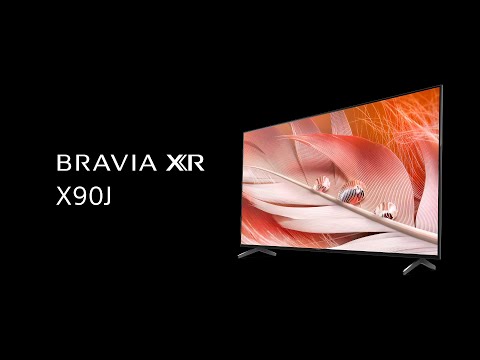 Product highlights:
50-inch class (49.5-inch diagonal) Full Array LED smart TV
Cognitive Processor XR for rich colors and detailed contrast
Triluminos Pro natural and precise, life-like images
Seamlessly browse content from streaming services
Motionflow XR offers smooth and clear on-screen motion
XR 4K Upscaling upscales all the HD content you love
Immersive cinematic content with HDR and Dolby Vision
Use your voice to find your favorite movies, shows, and music
Ultra-slim wall mount compatible (bracket sold separately)
Works with AirPlay 2 to stream content from Apple device
---
Need help deciding?
Contact us right now!
Call or chat with one of our experts.
In the box
Sony XR50X90J BRAVIA XR 50-Inch 4K Ultra HD HDR Full Array LED Smart TV (2021 Model Year)
Sony XR50X90J BRAVIA XR 50-Inch 4K Ultra HD HDR Full Array LED Smart TV (2021 Model Year)
Table Top Stand
AC Power Cord
Voice Remote Control
Batteries
Quick Setup Guide
Operating Instructions
Limited 1-Year Warranty
Sony XR50X90J BRAVIA XR 50-Inch 4K Ultra HD HDR Full Array LED Smart TV (2021 Model Year)
Powered by Cognitive Processor XR, the Sony BRAVIA XR 4K Ultra HD HDR Full-Array LED TV brings the theater experience home! It is smart enough to understand how humans see and hear delivering an amazing new experience with a precise 4K picture. The TV features a Full-Array LED panel, which combines with the advanced features of Cognitive Processor XR to create ultra-realistic picture quality that's full of life-like contrast. Plus, advanced speaker technology turns any sound source into an immersive sound experience. With the voice assistant feature, you can use your voice to easily find your favorite movies, shows, and music.
XR Triluminos Pro
Powered by Sony's Cognitive Processor XR, the XR Triluminos Pro offers a wider palette of colors with an enhanced range of hue and saturation. This ensures that natural shades and precise details are visible, even in darker scenes.
4K XR Super Resolution
XR Super Resolution function precisely detects individual objects in a picture and reproduces virtually real-world detail and texture on the screen.
XR Contrast
The processor cross-analyzes data and enhances the picture quality in the same way that the human eye focuses for real-life color and depth. With XR Contrast Booster function, bright areas become brighter and dark areas darker—without any details getting shadowed or lost in blown-out highlights.
XR HDR Remaster
Thanks to XR HDR Remaster, the Sony BRAVIA XR can detect each object on the screen, analyze its color and adjust contrast to produce even more realistic pictures. This object-based processing is powered by Cognitive Processor XR. It adjusts hue, saturation, brightness, motion vector, bandwidth, and more to give you an exceptional picture quality with greater depth, lifelike textures, and natural colors.
XR Clarity
Enjoy near-4K resolution no matter your source content, thanks to the XR 4K Upscaling feature. The processor analyzes a vast amount of data and intelligently recreates the lost textures and details.
4K XR Smoothing
XR Smoothing helps create smooth, natural 4K pictures as you watch, without the banding that can occur on other TVs.
XR Motion
The Cognitive Processor XR with XR Motion Clarity ensures that the action in fast-moving movies stays smooth, bright, and clear.
4K/120fps
Outstanding 4K resolution and 120fps frame rate with HDMI2.1 interface let you have the advantage in shooting, sports, and high-performance games with instant on-screen action. You'll also enjoy ultra-smooth gaming with a reduced input lag of less than 8.5ms with 4K/120fps and dedicated Game Mode.
XR Sound Position
XR Sound Position brings you the reality of sound behind the picture for an audio experience that matches how we sense the world. This BRAVIA XR Full-Array LED TV has sound-positioning tweeters at the back that enable sound to follow the action for a truly immersive experience. To scale up, the TV uses XR Surround that creates surround sound from the sides and vertically for a 3D audio experience without the need for in-ceiling or up-firing speakers.
3D Surround Upscaling
With 3D Surround Upscaling, you can experience the cinematic thrills of latest audio formats such as Dolby Atmos at home, as well as enjoying vertical surround with content not compatible with Dolby Atmos.
Ratings and reviews
Sony XR50X90J BRAVIA XR 50-Inch 4K Ultra HD HDR Full Array LED Smart TV (2021 Model Year)
Sony XR50X90J BRAVIA XR 50-Inch 4K Ultra HD HDR Full Array LED Smart TV (2021 Model Year)
---