Sony ZV-1 Camera for Content Creators and Vloggers
Sony ZV-1 Camera for Content Creators and Vloggers
Sony ZV-1 Camera for Content Creators and Vloggers
Sony ZV-1 Camera for Content Creators and Vloggers
Sony ZV-1 Camera for Content Creators and Vloggers
Sony ZV-1 Camera for Content Creators and Vloggers
Sony ZV-1 Camera for Content Creators and Vloggers
Sony ZV-1 Camera for Content Creators and Vloggers
Sony ZV-1 Camera for Content Creators and Vloggers
Sony ZV-1 Camera for Content Creators and Vloggers
Sony ZV-1 Camera for Content Creators and Vloggers
Sony ZV-1 Camera for Content Creators and Vloggers
891bb61d1cc310b2a6035d2754b3107538866b3b9bcdd9efa8e1180da075deff-e2a571349180e4be.jpg
6e4cb3714544d5120c8c907d21dc9847c3146c8451b212738771545163fd1ce2-60939160077b38bb.jpg
Sony ZV-1 Camera for Content Creators and Vloggers
6be19809e9eedfd8315252852714bd958c7459772a8a75b62349afc9d880f9d1-aa7241f4ad787cda.jpg
Sony ZV-1 Camera for Content Creators and Vloggers
0f9ba6ac51bb6d4c974985a3fe6dba76683a855b71c94dd3279aade74b1d8726-df5e961e22d13e9d.jpg
4ca4471590d4902d2b2fef312eb8ab4a532c6a260a59fb2d6ec415a8a445714c-dbf36c7855e5a51d.jpg
Sony ZV-1 Camera for Content Creators and Vloggers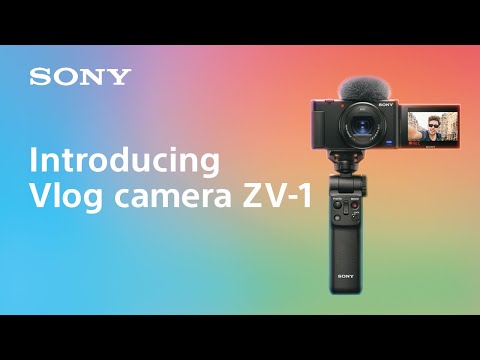 Product highlights:
20.1MP back-illuminated 1-inch Exmor RS CMOS sensor
BIONZ X processor with front-end LSI
4K movie recording (full pixel readout and no pixel binning)
Side-articulating LCD screen
HLG (Hybrid Log-Gamma) and S-Log3/2
3-capsule directional mic and wind screen
High bit rate XAVC S codec
Industry standard 3.5mm microphone input
Super Slow Motion recording
24-70mm1 f/1.8-2.8 Zeiss Vario-Sonnar T* lens
---
Need help deciding?
Contact us right now!
Call or chat with one of our experts.
In the box
Sony ZV-1 Camera for Content Creators and Vloggers
Sony ZV-1 Camera for Content Creators and Vloggers
Battery (NP-BX1)
Microphone Wind Screen
Wind Screen Adapter
Limited 1-Year Warranty
Sony ZV-1 Camera for Content Creators and Vloggers
The ZV-1 features a 1.0-type stacked Exmor RS CMOS image sensor with DRAM chip and 24-70mm f/1.8-2.8 ZEISS Vario-Sonnar T* large-aperture lens creating beautiful background bokeh (background blur), allowing the subject to stand out from the background. The camera locks on to and tracks subjects with high accuracy and speed using Sony's leading-edge autofocus system. The ZV-1 also includes the latest-generation BIONZ X image processor with front-end LSI delivering high resolution as well as low noise for superior image quality. It also combines this exceptional imaging technology with high-quality and versatile audio options. The ZV-1 is Sony's first compact camera with a side-opening Vari-angle LCD screen, making it easier to compose your shots in selfie mode while connecting external audio accessories. To meet any video need, the ZV-1 contains advanced video features including 4K movie recording and in-body image stabilization.
Quickly Switch Between two Modes of Background Bokeh
The ZV-1 offers a simple solution to easily switch between two levels of background bokeh while recording. Using the new Background Defocus function, users can rapidly adjust the optical aperture between more and less background defocusing blur without losing focus on the subject. Located on top of the camera, this Bokeh button is easily accessible and makes selfie shooting operation a breeze.
Focus on the Subject You Want
The ZV-1 makes it easier than ever to shoot product reviews and similar video content. Gone are the days of placing a hand behind an object to prompt the camera to bring it into focus thanks to a new Product Showcase Setting, which allows for quick and smooth focus transitions between the subject's face and the object placed in front of the lens. Built on the leading-edge technology developed for Alpha and RX series cameras, this new compact camera includes advanced autofocus (AF) allowing it to lock on and track subjects with high accuracy and speed while recording. For maintaining focus on the intended subject or subjects in busy environments, Real-time Eye AF and Real-time Tracking AF for video allows the ZV-1 to seamlessly switch focus between multiple subjects while controlling the AF speed and tracking sensitivity.
Prioritize Your Face
Extreme changes in lighting, like walking outside on a sunny day and suddenly moving from a bright location into shade, are no problem for the ZV-1 thanks to the new Face Priority auto exposure (AE) function. It detects and prioritizes the subject's face and adjusts the exposure to ensure the face is depicted at an ideal brightness in any environment. This AE technology also suppresses an abrupt change in exposure if the subject quickly turns away from the frame to eliminate unexpected blown-out or extremely dark shots. In addition, the camera features a new advanced color science that has been re-engineered to optimize skin tones for any subject in both still and video modes.
Crystal Clear Audio
High quality content requires clear, excellent audio quality, and the ZV-1 is well-equipped to produce just that with reliable and versatile audio options. The ZV-1's onboard mic features Sony's latest Directional 3-capsule Mic which was designed for forward-directional audio capture, allowing for clear capture of the subject's voice while minimizing background noise, especially when operating in selfie mode. For added flexibility, the ZV-1 also features an industry standard mic jack (3.5mm) and Multi Interface Shoe (MI shoe) making it easy to connect a wide range of external microphones. The ZV-1 is also supplied with a wind screen accessory that fits on the MI shoe to minimize wind interference.
Ratings and reviews
Sony ZV-1 Camera for Content Creators and Vloggers
Sony ZV-1 Camera for Content Creators and Vloggers
---