Stealth Cam GXATW Wireless Cellular 22MP Trail Camera (4-Pack) with 16GB Memory Cards and USB Card Reader
Stealth Cam GXATW Wireless Cellular 22MP Trail Camera (4-Pack) with 16GB Memory Cards and USB Card Reader
Stealth Cam GXATW Wireless Cellular 22MP Trail Camera
Sandisk Ultra 16GB Class 10 SD Memory Card
Focus USB 2.0 Card Reader
Stealth Cam GXATW Wireless Cellular 22MP Trail Camera (4-Pack) with 16GB Memory Cards and USB Card Reader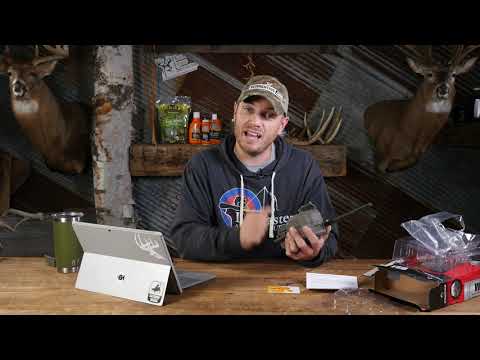 Product highlights:
Captures 22MP resolution images
Records HD videos with sound
0.5 second trigger speed
5-59 sec / 1-59 min picture recovery time
100-feet flash range
42 no glo infrared emitters
Burst mode 1-9 images per triggering
Time/date/moon phase/temp/name stamp
AT&T sim card included with purchase
---
Need help deciding?
Contact us right now!
Call or chat with one of our experts.
In the box
4 X Stealth Cam GXATW Wireless Cellular 22MP Trail Camera (AT&T Network)
8 X SanDisk 32GB Ultra SDHC UHS-I Memory Card (100MB/s)
SanDisk 32GB Ultra SDHC UHS-I Memory Card
Limited 7-Year Warranty
Focus All-In-One High Speed Card Reader
Stealth Cam GXATW Wireless Cellular 22MP Trail Camera (4-Pack) with 16GB Memory Cards and USB Card Reader
Perfect for professional hunters and wildlife experts that aim to gather maximum information about the natural life, this exclusive bundle from Focus Camera includes four GXATW Wireless Cellular 22MP Trail Cameras by Stealth Camera. Also included in the bundle are eight 16GB memory cards for extra storage on the go and a USB 2.0 memory card reader to transfer images from a memory card to your computer or other devices.
Stealth Cam GXATW Wireless Cellular 22MP Trail Camera (AT&T Network)
Stealth Cam ups the ante on wireless image transmission and expands its coverage with the introduction of new WXA AT&T cellular camera. The trail camera not only incorporates the latest in high speed modems for fast 4G/LTE wireless image and video transmission but is also a full featured 22MP No Glo camera capable of recording high definition video with audio. The camera also features the Smart Illumination technology for the perfect image exposure. The featured security mode re-writes images to make sure you always have the most recent photos.
Lightning Fast Trigger Speed
Wild animals are skittish and fast. A fraction of a second can mean the difference between capturing a shot of a deer and an empty frame. The Stealth Cam G34 Pro features an ultra-responsive 0.5 second trigger speed to ensure the camera captures that 12-point buck as soon as it enters the frame. The camera has the ability to snap 1-9 pictures per triggering, too.
Matrix Advanced Blur Reduction
The Matrix Blur Reduction technology radically reduces the blur effect resulting in clearer night time infrared shots. The STANDARD setting minimizes blurring effect in images while retaining long range night image capability. The ADVANCED setting maximizes blur reduction achieved through a faster shutter speed.
16:9 Wide Image Ratio
The 16:9 wide image ratio maximizes the field of view, and can be tagged with time, date, moon phase, temperature and name.
Geo-Tag
The featured Geo-Tag allows the entry of GPS coordinates into the camera. When GPS tagged image is opened with a location enabled program such as iPhoto or Picasa, images are plotted on a map.
Stealth Cam Remote App 3.0
Users have complete control of their cameras via the updated free Stealth Cam Remote APP 3.0. The apps new streamlined interface allows the user to configure all camera settings as well as manage the transmission schedule and remotely erase the memory card. New features include Take Test Photo, providing the ability to send a command to the camera to take and transmit a photo on demand. Enhanced location function plots cameras on Google maps within the app supplying the user a visual reference to where their cameras are placed.
SanDisk 32GB Ultra SDHC UHS-I Memory Card (100MB/s)
The SanDisk 32GB Ultra SDHC UHS-I Memory Card allows you to capture better pictures and Full HD videos with your compact to mid-range point and shoot cameras. Store tons of photos and videos, with speeds up to 100MB/s to quickly transfer it all to your computer.
Capture the Moment
This SanDisk Ultra SD card delivers exceptional photo and video shooting performance to let you capture your memories when they happen.
Picture and Video
Capture amazing quality pictures and Full HD video with your compact point-and-shoot camera.
Keep Shooting
Shoot tons of photos and hours of Full HD video (1080p) without changing the card.
Durable
This SanDisk Ultra SD card is durable and tested to protect your memories from life's mishaps—waterproof, shockproof, x-ray proof, and temperature-proof.
Focus All-In-One High Speed Card Reader
The All-In-One High-Speed USB 2.0 Card Reader by Focus Camera lets you transfer data to and fro with ease. The high-speed memory card reader is compatible with both Mac and PC systems and offers a transfer rate of 480 Mbps. It supports a wide range of media cards, including SD, SDHC, microSD, MMC, TF, M2, and PRO Duo cards. This USB card reader is made with a plastic shell that is exceptionally durable.
Ratings and reviews
Stealth Cam GXATW Wireless Cellular 22MP Trail Camera (4-Pack) with 16GB Memory Cards and USB Card Reader
Stealth Cam GXATW Wireless Cellular 22MP Trail Camera (4-Pack) with 16GB Memory Cards and USB Card Reader
---