ur12d.jpg
ur12a.jpg
ur12b.jpg
ur12d.jpg
Steinberg UR12 USB Audio Interface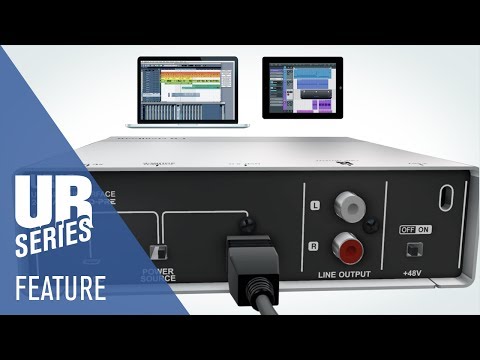 Product highlights:
24-bit/192 kHz 2 x 2 USB 2.0 audio interface
D-PRE mic preamp supporting +48 V phantom power
Metal casing - Portable and rugged construction
Major recording software compatible - ASIO, Core Audio, etc.,
iOS connectivity - Use with your iPad or iPhone
Power options - 5V DC port or USB connection
Loopback function for internet live broadcasting
Cubase AI and LE included - Intuitive production tools
Mic and Hi-Z instrument input, headphones and 2 line output
Pay over time for orders over $300 with Affirm.
---
---
---
Need help deciding?
Contact us right now!
Call or chat with one of our experts.
In the box
Steinberg UR12 USB Audio Interface
Steinberg UR12 USB Audio Interface
Steinberg UR12 USB Audio Interface
Combining an extremely compact design, extraordinary build quality, full iPad connectivity and the outstanding D-PRE mic preamp, the UR12 redefines quality for its class of 2-in 2-out USB interfaces. 24/192 converters offer you outstanding levels of audio fidelity, while the D-PRE gives your microphone recordings incredible detail, depth and dynamics.
Small Size -Huge Audio Quality
The UR12 proves how many first-class components can fit into a compact device at a very competitive price point. Its cleverly engineered capabilities give you all the I/O you need to quickly record your tracks at a quality that would just a few years ago have seemed impossible on a recording device at this price point. The acclaimed D-PRE offers a sumptuously detailed, wonderfully dynamic sound, while the second input offers access to a Hi-Z input for guitars or basses. Featuring recording in stunning 24-bit quality at a whopping 192 kHz, the UR12 offers almost unheard of fidelity for recording in its class.
Portable and Affordable
The UR12 has been engineered to offer maximum functionality and quality in an extremely compact design and to be available at a very low price point. Often, smaller interfaces that are affordable for those on a tight budget mean (at best) average audio quality; this ethos has been transcended by the UR12, with its first-rate components, fantastic price/value ratio and exceedingly portable design.
iOS Connectivity
The interface offers a Class Compliant mode for connectivity with Apple's iPad and iPhone. Combining the UR12 with an iOS audio application like Steinberg's Cubasis gives you a remarkably intuitive music production experience. If you're running your UR12 with an iOS device, just add any standard USB power supply to provide the interface with the required current.
Integrate Your System
The UR12 is compatible with all major audio editing, mastering and music production software supporting the ASIO, Core Audio or WDM standard. Cubase users benefit from the auto-setup functionality which handles configuration of input and output channels and buses from within Cubase for a uniquely integrated music production environment.
For the Amateurs
The UR12 is the ideal interface for newcomers to digital music production, looking to record their first tracks and explore a new world of writing, recording and mixing music on their computer. Offering all the I/O needed to record vocals and guitars in outstanding quality, it also includes a streamlined and upgradable version of Cubase, Steinberg's legendary music production system. Available at a price point that will appeal directly to musicians making their first foray into making music on a computer, the UR12 is nevertheless built to exacting standards of quality, with first-class preamps and rugged metal casing that is made to last.
For the Pros
Professional musicians on tour requiring an ultra-compact interface that makes no compromises in terms of either build or recording quality need look no further. The UR12 offers the outstanding D-PRE preamp, a Hi-Z input for connecting electric guitars and basses and a headphones output for monitoring on a plane, tour bus or in a hotel room. Its small size means that it will easily fit into your hand luggage, while the rugged metal case means that it is designed to deal with life on the road.
Live Streaming
The UR12's loopback function lets you broadcast your audio production live via the internet! Combine your live microphone signal feeding into the UR12's mic input with the audio coming from, say, a recording of a college lecture and stream both live to the web. Or add a live voiceover to a music backing track, with both signals merged and looped back to your internet broadcasting software.
Ratings and reviews
Steinberg UR12 USB Audio Interface
Steinberg UR12 USB Audio Interface
---