Tascam DR-05X Stereo Handheld Audio Recorder and USB Audio Interface
Tascam DR-05X Stereo Handheld Audio Recorder and USB Audio Interface
Tascam DR-05X Stereo Handheld Audio Recorder and USB Audio Interface
Tascam DR-05X Stereo Handheld Audio Recorder and USB Audio Interface
Tascam DR-05X Stereo Handheld Audio Recorder and USB Audio Interface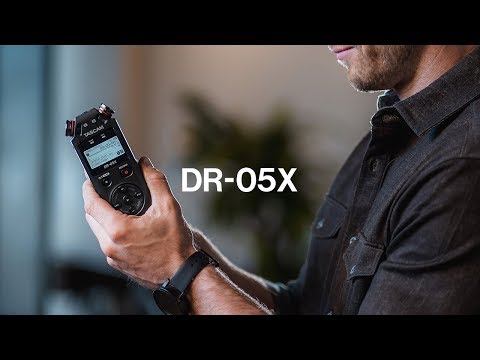 Product highlights:
For voice and instrument recording use
Stereo omni directional condenser microphones
Overwrite function for Punch-In recording
2in/ 2out USB Audio Interface for Mac, PC or iOS recording
Captures sounds up to 125dB SPL
Auto recording, peak reduction, speed adjustment
128×64 pixel graphic LCD with backlight
High-speed file transfer using USB 2.0
Supports multiple menu languages
Supports microSD/microSDHC/microSDXC card recording
Pay over time for orders over $300 with Affirm.
---
---
---
Need help deciding?
Contact us right now!
Call or chat with one of our experts.
In the box
Tascam DR-05X Stereo Handheld Audio Recorder and USB Audio Interface
Tascam DR-05X Stereo Handheld Audio Recorder and USB Audio Interface
Tascam DR-05X Stereo Handheld Audio Recorder and USB Audio Interface
The Tascam DR-05X Stereo Handheld Audio Recorder and USB Audio Interface offers high-quality recording utilizing an easy-to-use interface, and is portable and powerful, but with a size and price that anyone can appreciate. Dual internal condenser microphones can handle anything from subtle to loud to 125dB SPL, with sensitivity to capture every detail.
Simple To Operate
The layout of the DR-05X has been revamped to be quick and easy to work with one thumb. Operations like recording, adjusting levels, deleting bad takes and adding markers are just a button press away.
Choose Your Language
Menu display of DR-05X supports 10 languages: English/ Spanish/ French/ Italian/ German/ Russian/ Chinese/ Korean/ Japanese/ Portuguese.
Extended Battery Life
DR-05X uses only two AA batteries and has ultra-long battery capability. When using built-in microphones, recording lasts 17.5 hours when recording with standard 2ch WAV, 44.1kHz/ 16bit format using alkaline batteries. Also DR-05X can be powered by a USB mobile battery as well for super long extended use.
Fast Set Up
Connect to a PC using USB Audio interface mode, and DR-X becomes a tool for voiceover work, live streaming, podcasting and songwriting with studio-quality audio. Built-in microphones work as USB microphones without complicated driver installs.
Upgrade Your Movie
Auto tone function provides easy-adjustments for on-site movie editing, ideal for DSLR filmmaking. The internal slate tone generator produces various tones for easy track making and recognition. Please use the dedicated accessory kit (AK-DR11C) for connecting.
Record and Play
Writing down what you hear - easier said than done, but it is actually easy with DR-X. In addition to its capability to capture crisp voice recording, DR-X can help you with its Jump back function, variable Speed function and equalizer preset for human voice.
Auto Recording
Auto recording function can detect the sound input signal level and automatically start recording. Also, Pre-recording function with up to 2 seconds pre-record provides fail-safe protection even when you are a bit late to hit the record button.
Peak Reduction
Peak Reduction works in rehearsal mode or in record. Even if the sound or performance is louder than the sound check you're safe. Combined with Auto level and Limiter for preventing distortion, you never have to worry.
Overwrite Mode
If you don't like the last part of a phrase you just recorded with your guitar, or if you change your mind and want to rephrase narration, the "Overwrite mode" is exactly what you need. Overwrite mode allows punch-in recording from a desired point. It is destructive editing with one level of undo.
OverDubbing
The overdubbing function allows for Overdub Recording while playing a previously recorded file. This allows you to record other parts such as a guitar solo over a recording previously made such as at a rehearsal studio. Overdubbing creates a new file, leaving the original file unaffected, making it easy to re-record.
Large Data Capacity
DR-05X supports a microSDXC card, which can record longer with larger data capacity. If you record a stereo file at 44.1kHz/ 16bit CD quality, a 128GB card holds 192 hours maximum. In MP3/ 320kbps mode, it can record up to 896 hours.
Ratings and reviews
Tascam DR-05X Stereo Handheld Audio Recorder and USB Audio Interface
Tascam DR-05X Stereo Handheld Audio Recorder and USB Audio Interface
---