Westcott White/Black Bounce Parabolic Standard Umbrella (7')
Westcott White/Black Bounce Parabolic Standard Umbrella (7') 7-foot umbrella
Westcott White/Black Bounce Parabolic Standard Umbrella (7') flexible fiberglass ribs and doubled steel shaft
Westcott White/Black Bounce Parabolic Standard Umbrella (7') strobes and monolights
Westcott White/Black Bounce Parabolic Standard Umbrella (7') profoto speedlites
Westcott White/Black Bounce Parabolic Standard Umbrella (7') soft, natural light
Westcott White/Black Bounce Parabolic Standard Umbrella (7') natural look
Westcott White/Black Bounce Parabolic Standard Umbrella (7') soften and diffuse light
Westcott White/Black Bounce Parabolic Standard Umbrella (7') expand output
Westcott White/Black Bounce Parabolic Standard Umbrella (7') harsh sunlight
Westcott White/Black Bounce Parabolic Standard Umbrella (7') bright sunlight
Westcott White/Black Bounce Parabolic Standard Umbrella (7') outdoor use
Westcott White/Black Bounce Parabolic Standard Umbrella (7') octabank-style lighting
Westcott White/Black Bounce Parabolic Standard Umbrella (7')
Westcott White/Black Bounce Parabolic Standard Umbrella (7')
Westcott White/Black Bounce Parabolic Standard Umbrella (7')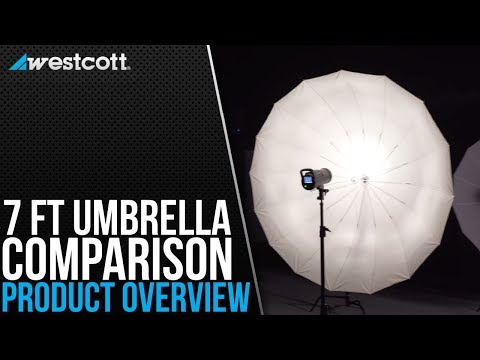 Product highlights:
16-rib fiberglass framework
Durable dual-wall shaft rods for extra support
Softens and broadens bounced light
Eliminates unwanted back spill light
Included travel and storage case
Pay over time for orders over $300 with Affirm.
---
---
---
Need help deciding?
Contact us right now!
Call or chat with one of our experts.
In the box
Westcott White/Black Bounce Parabolic Standard Umbrella (7')
Westcott White/Black Bounce Parabolic Standard Umbrella (7')
Travel case
1-year warranty
Westcott White/Black Bounce Parabolic Standard Umbrella (7')
Umbrellas are cost-effective and easy-to-use modifiers for any light source or style of photography. Photo umbrellas are a portable and inexpensive option for modifying a light source to a desired result. An umbrella can be used with virtually any style of light, including sunlight, off-camera Speedlites, strobes, monolights and continuous light sources. With durable framework and quality fabrics, Westcott's professional standard umbrellas prove to be the essential modifier for all photographers.
Ranging in size from 32 inch to 7 ft., umbrellas are the cost-effective, travel-friendly light modifier for any style of photography including product, headshots, fashion, sports, and even group portraits. The Westcott 4634 White/Black Bounce Parabolic Umbrella measures 7ft. The umbrella size is determined using the arc size.
Large and Portable Lighting Control
Whether you're looking for a broad on-the-go modifier or versatile but cost-effective studio solution, Westcott Parabolic Umbrellas are an essential tool for Speedlite, strobe, continuous light, and natural light photographers.
Reflect Light with White or Silver Bounce Interior
Looking to maximize the output of your studio light or flash? Bounce your light source into a reflective silver parabolic umbrella for bright, edgy highlights or into a reflective white parabolic umbrella for a softer, more natural look.
Soften and Diffuse Light
Looking to soften and expand the output of your studio light or flash? Shoot your light source through a parabolic diffusion umbrella for glamorous, wraparound lighting.
Take Control of Harsh Sunlight
Shooting on-location under bright sunlight? Westcott Parabolic Umbrellas can modify any light source, including the sun. Mount a diffusion parabolic overhead to soften midday sunshine. Or mount a reflective parabolic overhead to block sunlight completely.
Durable Framework
Constructed with flexible fiberglass ribs and a doubled steel shaft, these umbrellas will withstand the test of time when used in the studio and out on location.
Superior Design for Use Outdoors
With instant setup, easy teardown, framework designed to withstand impact, and a compact travel case, our parabolic umbrellas are a must-have light modifier for on-location photography.
Easy to Mount
Shooting with strobes or monolights? Most studio lights include a built-in umbrella receptacle for instant mounting.
Shooting with Speedlites? There are a variety of mounting brackets available with adjustable and tiltable options for precise positioning.
Ratings and reviews
Westcott White/Black Bounce Parabolic Standard Umbrella (7')
Westcott White/Black Bounce Parabolic Standard Umbrella (7')
---