X-Rite i1Studio with Spectrophotometer, Storage Case/Monitor Holder, and Mini ColorChecker Classic
X-Rite i1Studio with Spectrophotometer, Storage Case/Monitor Holder, and Mini ColorChecker Classic
X-Rite i1Studio with Spectrophotometer, Storage Case/Monitor Holder, and Mini ColorChecker Classic
X-Rite i1Studio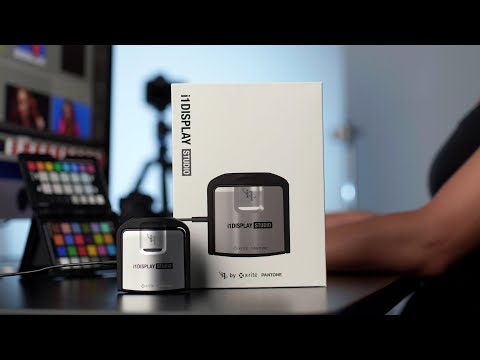 Product highlights:
Delivers precise, intuitive color management
Intelligent iterative profiling technology
Exceptional smoothness, highlight and shadow details
Supports both RGB and CMYK printers
ColorTRUE app for calibrating Apple iOS mobile
i1Profiler software provides easy to navigate interface
24 patch targets for creating custom camera profiles
Software includes desktop application and Adobe Lightroom Plug-In
Starting at $45/mo or 0% APR.
---
---
---
Need help deciding?
Contact us right now!
Call or chat with one of our experts.
X-Rite i1Studio
The i1Studio from X-Rite is created for photographers and designers, who love to shoot, scan, edit and print, but don't love to waste time and money on the process. The award-winning and patented technology built into the i1Studio delivers precise, intuitive color management across your entire color workflow and offers prints that match your images across all your devices. The i1Studio takes your color-managed workflow to a new level of accuracy and control.
Full Suite of Tools
i1Studio delivers a full suite of tools to calibrate and profile all your devices from capture to print. You'll be confident that what you've captured in your camera or scanner and see on all your displays and mobile devices or projectors will match your final print output. And with the time you save you can get back to focusing on what you love – making more images. Its features include Printer Profiling for Black and White, Scanner Profiling, Mobile Device Profiling, Monitor Profiling for Video, plus a streamlined user experience within the amazing new i1Studio software.
Intelligent Iterative Profiling Technology
Utilizing the same intelligent iterative profiling technology for color prints, the B&W module is specifically engineered to ensure the highest quality results for your black and white prints, resulting in exceptional smoothness, highlight and shadow details. Additionally, the intelligent iterative profiling technology ensures your output is reproduced accurately from print to print and from printer to printer, delivering professional quality results for smoothness, highlight, and shadow detail. It supports both RGB and CMYK printers. You can also calibrate your Apple iOS mobile devices for a true mobile to desktop color match of all your images by downloading the ColorTRUE app from the Apple App Store.
i1Profiler Software
The newest release of i1Studio software, based on X-Rite's award winning i1Profiler software, provides an easy to navigate interface that delivers expertly calibrated and profiled monitors (including video presets), projectors, scanners and printers. Utilizing the included industry standard 24 patch target, you'll be able to create custom camera profiles (single or dual illuminant), set a custom white balance and have a neutral starting point no matter what light you are shooting in for a more streamlined editing process. The software includes both a desktop application and an Adobe Lightroom Plug-In.
Ratings and reviews
X-Rite i1Studio
---