Zoom PodTrak P4 Recorder Bundle with Knox Stereo Headphones and SD Card Bundle
Zoom PodTrak P4 Recorder Bundle with Knox Stereo Headphones and SD Card Bundle
Zoom PodTrack P4 Recorder
aa1a30c19fd1c27b4e3f865209790f33c5525ec53514b38f010ed65acb52b464-ea46845992e3e3c1.jpg
Knox Gear TX-100 Closed-Back Studio Monitor Headphones
SanDisk 64GB Extreme PRO 170 MB/s UHS-I SDXC Memory Card
Knox Gear Professional Headphone Case for Inward-Folding Studio Monitor Headphones
Knox Gear Slim 3.5mm Male to Male Stereo Aux Cable (10-Feet, Gold Plated)
Zoom PodTrack P4 Recorder
Zoom PodTrack P4 Recorder
Zoom PodTrack P4 Recorder
Zoom PodTrack P4 Recorder
Zoom PodTrack P4 Recorder
Zoom PodTrack P4 Recorder
Zoom PodTrack P4 Recorder
Zoom PodTrack P4 Recorder
Zoom ZDM-1 Podcast Microphone Pack Accessory Bundle
Zoom PodTrak P4 Recorder Bundle with Knox Stereo Headphones and SD Card Bundle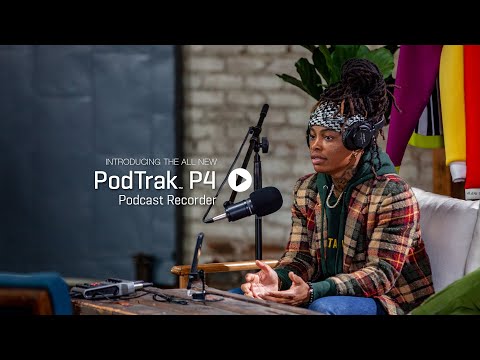 Product highlights:
Gain control knobs and mute buttons for each input
Phantom power for all XLR inputs
Prevents feedback from call audio using Mix-Minus function
Easily connect your phone using the TRRS connection
Trigger sound effects using 4 assignable Sound Pads
All input sources can be recorded on separate tracks
Records directly to SD, SDHC and SDXC cards up to 512GB
Two-input, Two-output USB audio interface
Class-compliant mode for iOS compatibility
Up to 4 hours of use with 2 AA batteries or USB power supply
Starting at $38/mo or 0% APR.
---
---
---
Need help deciding?
Contact us right now!
Call or chat with one of our experts.
In the box
Zoom PodTrak P4 Recorder
Zoom PodTrak P4 Recorder
Limited 1-Year Warranty
Zoom ZDM-1 Podcast Microphone Pack Accessory Bundle
Zoom ZDM-1 Podcast Microphone Pack Accessory Bundle
ZDM-1 Large-Diaphragm Dynamic Microphone
ZHP-1 Professional Closed-Back Headphones
ZTPS-4 Tabletop Tripod
Custom Windscreen for ZDM-1
XLR Microphone Cable (9.9 Feet)
Limited 1-Year Warranty
Knox Gear TX-100 Closed-Back Studio Monitor Headphones
Knox Gear TX-100 Closed-Back Studio Monitor Headphones
1/4-Inch Adapter
Limited 1-Year Manufacturer's Warranty
SanDisk 64GB Extreme PRO 170 MB/s UHS-I SDXC Memory Card
SanDisk 64GB Extreme PRO 170 MB/s UHS-I SDXC Memory Card
Limited Lifetime Warranty
Knox Gear Professional Headphone Case for Inward-Folding Studio Monitor Headphones
Knox Gear Professional Headphone Case for Inward-Folding Studio Monitor Headphones
Knox Gear 1-Year Warranty
Zoom PodTrak P4 Recorder Bundle with Knox Stereo Headphones and SD Card Bundle
Designed specially for podcasters, this Focus Camera bundle includes the Zoom PodTrak P4 Recorder, ZDM-1 microphone pack accessory bundle, studio headphones, 64GB memory card, headphone case and 10-feet aux cable.
Zoom PodTrak P4 Recorder
The Zoom PodTrak P4 Recorder is a not just compact and affordable but also packed with all the features required for capturing professional-quality podcasts wherever and whenever you're recording. It features four microphone inputs with XLR connectors as well as four independent headphone outputs. Powered by two AA batteries, the P4 recorder operates for up to 4 hours. It can also be powered by a USB battery for extended recording time.
Inputs and Outputs
The P4's four microphone inputs comes with Zoom's professional quality preamps and provides up to 70dB of gain making it easier for use with the most demanding microphones. Thanks to the four independent headphone outputs, each with a dedicated volume control, everyone will be able to hear you clearly. The gain control knobs and mute buttons for each input adds to the convenience.
Loaded with Features
The PodTrak P4 lets you produce like a pro. It is equipped with four customizable Sound Pads that can trigger sound-effects like music, ads, jingles, and even pre-recorded interviews instantly. This recorder also allows you to easily load your own sounds or choose from 11 pre-recorded presets. All the input sources can be recorded on separate tracks while you can also record directly to your SD, SDHC, or SDXC cards up to 512GB. Additionally, for recording directly to your computer, Android, or iOS device and streaming your podcasts, the Zoom P4 features a 2-input and 2-output audio interface.
Built-In Mix-Minus Feature
The Zoom PodTrak P4 easily incorporates remote interviews. All you need to do is connect your phone to the P4 with a TRRS cable or connect your computer via USB using your favorite conferencing software. Thanks to the P4's built-in mix-minus feature, echo is distracted and feedback will automatically be eliminated. You can also utilize the BTA-2 Bluetooth adapter (sold separately) for wirelessly connecting your phone to this recorder for recording interviews remotely.
Zoom ZDM-1 Podcast Microphone Pack Accessory Bundle
Changing times and increasing competition require modern approach for reaching out to new audiences. No matter if you are a novice, amateur, or a professional who wants to upgrade their setup, the Zoom ZDM-1 Podcast Microphone Pack has you completely covered. Designed for allowing you to create exceptional-quality podcasts, this pack includes a broadcast-style dynamic microphone for capturing smooth, detailed sound and the ZHP-1 professional closed-back headphones so never miss out on listening to the details. For completing your setup, this pack also includes a tabletop tripod for easy and convenient setup, a custom windscreen for delivering clean recordings, and a durable XLR microphone cable.
Smooth and Detailed Sound Quality
Engineered using high-quality materials, the ZDM-1 dynamic microphone feature a large-diaphragm that captures your voice with smooth broadcast character. Thanks to its high SPL handling of 135dB and an internal shockmount, this microphone ensures that your voice will be heard loud and crystal clear. Also included are the ZHP-1 closed-back headphones that not only feature a durable construction but also ensure delivery of detailed, full-range sound and excellent isolation. The self-adjusting headband and leatherette earpads make for a super comfortable fit. Additionally, the 9.9-feet long single-sided straight cable adds to the convenience.
Complete Your Setup
Your podcasting setup is incomplete without the accessories that are a must for enhancing the convenience and the end quality. The included adjustable tabletop tripod features a durable metal threading that holds up to heavy use while the lightweight folding legs makes it easy to pack and convenient to take it with you wherever your creativity leads you to. Thanks to the custom fitted, acoustically transparent windscreen, your microphone does not capture the sound of the breeze, breaths, and pops ensuring the delivery of clear and non-muffling sound. The microphone pack also includes a 9.9-feet long XLR microphone cable with shielding and durable connectors.
Knox Gear TX-100 Closed-Back Studio Monitor Headphones
Introduce your ears to a world of crystal-clear, expansive, high-fidelity audio with the TX-100 Closed-Back Studio Monitor Headphones from Knox Gear. These adjustable over-ear headphones are engineered for exceptional comfort, superior sound quality, and convenient portability anywhere you go. These headphones include a 1/4-inch adapter and feature an extra-long 10-foot cord for versatility.
Noise Blocking Closed-Back Design
Experience a crystal-clear high-fidelity audio soundscape with these closed-back headphones from Knox Gear. The TX-100s isolate your ears from unwanted external noise, preserving your bubble (and maybe your sanity) in loud environments. Closed-back headphones are the ideal listening companion when you want to isolate the most amount of external noise possible while keeping your focus dedicated solely to your audio of choice. The closed ear cups reduce the amount of outside sound that can seep in, making them the perfect choice for commuting and general noisy environments.
Powerful Bass with Clear Mids and Highs
Knox Gear headphones are engineered for maximum dynamic range and superior sound quality. 50 mm speaker unit drivers are coupled with neodymium magnets to deliver deep, rich bass, clear treble and vocals, and crisp high tones.
For Recording, Music Production, Gaming
No matter what your passion is, Knox Gear is the gear for your ears. Trusted by both audiophiles and professionals in the industry. The TX-100s are the perfect headphones for studio recording, production, gaming, and pure musical enjoyment.
Creating Better Soundscapes
Powerful 50mm drivers and neodymium magnets combine to enhance the full spectrum of your audio experience – from deep, lush basses and clear, wide mids to crisp, artifact-free high-ranges.
Comfort Makes the Difference
You won't perform at your best or properly enjoy your music with hard, uncomfortable over-ears or earbuds. That's why we've designed the TX-100 with super soft, ear-pampering ear pads and an elastic headband that adjusts to fit comfortably over any hairstyle, hat, or head shape. Whether you need headphones for all-day head-grooving, long hours in the studio, or a marathon gaming session, Knox Gear is here.
SanDisk 64GB Extreme PRO 170 MB/s UHS-I SDXC Memory Card
Our most powerful SD UHS-I memory card yet delivers performance that elevates your creativity. With shot speeds of up to 90MB/s and UHS speed Class 3 (U3) recording, you're ready to capture stunning high-resolution, stutter-free 4K UHD video. It also delivers up to 170 MB/s transfer speeds for a faster post-production workflow. Plus, it's built to withstand weather, water, shocks, and other less-than-ideal conditions so you can rest assured that it's good to go wherever your work takes you.
Designed For Professionals
Professional cameras and high-resolution camcorders deserve the power, performance, capacity and reliability of SanDisk's latest innovations. This is why professional photographers and videographers trust SanDisk memory cards.
Transfer Speeds Up To 170MB/s
Once the shots are taken, your work is only half-done. Accelerating your workflow means you can carve out more time to take your creativity to the next level.
Perfect For 4K UHD Video
Sometimes speed is what you need. This card delivers the performance to capture stunning, uninterrupted 4K UHD video. This makes it ideal for professionals recording extreme sports and other fast-action activities without dropping frames.
Stunning Sequential Burst Mode Shots
Rated UHS Speed Class 3 (U3) and Video Speed Class 30 (V30), the SanDisk Extreme PRO SD UHS-I card lets you capture sequential burst mode shots without missing a beat.
Designed To Withstand Extreme Environments
Built for and tested in harsh conditions, the SanDisk Extreme PRO SD UHS-I card is temperature-proof, waterproof, shock-proof, and x-ray-proof.
Easy File Recovery with RescuePRO Deluxe Software
Includes RescuePRO Deluxe 2-year data recovery software download offer. This software lets you restore files that have been accidentally deleted.
Knox Gear Professional Headphone Case for Inward-Folding Studio Monitor Headphones
Protect your investment with the Knox Gear Professional Headphone Case for Inward-Folding Studio Monitor Headphones. This case is just what you need to hold and carry your over-ear or on-ear folding headphones.
Inward-Folding Headphone Case
This Knox Gear Headphone Case for Folding Headphones is specifically designed for inward-folding headphones, wasting no more space than is necessary. The compactness you expected from your professional studio headphones is preserved with this case. It will comfortably hold either wireless or wired headphones. The case has a top carry handle for convenience.
Ratings and reviews
Zoom PodTrak P4 Recorder Bundle with Knox Stereo Headphones and SD Card Bundle
Zoom PodTrak P4 Recorder Bundle with Knox Stereo Headphones and SD Card Bundle
---