Focusrite Scarlett 4i4 4th Gen USB Audio Interface with Hi-Z Instrument, Loopback, and Air Mode
Focusrite Scarlett 4i4 4th Gen 4x4 USB Audio Interface
Focusrite Scarlett 4i4 4th Gen 4x4 USB Audio Interface
85d40307a56b4f6b80e2aeb04be14f691ea03e59b065d5700a1da166da9b6add-9bce630a97f4f00f.jpg
Focusrite Scarlett 4i4 4th Gen 4x4 USB Audio Interface
Focusrite Scarlett 4i4 4th Gen 4x4 USB Audio Interface
Focusrite Scarlett 4i4 4th Gen 4x4 USB Audio Interface
Focusrite Scarlett 4i4 4th Gen 4x4 USB Audio Interface
Focusrite Scarlett 4i4 4th Gen 4x4 USB Audio Interface
Focusrite Scarlett 4i4 4th Gen USB Audio Interface with Hi-Z Instrument, Loopback, and Air Mode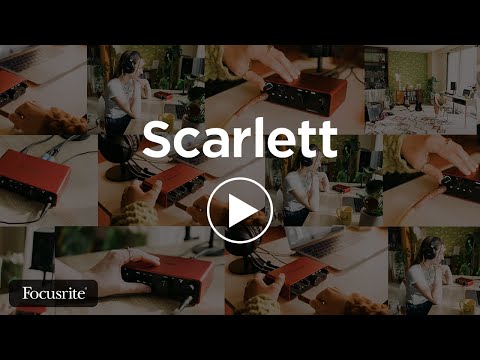 Product highlights:
Make recording all your instruments better
4th-Generation mic pres — With a huge 69dB gain range
Hi-Z instrument and line inputs are ready for whatever you need to connect and record
Four super-high-quality line outputs
Huge 120dB dynamic range thanks to studio-grade converters
Air Mode records and adds high-end presence and rich harmonic drive to vocals and instruments
Auto Gain sets the perfect levels
Clip Safe automatically adjusts the gain
Dynamic Gain Halos let you easily monitor your input and output signals from hardware
Custom Headphone Amp & Loopback Feature
Focusrite Control 2 lets you record direct from PC or MAC
Features Pro Tools Artist and Ableton Live Lite software
Large Hitmaker expansion software bundle
24/7/365 support and three-year warranty
Pay over time for orders over $300 with Affirm.
---
---
---
Need help deciding?
Contact us right now!
Call or chat with one of our experts.
In the box
Focusrite Scarlett 4i4 4th Gen USB Audio Interface with Hi-Z Instrument, Loopback, and Air Mode
Focusrite Scarlett 4i4 4th Gen USB Audio Interface with Hi-Z Instrument, Loopback, and Air Mode
USB C-C Cable
USB C-A Adapter
USB-C 5V 3A Power supply
Limited 3-Year Warranty
Focusrite Scarlett 4i4 4th Gen USB Audio Interface with Hi-Z Instrument, Loopback, and Air Mode
The multi-instrumentalist's studio
Set up mics for your voice and guitar and plug into 4i4's 4th-Generation preamps – Scarlett's clearest and most detailed ever, with a huge 69dB gain range. Hook up an electric guitar to one of 4i4's hi-Z instrument inputs – it feels just like an amp. Plug synths and grooveboxes straight into the super-high-quality line inputs. Connect your favorite outboard gear to the additional line outputs. Scarlett brings Focusrite's professional sound quality to whatever you're recording.
Find your signature sound
For standout lead vocal and instrument tracks, Scarlett's re-engineered Air mode takes your sound's unique character and brings it to the front of the mix, adding truly musical presence and rich harmonic drive, just like a classic console in a big money studio. Trust us, you'll never want to record without it.
Let Scarlett set your levels
Scarlett's Dynamic Gain Halos make setting your levels quick and easy with any mic – or just select Auto Gain and let Scarlett do it for you. Hit the button and play for ten seconds, Scarlett will set the perfect level for whatever you're recording.
Make every take a keeper
While you're playing, Clip Safe is all ears. Checking your levels up to 96,000 times a second – more than the best studio engineers – Clip Safe will automatically adjust the gain if you're at risk of clipping, so you can lose yourself in the music, without losing any takes.
Capture every detail
Hit the red button and you're recording with 192kHz, 24-bit converters direct from Focusrite's flagship RedNet interfaces – as found in countless high-end studios around the world. Squeeze every last drop of detail out of your recordings without sacrificing any sound quality.
Now hear this
A custom-designed headphone amp and huge dynamic range set the stage for the best playback you've ever heard from Scarlett. Scarlett drives high impedance headphones louder and clearer than ever before. With 4 line outputs, you can easily connect different monitor setups. 4i4 also has independent controls for your headphones and monitors so you can record, mix and play back audio however you want.
Loopback
Need samples? Make your own with Loopback. Send stereo audio from your music apps and other software straight to your DAW with 4i4's virtual inputs. You can also use Loopback to mix computer audio into your live streams.
It's so easy
Plug in and tell Focusrite's Easy Start tool how you want to use your Scarlett, and let it guide you through all the software and setup you need, with recording tips and other helpful content along the way.
Record, mix and master with all the software you'll need
Once you've got started with Pro Tools Artist or Ableton Live Lite recording software (both included), the Hitmaker Expansion bundle has everything you need to bring big studio sound to your songs, with an unbeatable range of record-making studio tools from the biggest names in the business. Get exceptional vocal tracks with Antares® Auto-Tune® Access, Sonnox VoxDoubler, and Relab's LX480 Essentials reverb. Then heat up your guitar tones with a hyper-realistic model of Marshall®'s Silver Jubilee 2555 – brought to you by analog-modeling experts Softube®. Need drums? No problem - XLN Audio®'s Addictive Drums 2: Studio Rock Kit has beats to get you started and the big sound of a great drum kit. Synths and Keys? You're well covered with the legendary MASSIVE from Native Instruments and XLN Audio®'s Addictive Keys. And when it's time to mix and master your tracks, there's an exclusive suite of Focusrite plugins to quickly get you release-ready sound, and a two-month subscription to Landr Studio with five free masters you can use whenever you like.
The original music makers' interface
More people use Scarlett than any other interface in the world. Join a six million-strong community that includes some of the biggest names in music.
Ready when you are
Scarlett won't let you down. Focusrite's premium build quality, three-year warranty, rock-solid drivers and award-winning 24/7/365 support make sure of it.
Ratings and reviews
Focusrite Scarlett 4i4 4th Gen USB Audio Interface with Hi-Z Instrument, Loopback, and Air Mode
Focusrite Scarlett 4i4 4th Gen USB Audio Interface with Hi-Z Instrument, Loopback, and Air Mode
---