Mackie CR4-XBT 4" Multimedia Monitors with Bluetooth® (Pair)
Mackie CR4-XBT 4" Multimedia Monitors with Bluetooth® (Pair)
Mackie CR4-XBT 4" Multimedia Monitors with Bluetooth® (Pair)
Mackie CR4-XBT 4" Multimedia Monitors with Bluetooth® (Pair)
Mackie CR4-XBT 4-Inch Creative Reference Multimedia Monitors with Bluetooth (Pair)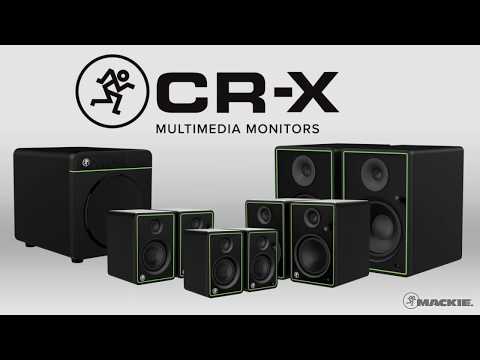 Mackie CR4-XBT 4-Inch Creative Reference Multimedia Monitors with Bluetooth (Pair)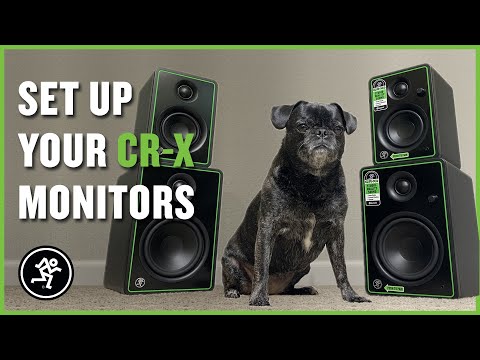 Product highlights:
50W of clean, articulate stereo sound
4-inch polypropylene-coated woofer
0.75-inch ferrofiuid-cooled silk-dome tweeter
Flexible inputs including 1/4-inch, RCA, and Bluetooth
Pair any Bluetooth-enabled device direct streaming
Front-facing headphone jack auto-defeats speaker output
Front panel volume knob with on/off volume control
Custom-tuned rear ports for smooth, even bass extension
Distinct outlined design with brushed metal front panel
All-wood cabinet provides a natural sonic character
Pay over time for orders over $300 with Affirm.
---
---
---
Need help deciding?
Contact us right now!
Call or chat with one of our experts.
In the box
Mackie CR4-XBT 4-Inch Creative Reference Multimedia Monitors with Bluetooth (Pair)
Mackie CR4-XBT 4-Inch Creative Reference Multimedia Monitors with Bluetooth (Pair)
Pro Tools | First Professional Recording Software and Plugin Package
Musician Collection for ProTools | First with 23 Plugins
1/8-Inch to Stereo RCA Cable to Connect Computer Output of Speakers
Speaker-to-Speaker Cable
Limited 1-Year Warranty
Mackie CR4-XBT 4-Inch Creative Reference Multimedia Monitors with Bluetooth (Pair)
The Mackie CR4-XBT 4-Inch Creative Reference Multimedia Monitors with Bluetooth are designed to meet the needs of modern musicians, content creators, video production, and beyond. Stunning looks, studio-quality sound, and convenient features make these the best choice for anyone that wants professional sound without breaking the bank. The CR Series Creative Reference Multimedia Monitors offer studio-quality sound with cosmetics that compliment any desk whether you're making music, creating content or just relaxing to your favorite tunes. Their sleek design features a brushed metal panel and a distinct outline that stands out. Upgrade your listening experience with the Mackie CR4-XBT 4-Inch Creative Reference Multimedia Monitors.
Connect Flexible Inputs
Each Mackie CR4-XBT Multimedia Monitor comes equipped with 1/4-inch and RCA inputs. In addition, these reference speakers come with Bluetooth connectivity.
Headphone Output
Located at the bottom of the front panel is a headphone output. This is great for when you want to reference on headphones or when you don't want to bother anyone else in the room. Plugging in headphones automatically turns off the speaker output.
Wireless Bluetooth Streaming
Each model comes with Bluetooth connectivity making it even easier to listen to your music when you want it. When you want to pair your device, just hold down the Running Man on the front panel, it's ok, he won't mind.
Studio-Quality Sound
These monitors feature premium woofers and tweeters that are powered by high-headroom amplifiers for Clear, punchy sound. All-wood cabinets add warmth and natural resonance.
Controls on Front Panel
Right there on the front panel, is a convenient knob that functions as your power switch as well as your volume. On the rear, there's a handy switch that lets you decide which side of the desk you want that volume control on.
Sleek Design
With a brushed metal grille and outlined design, the CR4-XBT 4-inch Creative Reference Multimedia Monitors will stand out and make a stylish statement.
Includes Pro Tools' | First and Plugin Bundle
An industry standard for decades, ProTools | First is easy enough for beginners yet sophisticated enough for experienced musicians. Included with this software is Mackie's exclusive Musician Collection featuring 23 creative plug-ins that help enhance your recordings. The Musician Collection includes plug-ins like BBD Detay, Eleven Lite. 304E EQ, and 304C Compressor.
Ratings and reviews
Mackie CR4-XBT 4-Inch Creative Reference Multimedia Monitors with Bluetooth (Pair)
Mackie CR4-XBT 4-Inch Creative Reference Multimedia Monitors with Bluetooth (Pair)
---