Nord Stage 4 88 88-Key Fully-Weighted Keyboard
Nord Stage 4 88 88-Key Fully-Weighted Keyboard
Nord Stage 4 88 88-Key Fully-Weighted Keyboard
Nord Stage 4 88 88-Key Fully-Weighted Keyboard
Nord Stage 4 88 88-Key Fully-Weighted Keyboard
Nord Stage 4 88 88-Key Fully-Weighted Keyboard
Nord Stage 4 88 88-Key Fully-Weighted Keyboard
Nord Stage 4 88 88-Key Fully-Weighted Keyboard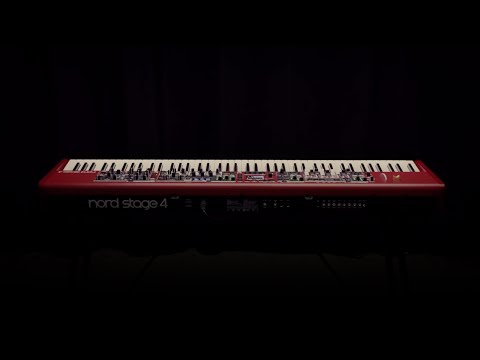 Nord Stage 4 88 88-Key Fully-Weighted Keyboard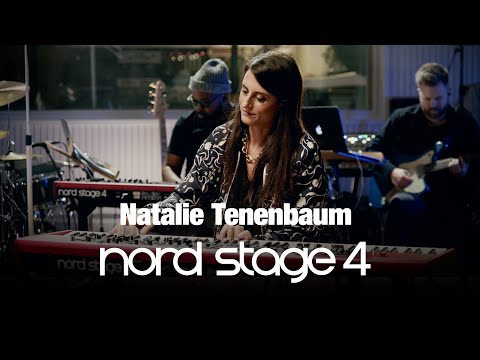 Nord Stage 4 88 88-Key Fully-Weighted Keyboard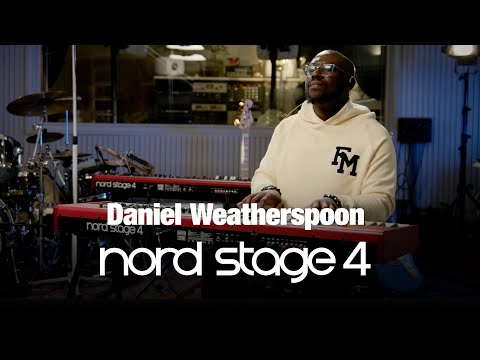 Product highlights:
Enhanced collection of Uprights, Grands, EPs, and more
Dynamic Compression
Unison feature
Creative Timbre presets
Nord Wave 2 Synth Engine
3 independent Synth Layers
Doubled sample memory
Enhanced samples with Tru-Vibrato, Unison, and Round Robinx
Extensive real-time controls
Advanced Arpeggiator with Polyphonic, Gate, and Pattern modes
Extern mode for advanced MIDI control
Award-winning organ simulations of B3, Vox/Farfisa, and Pipe Organ models
Physical drawbars with LED indicators
New B3 Bass mode
Drawbar Live mode
Model 122 Vintage Rotary Speaker with normal or close mic positions
Dedicated Effect section per Laye
New Variations for Modulation, Amp, Delayw
and Reverb Effects
New Spring, Booth, and Cathedral Reverb
New Pump effect
New Spin effect
New Flam and Space Delay
---
Need help deciding?
Contact us right now!
Call or chat with one of our experts.
In the box
Nord Stage 4 88 88-Key Fully-Weighted Keyboard
Nord Stage 4 88 88-Key Fully-Weighted Keyboard
Nord Stage 4 88 88-Key Fully-Weighted Keyboard
The Nord Stage 4 features a brand-new panel design with dedicated LED faders for each Layer, providing exceptional overview and flexibility when creating sounds and performing live. The new Preset Library is packed with inspiring ready-to-use Piano, Synth and Organ sounds for quick and smooth patch creation. The Layer Scene lets you seamlessly switch between two different sound setups at the touch of a button. Adding a powerful new Effect section coupled with versatile pedal options and a premium Triple Sensor keybed, the Nord Stage 4 offers a new level of musical expression. This is the Nord Stage 4 88 with a fully weighted Triple Sensor keybed (A-C) with aftertouch and Physical Drawbars with LED indicators.
The Piano
The Nord Stage 4 comes with a new enhanced collection of Grands, Uprights and Electric Pianos from our exclusive Nord Piano Library combined with new features such as Dynamic compression and Unison.
The Synth
The Synth section with its three independent Layers is based on the powerful Nord Wave 2 Synth Engine, including Virtual Analog synthesis, Samples, FM and Digital Waves. An extensive new collection of samples from the Nord Sample Library offers a broad sonic palette of Strings, Bass, Choirs, Guitars and much more. The advanced Arpeggiator features new Polyphonic, Gate and Pattern modes and can be used for a huge variety of rhythmic applications with customizable patterns.
The Organ
The Organ section features our award-winning simulations of B3 Tonewheel, B3 Bass, classic Vox, and Farfisa as well as two Pipe Organ models. All Stage 4 models are equipped with our new Physical drawbars with LED indicators for optimal hands-on experience and overview
The Effects
The Nord Stage 4 has a powerful new Effect section offering a complete setup of Effects for each Layer. The extensive range of Effects includes a new Pump effect for tempo-synced or pedal-controlled side chain modulation, a new Spin effect, and brand-new variations of Reverb, Delay, Amps, and Modulation effects.
Ratings and reviews
Nord Stage 4 88 88-Key Fully-Weighted Keyboard
Nord Stage 4 88 88-Key Fully-Weighted Keyboard
---