Yamaha AG08 8-Channel Live Streaming Loopback Mixer/USB Interface with Cubasis LE Suite (White)
Yamaha AG08 8-Channel Live Streaming Loopback Mixer/USB Interface with Cubasis LE Suite (White)
Yamaha AG08 8-Channel Live Streaming Loopback Mixer/USB Interface with Cubasis LE Suite (White)
Yamaha AG08 8-Channel Live Streaming Loopback Mixer/USB Interface with Cubasis LE Suite (White)
Yamaha AG08 8-Channel Live Streaming Loopback Mixer/USB Interface with Cubasis LE Suite (White)
Yamaha AG08 8-Channel Live Streaming Loopback Mixer/USB Interface with Cubasis LE Suite (White)
Yamaha AG08 8-Channel Live Streaming Loopback Mixer/USB Interface with Cubasis LE Suite (White)
Yamaha AG08 8-Channel Live Streaming Loopback Mixer/USB Interface with Cubasis LE Suite (White)
Yamaha AG08 8-Channel Live Streaming Loopback Mixer/USB Interface with Cubasis LE Suite (White)
Yamaha AG08 8-Channel Live Streaming Loopback Mixer/USB Interface with Cubasis LE Suite (White)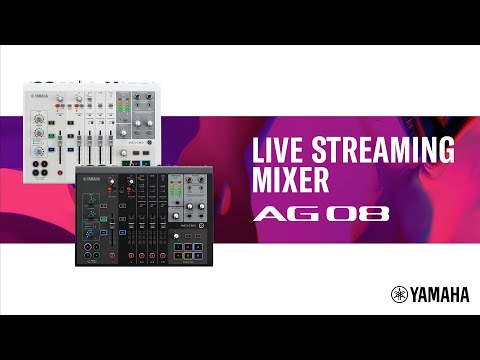 Product highlights:
Two mic/line inputs and two headphone outputs
Four FX preset buttons for CH1, Hi-Z input for guitars on CH2
Six sound pads trigger audio samples in real time
Equipped with a new PA-150B power adapter
24-bit, 48 kHz Multi-channel audio recording and playback
Cubase Al, WaveLab Cast, Cubasis LE are available
Foot switch functionality for more versatile system control
Windows / Mac support via USB-C connection
Maximizer is in the form of a 3-band compressor
Flexible inputs and outputs ideal for live streaming
---
Need help deciding?
Contact us right now!
Call or chat with one of our experts.
In the box
Yamaha AG08 8-Channel Live Streaming Loopback Mixer/USB Interface with Cubasis LE Suite (White)
Yamaha AG08 8-Channel Live Streaming Loopback Mixer/USB Interface with Cubasis LE Suite (White)
AC Adapter PA-150B
USB 2.0 Cable (1.5 m)
Quick Guide
Safety Guide
Wavelab Cast Download Information
Cubase AI Download Information
Yamaha AG08 8-Channel Live Streaming Loopback Mixer/USB Interface with Cubasis LE Suite (White)
As the flagship model of the second-generation AG series, the Yamaha AG08 White 8-Channel Live Streaming Mixer combines all the essential functions of its predecessors with a versatile selection of practical new features, giving you a powerful, all-in-one streaming station. By integrating more flexible I/O and USB routing options, expanding foot switch functionality, as well as adding DSP effects and improved internal circuitry for class-leading sound, the AG08 can support an impressive depth of live streaming applications, as well as offline audio content creation. From single-user talking, gaming, ASMR, voice acting, or vocal/instrument performances, to multiple personnel applications on the scale of a full-blown variety show. With the extremely practical, endlessly versatile AG08 as your streaming system, you'll be sure to leave your audience wanting more.
Two Condenser Mic IN with Two Headphone OUT
Like the AG06MK2, both Channel 1 and 2 of the AG08 come equipped with phantom power to support condenser microphones, favored amongst musicians and dialogue-driven content creators for their exceptional sensitivity and fidelity. With the AG08 Controller app, you can pan left and right with any stereo microphones, including those for ASMR. In addition, there are two independent headphone monitor channels for applications where two people are broadcasting simultaneously, or where someone other than the performer is managing the audio.
Three Assignable Faders for Flexible USB IN/OUT
The signal from multiple apps on a USB-connected PC or analog line inputs can be individually assigned, allowing you to intuitively mix the LINE/USB audio signals with the faders. Conversely, three USB mixed outputs from the AG08 can be individually assigned to various apps on the PC via USB connection. Combining these functions makes it easy to respond in real-time, i.e., sharing previously mixed audio with chat partners or listeners during live chats and streaming. What's more, for ASIO-supported apps such as DAW software, the direct out from each input channel (Channels 1, 2, 3/4, 5/6, and 7/8) and three mixed channels can be used in parallel, enabling multi-channel recording, even during live streams.
Four Effect Preset Buttons for CH1
The four effect preset buttons on the bottom left of the AG08 console allow you to seamlessly switch between customized effect presets for Channel 1 on the fly. This gives users versatile, real-time control to add just the right amount of effect including the new Voice Changer. Ideal for dramatic and live music performances.
Five DSP Effects
The AG08 comes equipped with high-quality effects to color, correct, or enhance your vocal and musical instrument signals. Grouped into the five categories detailed below, all effects are processed by the onboard DSP, so there is no latency and no impact on PC processing. Channel 1 features a new Voice Changer that can transform your voice into that of a different gender, a robot, and more, while Channel 2 offers an amp simulator for a more authentic guitar or bass amp sound. These, along with Comp, EQ, Reverb, and the newly added Delay, can be set independently on each channel, allowing you to dial in the optimal setting for each.
Ducker
The Ducker function can be used to automatically attenuate the playback sound of Channels 3/4, 5/6, and 7/8 relative to Channels 1 and 2, so you can easily set up a streaming system where signals from Channels 1 and 2 are always heard clearly.
Maximizer
Maximizer is a simple yet powerful mastering function that adds a level boost to your mix for extra polish and professionalism while attenuating peaking signals to give your listeners and viewers a more comfortable and pleasant audio experience. The AG08's Maximizer is in the form of a 3-band compressor which allows for powerful correction of the balance of each band while equalizing the overall volume.
Six Sound Pads
The AG08 comes equipped with six customizable sound pads that allow you to easily add sound effects in real-time to liven up your broadcasts. Using the AG08 Controller dedicated app, you can simply drag and drop existing sound files and assign them to the pad of your choice, or record your own samples and trim them to their desired length within the app.
Convenient Power Supply
The new console comes equipped with a new PA-150B power adapter for more stable operation, accommodating a wider range of application setups.
Powerful Bundled Software
The AG08 comes bundled with Cubase AI music production software, as well as WaveLab Cast for audio production and editing. The AG08 is also compatible with Cubasis LE applications for iOS devices which are available free of charge from Steinberg to support and inspire your audio content creation.
Ratings and reviews
Yamaha AG08 8-Channel Live Streaming Loopback Mixer/USB Interface with Cubasis LE Suite (White)
Yamaha AG08 8-Channel Live Streaming Loopback Mixer/USB Interface with Cubasis LE Suite (White)
---