Rode Microphones Wireless GO II Dual Channel Wireless Microphone System
Rode Microphones Wireless GO II Dual Channel Wireless Microphone System
Rode Microphones Wireless GO II Dual Channel Wireless Microphone System
Rode Microphones Wireless GO II Dual Channel Wireless Microphone System
Rode Microphones Wireless GO II Dual Channel Wireless Microphone System
Rode Microphones Wireless GO II Dual Channel Wireless Microphone System
Rode Microphones Wireless GO II Dual Channel Wireless Microphone System
Rode Microphones Wireless GO II Dual Channel Wireless Microphone System
Rode Microphones Wireless GO II Dual Channel Wireless Microphone System
Rode Microphones Wireless GO II Dual Channel Wireless Microphone System
Rode Microphones Wireless GO II Dual Channel Wireless Microphone System
Rode Microphones Wireless GO II Dual Channel Wireless Microphone System
Rode Microphones Wireless GO II Dual Channel Wireless Microphone System
Rode Microphones Wireless GO II Dual-Channel Wireless Microphone System
Rode Microphones Wireless GO II Dual-Channel Wireless Microphone System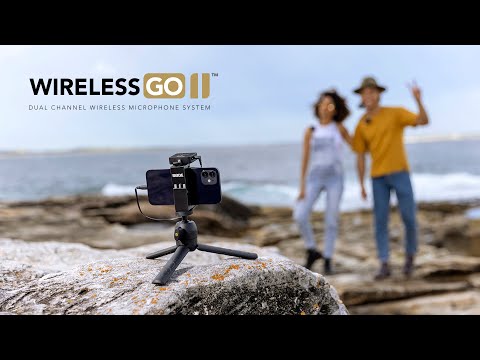 Rode Microphones Wireless GO II Dual-Channel Wireless Microphone System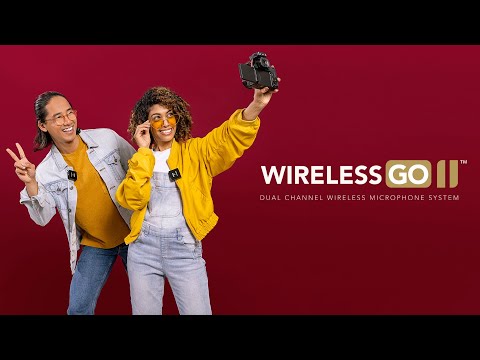 Rode Microphones Wireless GO II Dual-Channel Wireless Microphone System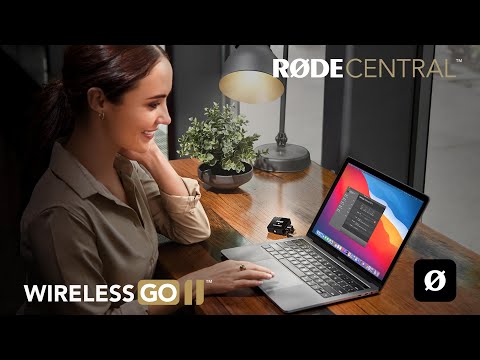 Product highlights:
Dual-channel wireless microphone system
Series IV 2.4GHz digital transmission, 128-bit encryption
3.5mm TRS analog output and USB-C
Supports onboard wireless recording
iOS compatible digital audio output
Built-in rechargeable lithium-ion battery
Battery offers up to 7 hours battery life
Ability to switch between stereo or dual-mono recording
200m transmission range (line of sight)
Pay over time for orders over $300 with Affirm.
---
---
---
Need help deciding?
Contact us right now!
Call or chat with one of our experts.
In the box
Rode Microphones Wireless GO II Dual-Channel Wireless Microphone System
Rode Microphones Wireless GO II Dual-Channel Wireless Microphone System
Dual-Channel Wireless Receiver
2 x Clip-On Transmitters
3 x SC20 USB-A to USB-C Cables
SC5 3.5mm TRS to TRS Cable
3 x Furry Windshields
Carry Pouch
Limited 1-Year Warranty
Rode Microphones Wireless GO II Dual-Channel Wireless Microphone System
The Wireless GO II Dual-Channel Wireless Microphone System from Rode Microphones comprises a dual-channel receiver with 3.5mm TRS output and two clip-on transmitters (each one with an internal microphone), and USB and TRS cables, furry windshields, and a carry pouch for easy storage. This compact wireless microphone system operates in the 2.4GHz frequency range. The Dual Channel Wireless Microphone System lets you capture two sound sources simultaneously, which is suitable for a wide range of filmmaking scenarios, from recording interviews to two-person vlogs. It can also be used as a single channel wireless microphone for recording just one sound source. The Transmitter (TX) and Receiver (RX) units come with a USB Type-C port that can be utilized for either charging or connecting them to a computer for future firmware updates. When connected to a computer, the receiver can also be used as an interface between the computer and an audio recorder. Wireless GO II is the perfect microphone system for a wide range of content creation applications.
Series IV 2.4GHz Digital Transmission
The system uses Rode's Series IV 2.4GHz digital transmission with 128-bit encryption, which delivers an extended range of up to 200m (line of sight). For added convenience, it is optimized for operating in areas with a high level of RF activity, including dense urban environments, shopping malls, universities, and offices. The internal antenna ensures an extremely stable connection, and with on-board recording providing a backup of all audio so you don't have to worry about dropouts while recording.
Seamless Connectivity
Designed to deliver professional sound, the Wireless GO II is incredibly simple to use. The two transmitters come auto paired to the receiver, allowing for a seamless setup process every time. This system uses a 3.5mm analog TRS output for plugging into cameras, plus a digital audio output via USB-C for plugging into smartphones, tablets, and even computers. This universal compatibility with any device expands the Wireless GO II's versatility.
On-Board Recording
The Rode Wireless GO II Dual-Channel Wireless Microphone System supports onboard recording. It can record over 24 hours of audio directly to each transmitter (without an SD card). This ensures a backup recording is available for post-production when there is any transmission dropout or other audio issues. On-board recording can be activated through Rode Central app. In addition to onboard recording, the system also supports activation of the safety channel (which records a second track at -20dB in case the main channel distorts) and fine gain control that expands the three-stage pad to a 10-stage pad.
In-Built Omnidirectional Condenser Capsule
Each transmitter has a high-quality omnidirectional condenser microphone built into for complete wireless recording, plus a 3.5mm TRS input for plugging in a lavalier microphone, such as the Rode Lavalier GO. This pack comes with three furry windshields that incorporate an innovative twist-to-lock design for recording in windy conditions, ensuring crystal-clear, professional sound in any situation.
Switch Between Mono and Stereo Modes
The Wireless GO II has the ability to switch between mono and stereo modes letting you record each transmitter separately. You can also combine the two modes for ultimate flexibility in post-production. The units feature a mute button and use built-in rechargeable lithium-ion batteries that last up to 7 hours.
Cables
This Wireless GO II bundle ships with a flat TRS memory cable for plugging into cameras and three USB-C to USB-A cables for connecting to computers for charging and recording (additional cables or adaptors are required for connecting to mobile devices and computers with USB-C inputs). There is also a handy carry pouch for keeping the kit tidy and secure.
Ultra-Compact
The Wireless GO II offers the same pocket-sized form factor as the original. The receiver weighs just 32g and each transmitter weighs just 31g, taking up virtually no space in your camera kit bag, backpack, handbag, or briefcase. The transmitters and receiver units are easy to mount onto a DSLR or mirrorless camera, mobile camera set-up, boom pole, or cold shoe accessory.
Ratings and reviews
Rode Microphones Wireless GO II Dual-Channel Wireless Microphone System
Rode Microphones Wireless GO II Dual-Channel Wireless Microphone System
---