Sony Alpha a7S III Mirrorless Digital Camera
Sony Alpha a7S III Mirrorless Digital Camera
Sony Alpha a7S III Mirrorless Digital Camera
Sony Alpha a7S III Mirrorless Digital Camera
Sony Alpha a7S III Mirrorless Digital Camera
4db0aea875f7b388123ab5e1e92cbcd1072165978a3e28bb07d22f7ee14f98b2-07147055168225ef.jpg
Sony Alpha a7S III Mirrorless Digital Camera
Sony Alpha a7S III Mirrorless Digital Camera
Sony Alpha a7S III Mirrorless Digital Camera
Sony Alpha a7S III Mirrorless Digital Camera
Sony Alpha a7S III Mirrorless Digital Camera
Sony Alpha a7S III Mirrorless Digital Camera
Sony Alpha a7S III Mirrorless Digital Camera
d22087cab5c731c39e46b6ded8576a63d8823efb7e4b97951feb32ae5c080c0d-30d053cccd1283b0.jpg
f61532c9f2a404e5ef2348c5e594da4806479ee1434ff448f28fb49ad6c529f8-e45e57254cf9d427.jpg
Sony Alpha a7S III Mirrorless Digital Camera
Sony Alpha a7S III Mirrorless Digital Camera
Sony Alpha a7S III Mirrorless Digital Camera
Sony Alpha a7S III Mirrorless Digital Camera
Sony Alpha a7S III Mirrorless Digital Camera
Sony Alpha a7S III Mirrorless Digital Camera
Sony Alpha a7S III Mirrorless Digital Camera
Sony Alpha a7S III Mirrorless Digital Camera
Sony Alpha a7S III Mirrorless Digital Camera
Sony Alpha a7S III Mirrorless Digital Camera
Sony Alpha a7S III Mirrorless Digital Camera
Sony Alpha a7S III Mirrorless Digital Camera
Sony Alpha a7S III Mirrorless Digital Camera
Sony Alpha a7S III Mirrorless Digital Camera
Sony Alpha a7S III Mirrorless Digital Camera
Sony Alpha 7S III Full-frame Interchangeable Mirrorless Digital Camera Body (Black)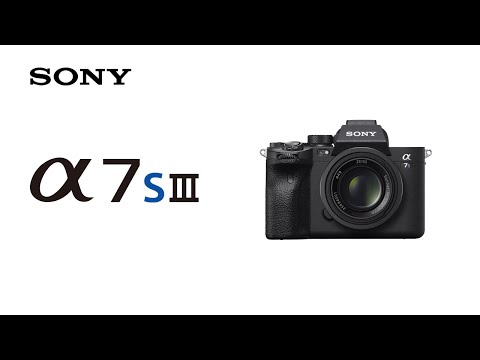 Sony Alpha 7S III Full-frame Interchangeable Mirrorless Digital Camera Body (Black)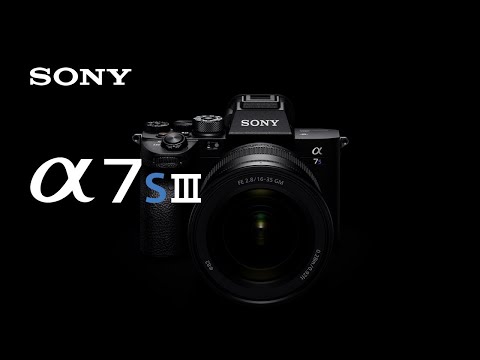 Product highlights:
12.1MP1 Exmor R sensor, optimized for 4K, sensitivity
BIONZ XR processing engine delivers 8x more processing power
Low noise images with ISO up to 409,600
15+stop dynamic range
4K 120p 10-bit 4:2:2 and pixel readout in recording modes
Up to 4K 120p in XAVC S, XAVC HS (HEVC) and XAVC S-I
16bits RAW movie output up to 4K 60p via HDMI type-A connector
Internal heat dissipation enables 1-hour 4K 60p recording
Fast readout for high frame rates, faster AF, rolling shutter
No 29m 50s continuous recording limit for movie shooting
3-inch flip-out, vari-angle LCD monitor with touch menu
---
Need help deciding?
Contact us right now!
Call or chat with one of our experts.
In the box
Sony Alpha 7S III Full-frame Interchangeable Mirrorless Digital Camera Body (Black)
Sony Alpha 7S III Full-frame Interchangeable Mirrorless Digital Camera Body (Black)
Rechargeable Battery: NP-FZ100
Battery Charger BC-QZ1
Power Cord
Cable Protector
Shoulder Strap
Body Cap
Accessory Shoe Cap
Eyepiece Cup
USB-A to USB-C Cable (USB 3.2)
Limited 1-Year Warranty
Sony Alpha 7S III Full-frame Interchangeable Mirrorless Digital Camera Body (Black)
With extreme full-frame movie performance including high sensitivity (expanded ISO up to 409600), 15-stop wide dynamic range, 4K 120p2, fast and dependable autofocusing, and extra-strong image stabilization, the Sony Alpha 7S III Full-frame Interchangeable Mirrorless Digital Camera Body again raises the bar for movie makers.
Exmor CMOS Sensor
The Alpha 7S III features a newly developed 12.1-megapixel Full-frame Backside-illuminated (BSI) Exmor R CMOS sensor that delivers sensitivity, speed, and superior images and movies. It takes full advantage of the large pixels and BSI copper wiring structure to more than double the sensitivity and readout speed2. In addition, this new Exmor R sensor features Sony's acclaimed fast hybrid autofocus with 759 phase-detection AF points and 92 percent coverage. The high sensitivity also allows it to autofocus in light as low as EV-611.
New BIONZ XR Processing Engine Delivers 8x More Processing Power
A new BIONZ XR processing engine delivers 8x more processing power than previous models. It not only supports the high sensitivity and wide dynamic range that has become hallmarks of the S series but also high-speed features such as real-time AF tracking and up to 10fps continuous shooting of more than 1000 RAW still.
Low Noise Images with ISO up to 409,6003 and 15+Stop Dynamic Range
The Alpha 7S III builds on the legendary low-light performance synonymous with Sony's S series. The 12.1MP1 sensor is optimized for 4K with full-pixel readout and makes use of much larger individual pixels for maximum light-gathering capabilities and low signal-to-noise ratio.
10bits 4:2:2 Video Reaches New Levels of Realism
The α7S III can record 10-bit 4:2:2 video internally when using Long GOP or All Intra compression, making it possible to grade for fuller, more natural gradations while generally providing greater editing freedom. The maximum frame rate when recording full-frame 4K is 120p5.
Efficient MPEG-H HEVC/H.265 Coding
In addition to Sony's common XAVC S (MPEG-4 AVC/H.264) codec found on current models, the α7S III adds XAVC HS format recording21 using the MPEG-H HEVC/H.265 codec for approximately twice the efficiency of XAVC S.
16bits RAW Output for Movie
The α7S III is capable of 16-bit RAW output up to 4K 60p to an external device6 via HDMI, to answer the increasing demand for RAW recording for applications that demand the highest quality and post-production flexibility provided by RAW output.
Fast Hybrid AF in All Modes
The α7S III incorporates Sony's highly acclaimed fast hybrid AF in all modes for both still and movie shooting.
Effective Heat Dissipation
The heat buildup from processing large volumes of data when recording high-bitrate, high-resolution 4K 60p and 120p5 movies can plague other systems, but not the Alpha 7S III.
Two CFexpress Type A-Compatible Media Slots
Dual card slots, both compatible with CFexpress type A and SDXC/SDHC.
Vari-Angle LCD Monitor for Comfortable Movie Shooting
The 3-Inch Flip-out, vari-angle LCD monitor with touch menu and controls.
9.44 Million-Dot High-Definition Electronic Viewfinder
World's first 9.44M8 dot 0.64-inch QXGA OLED eye-level viewfinder.
Advanced AF Transition and Sensitivity Settings
The new Exmor R full-frame image sensor and revolutionary BIONZ XR image-processing engine deliver always-active pinpoint AF for astonishing detail in both space and time, and stunning 4K movies even at 120 frames per second2 or in slow motion. With the resolution and depth of field only possible from a full-frame sensor, the results are spectacular.
Digital Audio Interface for Superior Sound
The camera's Multi Interface Shoe allows for MI shoe microphones and accessories to be attached and features a built-in Digital Audio Interface for superb audio quality.
High transfer speed USB Type-C (USB 3.2) Connector
A USB Type-C connector that supports fast USB Type C (SuperSpeed USB 5Gbps (USB 3.2) data transfer is provided. This makes high-speed PC Remote (tethered) data transfer available for the smooth handling of large image files. It also provides USB to high-speed wired LAN connectivity via an optional USB-Ether wired LAN adapter cable that provides direct connectivity to 1000BASE-T Ethernet networks for fast wired FTP data transfers.
Designed with the Environment in Mind
Sony is committed not only to offering products, services, and content that deliver exciting experiences but also to working towards our goal of a zero environmental footprint throughout our business activities.
Ratings and reviews
Sony Alpha 7S III Full-frame Interchangeable Mirrorless Digital Camera Body (Black)
Sony Alpha 7S III Full-frame Interchangeable Mirrorless Digital Camera Body (Black)
---